Mormon Feminism Book Editors Reflect on #EmbraceYourAND
Posted on November 20, 2015 by AMW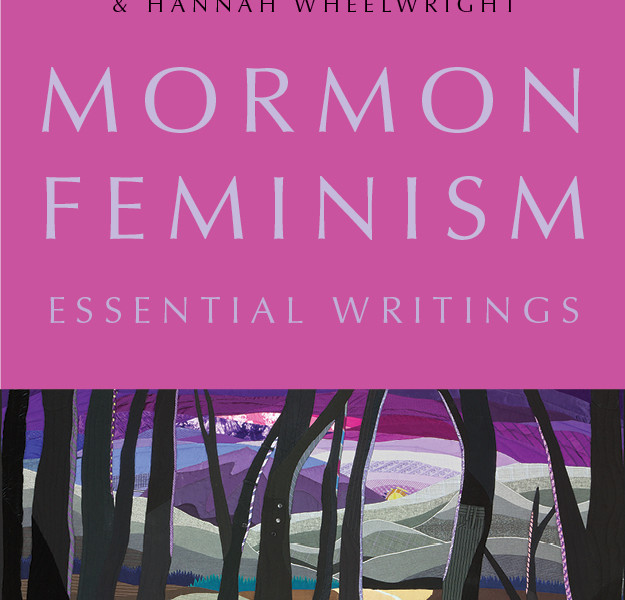 The editors of Mormon Feminism: Essential Writings, Joanna Brooks, Rachel Hunt Steenblik, and Hannah Wheelright, join us at AMW today to discuss their educational and professional journeys and how they embraced their ANDS, particularly while working on this book.
Mormon Feminism: Essential Writings is a "groundbreaking collection [that] gathers together for the first time the essential writings of the contemporary Mormon feminist movement–from its historic beginnings in the 1970s to its vibrant present, offering the best Mormon feminist thought and writing." Regardless of your personal feelings about Mormon feminism, this body of writings represents a great deal of work, thought, and time by both the contributors and editors.
Share a bit about your educational and professional journeys.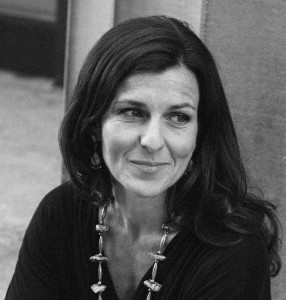 Joanna: When I was a sophomore at BYU I decided to become an English professor, because I had inspiring role models in women like Susan Howe, Gloria Cronin, and Cecilia Farr, and I realized I could teach when my kids were in school and be home for them in the afternoons and evenings!  It was a great choice for me–I received my Ph.D. in English from UCLA in 1999, started my first professorship in English at the University of Texas at Austin in 2000, and published my first book and had my first baby, Ella, in 2003.  My husband is also an academic, and we both found jobs at San Diego State University in 2005.  We moved while pregnant with our second daughter, and I got tenure while on maternity leave.  Since then, I've found my way into a number of administrative roles–department chair, associate dean, and now Associate Vice President for Faculty Affairs.  I also kept up my academic publishing and was promoted to Professor, and have written additional books for a wide audience, like The Book of Mormon Girl (2012).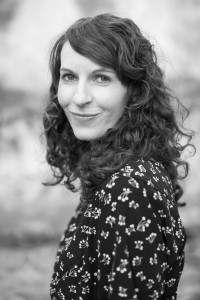 Rachel: I studied philosophy at Brigham Young University, and spent my last year asking myself, "Library school or law school?" Per the recommendation of a wise professor, I started meeting with both librarians and lawyers, and ended up interning in the L. Tom Perry Special Collections, archiving Hugh Nibley's papers and correspondence. It was the best job, and I was so happy to go to work each day. It took me a long time to figure out if it was so wonderful because it was libraries, Hugh Nibley, or that I was surrounded by kind people. In the end, I decided it was a combination of all three, and started applying to library schools. After graduating from BYU, I spent four months researching Heavenly Mother full-time with David Paulsen and Martin Pulido for what would later become the BYU Studies article, "A Mother There." After that, I did go to library school, and was surrounded by more kind people.  I thought that I might like to be a special kind of university librarian called a subject specialist, in philosophy or humanities, so applied for more school.  I was drawn to Claremont Graduate University, because of its Mormon studies program, and because its philosophy of religion and theology program offered a seminar on my favorite book by my favorite philosopher. I am in that second philosophy and theology program, very, very slowly studying for my language and qualifying exams, before embarking on the dissertation stage.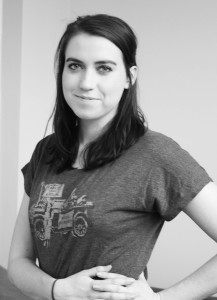 Hannah: I graduated from BYU in 2014–I was lucky to find full-time work before I had even officially graduated. I'm still with that organization, Robert F. Kennedy Human Rights, offering administrative and research support to our program that partners with human rights defenders around the globe.
Our #embraceyourAND campaign focuses on how women engage in their educational and professional pursuits AND value family. How did you embrace your ANDs while working on this book?
Joanna: I have always #embracedmyAND by staying up too late, getting up too early, having too much fun, and working too hard.  Moderation is not my thing.  But I've also had the benefit of a career that is forgiving in the flexibility of its hours.  Now that I'm a VP, that flexibility isn't as great but I made it until my kids were 10 and 12–I'm grateful for every minute.
Rachel: When Joanna emailed me inviting me to co-edit Mormon Feminism, I was six months pregnant with my first babe, struggling very hard to finish my last semester of PhD coursework, and about to make what felt like a very brave move from California to New York. I was humbled, honored, and afraid. I had no idea how I would be able to do it. Still, I wrote her back, and said, "Yes." How I did it was be really, really tired, and hold the lines, "Mother, Father, give me vision. Give me strength to work hours past my daughter's bedtime," from Joanna's poem, "Invocation/Benediction," as my own, because my daughter was born, and I needed to find a way to take care of her, and the book, both. With this, it meant giving up almost every one of my daughter's nap times, and paying for lots of babysitting hours during the busiest book times. I also tried to include my daughter in the book process as much as possible, which looked like reading all 1000 pages of our first manuscript/draft, out loud to her, twice, her accompanying me to the Exponent Retreat where Joanna and I led an interactive workshop on the volume, and to conferences at the University of Virginia and my own Claremont Graduate University, where I spoke on the book, and letting her press send on the email submitting the manuscript to the publisher, because while she was too little to understand, we both made sacrifices to be able to send it.
Hannah: I'm not married and don't have kids, so embracing my AND for me these past two and a half years working on the book has been about prioritizing self care and learning how to build relationships with my siblings and parents amidst our very different lives. I haven't always done a good job taking care of myself–I pushed to graduate from BYU in three years, working almost every semester while taking full-time classes and often doing internships and of course other projects like the book at the same time. It was hard to get in the habit of being good to myself in ways that didn't just feel like slacking or unhealthily procrastinating (bingewatching Netflix with some dark chocolate raspberry ice cream may be dreamy, but it's not enough, surprisingly).
Being so busy with school and work and projects also meant that I wasn't always able to give my best self to my relationships with my family, something I have been trying to rectify now that I am working towards a better balance between my educational, professional, and personal pursuits. In all honesty, most of the time I was just trying to keep my head above water, so I couldn't tell you I had some beautiful transformative experience of embracing my AND in a way I feel good about. But the experience of pushing myself to do very hard things taught me quite a lot about taking off my horse blinders that so often blocked from my view the relationships I was taking for granted. If I could go back, I would certainly say no to a few things I overcommitted, but mostly I would savor the moments face-to-face with my loved ones where I allowed other distractions and concerns to crowd out the time I could instead have pushed myself to be vulnerable, share with them what I was really going through, admit where I felt inadequate, and allow our relationship to grow amidst that raw honesty.
In working with the writings of Mormon women, what stands out to you in regards to how they embraced their many ANDs?
Joanna: Time and time again the women whose writings we feature have insisted that you can be AND:  both faithful and curious or questioning, both a Mormon and a feminist, both a writer and a mother.  I think Aspiring Mormon Women will love the essay "A Purple Rose" by RevaBeth Russell, who wrote poignantly in the 1980s about being that woman who is a little bit different in all the spheres that intersect in her life–because she embraces her ANDs.
Rachel: My biggest impression here is that they did, again and again, with careful self-reflection, courage, and testament to the importance of education and family. For instance, in the very first essay in the anthology, "Women in Dialogue: An Introduction," Claudia Bushman wrote that she and her friends "looked for diversity because, in all honesty, we are not always completely satisfied with our lives as housewives. Our families are of primary importance to us, but they do not demand all our time. We benefit from outside interests and can usually manage them without skimping on the baked goods. Our educated intelligence, which we have been taught is the glory of God, sometimes cries out for a little employment." In another essay, "Pink Dialogue and Beyond," Laurel Thatcher Ulrich affirmed, "Although I had encountered 'the problem with no name' long before Betty Friedan described it [in The Feminine Mystique], I was ambivalent about solutions. By 1970, I had begun to make small adjustments in my own life, but I still believed that my deepest conflicts were personal rather than general. If I were a better person, I reasoned, a more Christ-like and less-neurotic person, I would not find it so difficult to 'live for others.' Taking night classes was my strategy for keeping up my spirits so I could carry on the more important work at home. As my husband and I used to joke, 'tuition is cheaper than a psychiatrist.'"
Hannah: I felt very close to the women whose writings we labored over. I've written about a very personal experience I had while studying for finals at BYU, where I found myself only half-jokingly wondering if I should just quit worrying about graduating and finding a job and instead find a rich husband to marry. On my mind were the many women I had become more familiar with who were able to do amazing volunteer and charitable work because they could rely on their spouse. As soon as the thought crossed my mind, I immediately felt overcome with feelings of anger coming from my Mormon foremothers who cried out to me that that is a cage. That as long as there are limitations on a woman's ability to offer her full gifts, such dependency traps her–and I felt the weight of so many women who desperately yearned for more in these situations. I'm realizing more and more how this book for me is about women's divine spiritual capacity to "bless in humanity's name" as our hymn "Sisters in Zion" teaches; it's about imagining what women can do when we fully embrace our talents and desires and direct them towards extraordinary works, as President Emma Hale Smith prophesied at the first meeting of the Female Relief Society of Nauvoo. And at the same time amidst these limitations in many spheres of life, so many Mormon women forged their own way ahead through the thicket; they bravely chose for themselves how to handle obstacles and make hard decisions about embracing their ANDs. I honor and respect these true pioneer women who have left us a legacy of individual destiny, integrity, and testimonies of sacrifice that are unique to the bearer herself.
What are your educational/professional aspirations and goals? And how does editing Mormon Feminism fit into or advance them?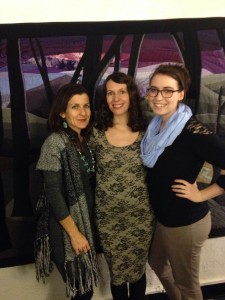 Joanna: I became AVP a few months ago, and there is so much opportunity to support women's leadership in scholarship and academic institutions and the advancement of faculty of color as well.  It aligns so well with the work the book tries to do.  I feel lucky to have this opportunity to support a profession I love and believe in.
Rachel: My educational goal is to finish my PhD. My professional goal is to become a professor, or perhaps academic librarian. (Though there have been many moments after giving birth to my daughter that I think I could be very happy as a children's librarian.) Coediting Mormon Feminism slowed down the first dream, but likely sped up the second. (As all academics, or would-be-academics know, publishing is queen.) I still feel humbled and honored to have been asked to work on Mormon Feminism, but no longer feel afraid. I was able to do it after all, and it felt holy.
Hannah: I'm still YOLO-ing about at the moment, thoroughly enjoying my job and taking time here and there to ponder and prepare for what I might want to do next. Editing Mormon Feminism has been especially important to me because while I consider myself smart and capable, I struggled at times with academics at BYU; I loved doing the readings and participating in discussions, but tests and papers were enormously difficult for me even when the material fascinated me. I now know that some of that was due to undiagnosed severe ADD, but editing Mormon Feminism has both helped me understand the value and benefits of doing scholarly work firsthand, and develop an understand of where my own talents can best shine. I expect my career to continue on my path of human rights, social justice, and community-based activism, so engaging in this work with the Mormon feminist community to build an anthology of essential writings has been very much in line with the themes I find so important- marginalized communities receiving recognition for their contributions and struggle, women finding their strength and daring to speak up for their beliefs, and recentering our movements around people of color and LGBT, disabled, and/or poor folks.