Disrupt Yourself: An Interview with Whitney Johnson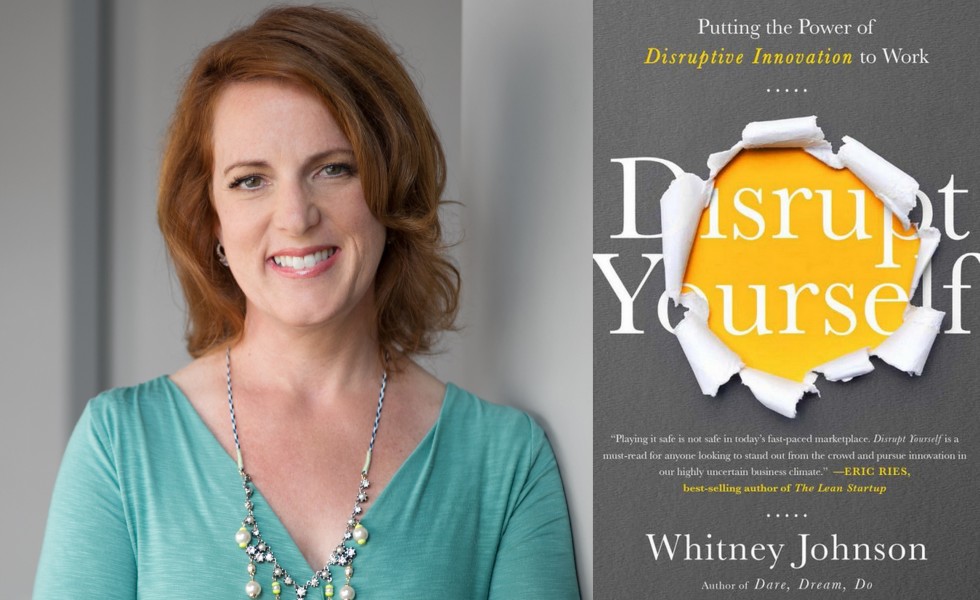 by Dianne Orcutt
As busy Latter-day Saint women, most of us fall into ruts and routine as we try to juggle all the many responsibilities and ANDs in our lives.  I often find myself getting caught up in the inevitable current of my life that seems to propel me forward on some predetermined path.  Sometimes I feel helpless to change it.
A few months ago I was lucky enough to participate in a webinar with fellow aspiring Mormon woman Whitney Johnson where she discussed personal disruption and the principles outlined in her new book, Disrupt Yourself: Putting the Power of Disruptive Innovation to Work. In the webinar, Whitney laid out her 7 principles of personal disruption. They are:
Taking the right risks.
Playing to your distinctive strengths.
Embracing constraints.
Battling entitlement.
Stepping back to grow.
Giving failure its do.
Being driven by discovery.
I was particularly struck by Whitney's discussion of principle number 2, playing to one's strengths.  As a "team player" I know that I often deflect credit and compliments, perhaps no longer recognizing my own contributions, so I found the conversation about how to identify my strengths quite helpful.  Whitney suggested asking oneself some of the following questions to help identify strengths. What makes me feel strong? What makes me feel invigorated? What makes me exasperated with other people (i.e. because doing x,y, or z is easy to me)? What do people say I do well? What compliments do you habitually receive?
Identifying and learning to play to my strengths is a process, but I have seen how applying this simple principle is laying the groundwork for greater change and personal disruption in my life, and I'm excited.  I want to successfully steer my ship on life's journey rather than be tossed about by the winds and storms.
Dianne: Tell us a bit about yourself.
WHITNEY:   I was born in Spain, grew up in San Jose, California, served a mission in Montevideo, Uruguay.  After graduating from BYU in music, we went to Manhattan, New York for my husband's schooling. There I discovered Wall Street, and our two children were born. That is the place where I came into my own as a person.
We recently moved to Lexington, VA after living in Boston. After ten years as the lead parent, my husband has returned to academia, and is teaching biology at Southern Virginia University. Our son David is in the Campinas, Brazil Mission; our daughter Miranda is a freshman in high school.
Dianne: What prompted you to write the book Disrupt Yourself: Putting the Power of Disruptive Innovation to Work? Why do you feel this book is necessary?
WHITNEY: My "a-ha" moment around personal disruption came when I was reading The Innovator's Dilemma by Clayton Christensen in 2005. As an equity analyst, I was already persuaded that the frameworks of disruption explained why mobile penetration in Mexico was quickly outpacing fixed-line penetration. But as I read the book closely, I wondered, do these frameworks also apply to individuals?
In 2006, I had the privilege of co-founding a boutique investment firm with Clayton Christensen, the father of disruptive innovation. As I immersed myself in applying these frameworks to investing, my ideas around personal disruption began to coalesce, beginning with one-off articles in the Harvard Business Review.
In truth, I wouldn't have written this book, if my publisher, Erika Heilman, and agent, Amy Gray, hadn't kindly, but gently, said, "It's time to start writing."
Dianne:  How do you define personal disruption?
WHITNEY: Personal disruption (n.) is the act of using a practice employed by companies – wherein a product deemed inferior by the market leader (Amazon v. Borders, Uber v. Yellow Cab) eventually upends the industry – and applying it to yourself and your career.
Dianne: What lessons from your book do you think are most important for women?
WHITNEY:  That women are great disruptors. When conducting research on why women changed jobs more successfully than men, Harvard Business School professor Boris Groysberg learned: "Women build networks outside their organization that remain intact when they leave. … Not because women set out to [do this], but because they are often marginalized, left out of the internal power structure … they build external networks out of necessity." Women instinctively know how to play where no one else is playing which is precisely what disruptors do.
Dianne: What insights or lessons did you learn as you wrote this book?
WHITNEY:  I know this isn't quite what you are asking me. But I'm going to answer the meta-question that I left unanswered which is why I was resistant writing another book. Getting my ideas down on paper is hard, painful.  It's one thing to float along the surface of an idea.  It is another thing entirely to pull together what I am thinking into a cohesive, in-print, defensible whole. On the other side of my months-long travail, I now feel I'm expert on the topic of personal disruption. Note that this wouldn't have happened with some prodding.  Most of us need a gentle nudge now and again.
Dianne: Aspiring Mormon Women was created to support the educational and professional pursuits of LDS women. In addition to being an author, you are the Founder and Managing Director of Springboard Fund, and co-founder of Rose Park Advisors, and a regular contributor to the Harvard Business Review. How do you feel that the disruptive principles outlined in your book have helped you professionally? Personally?
WHITNEY:  As an investor, I apply the frameworks of disruption to pick what I think will be winners. As a professional, I started on Wall Street as a secretary, a low-end disruptor. When I walked away from the security and stature of Wall Street to become an entrepreneur, believing that a step back could be a slingshot forward, I disrupted myself. And moving to Virginia for my husband's work was a slight step back for me, but a huge step forward for our family.
Dianne: In addition to your many professional accomplishments, you are also a wife and a mother of two.  How have your education and professional endeavors informed or influenced your personal life?
WHITNEY:  There isn't a single aspect of my life, my husband's or our children that this has not influenced. For example, I first started working out of financial necessity.  My husband's PhD was going to take seven years. But when I realized I wanted to work, my husband and I had to consult with the Lord, and find out what He wanted. To my surprise, the answer was 'keep going'.
Dianne: Any other books or projects in the works?
WHITNEY:  Right now I am focused sharing Disrupt Yourself with as many people as possible. But, in the spirit of eating my own cooking, I probably need to be thinking about my next book.
One fun side project.  My daughter and I have set a goal to eat at every restaurant in the picturesque downtown of Lexington, VA.
Dianne: Any final thoughts or advice for our readers?
WHITNEY:   Yes. It's a quote from Elder Holland.  "God is anxiously waiting to answer our prayers and fulfill our dreams, but He can't if we don't pray, and He can't if we don't dream."
**Check out Whitney's AMW Podcast on mentoring HERE.