Career Day: Pharmacist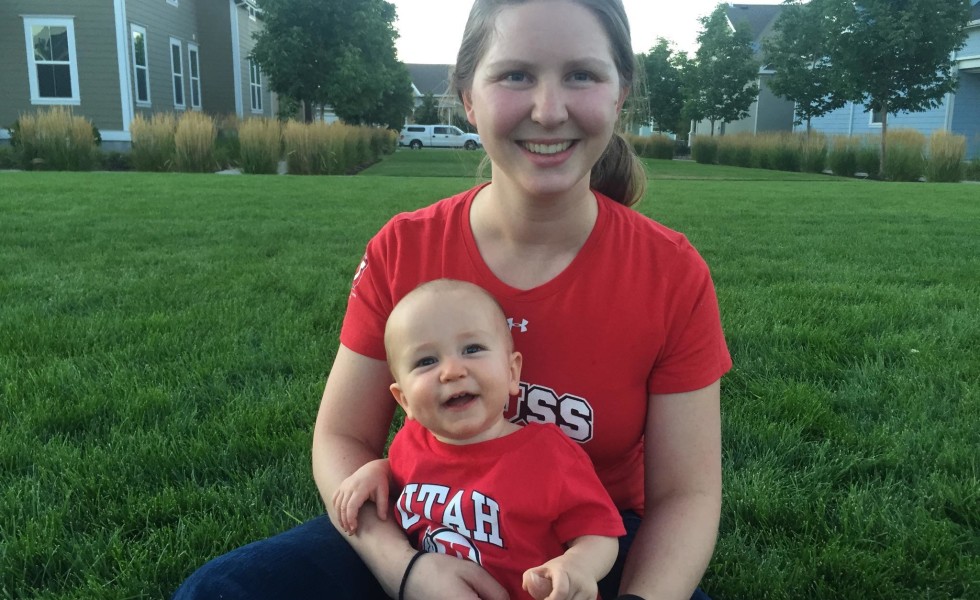 Tell us a little about yourself and about your job.
My name is Janice Muehle, and I grew up in Sandy, Utah. I currently live in Taylorsville, and I have never lived outside the Salt Lake Valley. I graduated from pharmacy school in May 2014, and I am now a community (retail) pharmacist. I married my husband five years ago (two weeks before I started pharmacy school), and we have a one-year-old son. I do not have a lot of free time between working and taking care of my son, but I enjoy spending time with my family, going on walks, and exploring new parks. I also enjoy reading, and I have recently rediscovered a love of doodling and coloring.
What does your job entail?
As a community pharmacist, it is my job to make sure people get their medications correctly and that they know how to use them. At work I have to balance a lot of responsibilities. I spend most of my time ensuring prescriptions are legal and entered correctly into the computer system, then making sure they are filled with the correct medication before the patient picks them up. I also talk to a lot of people on the phone or in person—answering patient questions, clarifying things with doctors, and talking to insurance companies. I also provide immunizations for things like the flu, whooping cough, and hepatitis. Sometimes I feel like I am being pulled a million directions at once! The best part of my job is when people ask me questions about either their prescription or over-the-counter (non-prescription) medications, and they take my advice. I also love when I find and fix a problem with a prescription, keeping my patients safe and making sure their medications are as effective as possible.
Why did you want to become a pharmacist?  What drew you to the pharmacy profession?
I've always enjoyed helping people, so I've wanted to be a doctor ever since I was little. When I was about fifteen I realized that blood really grossed me out, so I decided to go into pharmacy to help people without having to deal with blood.
I was drawn to pharmacy because I loved my science classes when I was young—especially chemistry and biology—and was always interested in how the body worked. Growing up, I had a couple of grandparents who lived with me at various times, and I saw firsthand how medications can have a major impact on people's lives to make them better. To be really honest, I had fears that I would never get married while I was young, and I really liked pharmacy for the independence that it would provide me.
Once in college, I considered a variety of different options for graduate school: doctorate in chemistry or pathophysiology, physical therapy, dentistry, or pharmacy (of course). I ended up picking pharmacy because it made the most sense for the life I wanted to have as a future wife and mother due to the flexible work schedule and the ability to work basically anywhere. I also loved the opportunities that it would give me to be a professional who is completely self-sufficient while not having the pressure to work all the time and be on call like doctors can be.
Pharmacy seemed like a great choice because it appeared easier than medical school, but this couldn't be further from the truth. I had a lot of friends that went through medical school while I was in pharmacy school, and we were just as busy and stressed out as they were. It takes a ton of work, but it was worth it in the long run.
What kind of education/training is required? What skills/personal characteristics are important to have/develop?
Becoming a pharmacist takes a lot of work. It is a doctorate degree that takes four years of graduate school after completing all of your prerequisites. A bachelor's degree is not required, but I chose to get a degree in chemistry as a kind of insurance in case I hated pharmacy or didn't get into the program. After graduating from pharmacy school there are two tests required to get licensed—a pharmacy exam and a pharmacy law exam. After that I have to renew my license every two years, which has different requirements for each state; in Utah it requires thirty hours of continuing education classes and certifications.
Working in pharmacy requires a lot of interpersonal skills, including good communication skills with both patients and other healthcare providers, empathy, and detail orientation. The hardest thing for me was getting over my fear of talking to people. I used to think I was an introvert, but it turns out I just needed practice to become comfortable talking to people.
What kind of job opportunities are there in your field?
Pharmacy has a lot of opportunities in a variety of areas. I went into retail, which is the most well known and most common (stores like CVS, Walgreens, Walmart, and Costco all have retail pharmacies). Most of the other options require a one- to two-year residency after graduation, during which you can specialize in many different areas. I have friends that went into specializations from general hospital practice to pediatrics to cancer. I also have friends that work in doctors' offices or other clinics and manage patients' medications or diseases (like diabetes or high blood pressure). I even have friends who went to really remote areas of the country to provide pharmacy services to under-served populations. Pharmacy is in a really cool place right now; our role is expanding, and pharmacists can really carve out their own specific role if they see a need.
What types of jobs have you had within your profession?
I am actually working in my first job right now, but I did have a lot of experiences while I was in school. The coolest experience I had was in a specialized community pharmacy, where the pharmacists had arrangements with healthcare providers to manage their patients with diabetes. Each week we would contact the patients that we were managing and get the record of their blood sugar levels for the week. With that information, we would adjust their insulin or other medications to make sure their therapy was as good as it could be, including accounting for side effects and medication regimen problems.
What is the best part of your job?
I love counseling patients. I love when people come in to see me (or call me) to ask about a medication they just started or about something over-the-counter (or anything else!) and they actually listen to me. I think my favorite part is when a patient comes in with a problem and I am able to look at his or her medications and work the patient through it.
One of the best experiences I have had in my profession was when a woman came in for a medication she had been taking for months. When I looked at her medication, I saw that it also interfered with a different drug she was taking for her asthma. After talking to her I found out that she felt her asthma hasn't been as well controlled since the time she started this other medication, and I was able to help her understand why. I love being able to make a difference for people.
What is the worst part of your job?
Sometimes it can be hard to work in retail because of all the people you see on a daily basis. When people come to the pharmacy they are usually not feeling their best, and that can often translate into their mood. While dealing with cranky or angry patients is not fun, I take comfort in knowing that I'm helping them, which can help while you are being yelled at for something that isn't your fault.
Like any profit-driven business, retail pharmacy likes to see an increase in sales, which sometimes translates into number-oriented goals that aren't always directly in line with helping patients. For instance, I frequently have wait-time goals in the pharmacy that I'm encouraged to meet, which might push me to cut counseling with a patient shorter than I'd like.
What's the work/family/life balance like?
I have a great balance in all the areas of my life. With my job I am able to work just four days per week (or more if I want to), which leaves me a lot of time to be home with my husband and son. I also do not take work home with me, so when I am home, I can really be present with my family. The only drawback is that I do have to work about every other Sunday, so I have to make some extra effort to make sure I am taking care of my spiritual needs and building relationships with members of my ward, because I miss a lot more church than I did before I started working.
What is the biggest misconception people have about your job?
I think a lot of people do not realize the scope of what I do. Often when I tell people I am a retail pharmacist people respond with something along the lines of "so you put pills in a bottle," which is really not something I do much of at all. Most of my time is spent verifying prescriptions for accuracy and talking to patients, and I only end up counting pills if the pharmacy technician(s) that I am working with are completely swamped.
Most of my time is spent considering the effects of patients' treatment, verifying that they are doing what's best for them, and then counseling them to make sure they understand as much as possible about their healthcare.
What opportunities have you had because of your education and profession?
When I was in school I really wanted to have my degree as a kind of back-up plan in case my husband was ever laid off or couldn't work and support our family for any reason. I really wanted to primarily be a stay-at-home mom who worked once a week just to keep my license current. However, my education became an immediate blessing to my family after both my husband and I graduated from our graduate school programs. We spent the summer with my husband looking for a job in his field, and I was holding off on job-hunting until after I knew where we would be living and our son was born. By the time our son was six weeks old, my husband still hadn't found work, and we were starting to get very anxious about what we were going to do financially with student loans starting to come due. Because I went into pharmacy I was able to get the first job I applied for, which paid well enough that it was fine that my husband wasn't working.
What stereotypes or criticisms have you faced as an educated Mormon woman with her own career?
I haven't felt like I have faced much criticism as an educated Mormon woman. I went to school at the University of Utah, where there are a lot of women getting higher education. I generally felt surrounded by strong women who were supportive of both my educational and religious goals. I especially felt that from my mom, who went back to school when I was eight for her bachelor's degree in education and later went back for a master's. My education is now allowing me to have a great family and be an example to my son and future children of the importance of education and hard work.
What spiritual guidance have you felt as you have pursued your education and developed your career?
Pharmacy school was hard. Getting into pharmacy school was hard. I wanted to give up so many times, and through faith and prayer I was strengthened. I think it was important for me to make scripture study a habit and a priority through school, which really helped balance out my school work and keep my perspective. I was also so blessed by visiting teaching and making that a priority. During my first semester of pharmacy school, my visiting teacher and I really hit it off and became best friends, which we still are to this day. This really testified to me that the Lord was looking out for me. He wants me to have the support that I need, and He makes a way for me to accomplish hard things.
I feel like the birth of my son was due to a great amount of spiritual guidance. I had always thought that I wouldn't even think about having a baby until at least a year after I graduated and had my career kind of settled down. As my last year of pharmacy school started, my husband and I started talking and praying about starting our family, and we felt that it was the right time. I had been considering an extra two years of residency for some time, and after not getting pregnant for several months, I started wondering if residency was the right option for me after all. However, the day before I really had to decide what I was doing with my career was the day I found out I was pregnant, which made the decision obvious.