YW Spotlight: Aspiring Digital Artist & Coder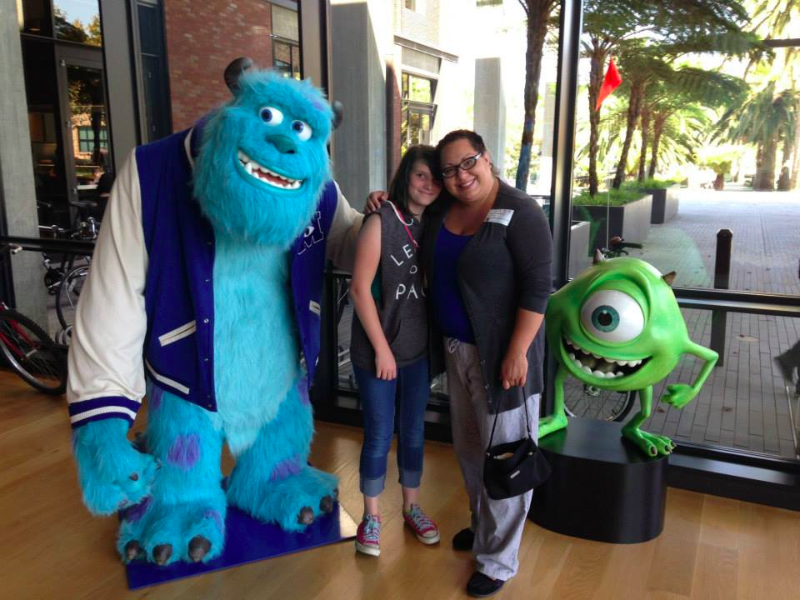 Zion, and her aunt, Jennifer, on a tour of Pixar studios and LucasFilms during a recent trip to the Bay Area for Zion to attend a tech camp.
Welcome to our new series featuring LDS young women who are pursuing their aspirations and dreams. If you would like to nominate a young woman, please contact us.
Name: Zion Oliva Gonzalez aka @ZLivvy
Location: Provo, UT
Tell us a little about yourself.
I am an artist, beginner coder, and aspiring digital animator. I'm introverted, artistic, bossy, creative, blunt and an all around awesome 13-year-old. I'm the oldest of 5 kids. I have 10-year-old and 6-year-old brothers and 3-year-old twin brother and sister. I love drawing, storytelling, computers and animals. I love to create characters and worlds. When I was younger, every time I got a new stuffed animal or figure, I would start drawing them. I'd draw stories for it and then when I got tired of it, I'd put that toy on the shelf and go buy a new one. Thus, my hundreds of stuffed animals! (Zion's mom says before she even would play with her toy, she'd start creating worlds for it and draw pictures that told stories about it and those worlds. She's pretty sure she liked doing that MORE than actually playing with her toys.)
How did you get into digital art?
When I started 6th grade, I got a digital drawing tablet as part of a My Tech High class I took. It's a tablet and a pen and when you draw on the tablet, it appears on the screen (instead of using a mouse). The tablet doesn't have a screen (it hooks up to a computer and monitor), so you look up at the screen when you're drawing. It's really different from drawing with pen on paper because you don't don't get to look at your hand when you're drawing and you don't actually touch the image your creating. Now I draw both on paper and digitally. I'm still better on paper than I am digitally, but I'm working on becoming better digitally.
What other resources have helped you learn digital art/coding?
I started taking a simple coding class through Scratch, which is an online coding community website where lots of kids from all over the world can create projects and share them with each other by coding. With the code you can animate images and create simple video games and just about anything. I started learning to code when I wanted to create a Minecraft Mod. That's when you take Minecraft and go into the code and modify it to make it your own. So, for example, I modified the regular Minecraft spiders so that they were rainbow colored and had the behavior of a Minecraft wolf. In the class that taught me how to create a Minecraft Mod I learned basic Java, which is one of the hardest coding languages EVER according to…well, almost everybody. I'm not sure what makes it so hard, but everyone I talk to says Java is one of the hardest languages. (Zion's Scratch projects https://scratch.mit.edu/users/zlivvy/)
What is "The Fuzz-verse"?
When I was eight, I created little craft pompom creatures called FuzzBees. I glued foam feet and googly eyes to little pompoms. Then I talked to my dad about wanting to make them into a video game. I recently decided to come back to the project because I wanted something that would help develop my design skills, improve my coding, and teach me how to run a simple business. So I came with the idea of creating "The Fuzz-verse." The Fuzz-verse is a universe where the FuzzBees live. It will be a virtual world where you get to interact with other people, but there are absolutely no words. My Dad and I haven't started yet, so we don't know all the constraints and possibilities. Right now I'm learning different skills that I will need to know to create all the parts of the project. I'm learning how to work in Adobe Illustrator Cloud so I can create different characters. Then I'm going to start out by making an app with a simple video game that will later be converted to a web page. (Zion's FuzzBee https://youtu.be/1bo2MwOryfY)
What else have you done to improve your skills?
This summer, I went to a camp at Stanford University for a week and learned the basics of 3D modeling and 3D animation. My project was to create a 3D FuzzBee jumping up and down. It was REALLY hard. 3D modeling is a lot like sculpting on a computer, but instead of using your hands, you're clicking buttons and hope it does what you want it to. It probably would have been easier if I was good at sculpting in real life, but I'm not and I don't really enjoy it very much. I don't know if 3D animation is where I want to go career-wise, but it a really good experience to broaden my skills and to see the options for jobs where I can use my art.
What strengths/skills do you have that have helped you to develop your talents in art and computers?
I'm really good at focusing on stuff that I actually care about and enjoy. I can work for hours on a drawing, but I can't spend more than half an hour doing math problems without going crazy.
Who has supported you while you have learned these new skills?
My parents and my aunts and uncles have been really supportive. They are always available resources. Anything I need, they help me figure out how to get it or do it.
Which aspects of coding have you found most challenging?
The fact that it's really not visual. It's all numbers and words. I hate numbers and words. I'd rather think in pictures.
Which aspects of coding have been the most rewarding?
Just seeing what I can do with coding. What I can show people. They don't see the code, they just see the art.
What did you learn about yourself from learning new skills?
Some things I thought I would enjoy, I really don't. I thought 3D animation was going to be a lot more fun than it was. It was really interesting, but it was not necessarily fun. But, also, there have been things I thought I wouldn't like that I really do. As I narrow down the things I don't like, I'm discovering other options that I am more interested in. For example, I realized I'm much more interested in being a concept artist or a director for film and digital animation rather than an actual animator. I've discovered that I'm naturally more skilled in those areas and I enjoy them more. Concept artists create characters and create the concepts of what you're going to see on a screen. For example, the characters in the new movie Inside Out— their look was created by a concept artist. Then the animators convert that to a 3D image and animate their movements. Concept artist are kind of like the fashion designers and the animators are more like the factory workers and seamstresses. The director creates the big idea about the characters in the world and the concept artist gives them a visual image. It was cool to discover that creating characters and worlds is actually an entire career path.
Any other thoughts or advice would you give to young women?
Don't hate things immediately without trying them. Same with liking them. Try things and be open to new ideas and paths.
View more of Zion's drawings and work here. And her coding projects.