#EmbraceYourAND: Married AND BYU Student AND Graduate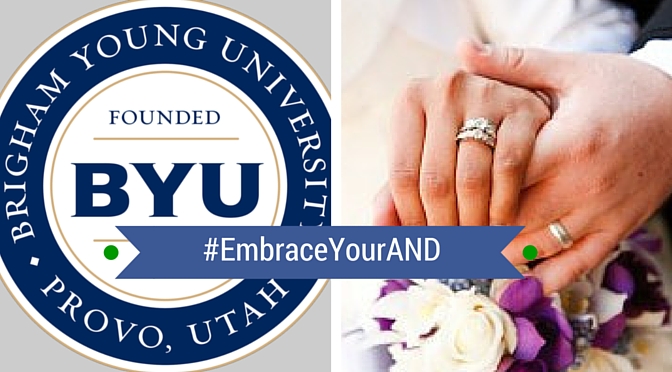 As part our campaign to eliminate the prevalent either/or mentality in regards to women's education, career, and family life, we will be featuring vignettes from various women sharing specific combinations of ANDs in their lives. In this feature, we highlight women who were BYU students when they married and who also graduated.
Dantzel, Washington State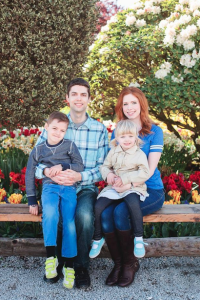 I had my first baby as a junior in college. While I was pregnant, many well-meaning friends and family members predicted that I would drop out of school, and some even advised me to do so. I started to feel like it was an either-or situation. So much so that I almost didn't pray about it because it didn't occur to me that I could choose both. But, when I finally did pray for guidance, the answer was immediate and strong: BOTH. I also received the strong impression that I should go to graduate school. I was (and still sometimes am) very confused by this prompting, but it was very clear. I did a study abroad internship in France with my husband and 8 month old baby, then finished my undergraduate degree 2 years after having my son. I was pregnant with my second child when I graduated in 2011. Today I'm halfway through my PhD program and currently typing this from a Paris hotel room. My son is 6, my daughter is 3 and they are always excited to visit my office. I teach classes AND do research AND travel AND serve as Primary President in our ward AND I have a husband and two beautiful children…and a cat. Most importantly, I have learned that personal revelation is the most important part of the gospel. You never know what God will say about your life until you ask Him yourself.
Jonyce, Utah
My mom attended one year at BYU before she married my dad. He graduated just before they married and they moved to California and began his career. When I was growing up my mom would often talk about how she regretted that she never finished her college degree. Attending BYU was a goal that I set when I was very young; and because of my mom's experience I also committed that I would graduate- no matter what it took. I was just a week away from starting the accounting core program when my husband proposed. The core is notorious for being tough and all-consuming for two semesters. As we discussed wedding dates I knew that whatever I did, I needed to make sure I was able to stay in school and finish my degree. Much to my husband's dismay, we ended up setting our wedding date for May – 9 months away! At the time it seemed like an entire lifetime; but it really was a small sacrifice that has paid huge dividends in our lives. After we were married I still had two full years until I graduated with my Masters of Accountancy and it required sacrifices in our lives to make it happen, but I have never once regretted the decision I made to be married AND finish my degree.
Linda, Pennsylvania
There was never any question of either me or my future husband graduating college. We fell in love young (16) and we both knew our dreams. When I came to BYU and started the Honors program, it was with the best partner-in-crime I could ever hope for.
I majored in biology and minored in English. I adored the Honors program and got increasingly involved while Nick was on his mission. My Honors thesis topic was women in STEM careers and how better media about women in science is needed–particularly for young girls. The first half of my thesis was a research paper, and the second half was five original picture book manuscripts (that I created) aimed at ages 2-6 that had dynamic female leads and explored STEM in an exciting way for kids.
When Nick returned from his mission, our love was even stronger, as was our desire to achieve, thrive, and make an awesome family. We were ready to be married, so we did it! I still had a year and a half, and Nick still had two and a half years till graduating. Finishing the Honors program was very challenging, and I often thought about giving up. But Nick always encouraged me to keep working, and I am so glad I did. I graduated with Honors with a BS in biology while four months pregnant with our first child.
In the five years since, our family has grown more. My degree in biology inspires me to seek evidence based choices for my pregnancies, births, and the ways I parent. I have furthered my education by completing a two-year childbirth educator certification program, and now I teach childbirth classes. My degree, particularly my work in the Honors program, informs the way I homeschool my children in well-rounded, world-savvy way.  I frequently get out textbooks and materials from my time at BYU to teach them with.
Finally, completing my degree and persevering through the Honors program gives me the confidence to know that I can maintain stamina on a long project and see it through to completion, no matter how hectic it gets in the middle. That drives me to maintain my writing career (author has been my desired career my whole life), to look at the big picture with homeschool, and to endure the beautiful crucible of raising a family. I got married AND graduated with honors. I am a mother AND an educated woman. I homeschool my kids AND pursue my careers. I am more when I embrace my AND!
Becca, Utah
When I came to BYU I actually came with the intention to NEVER marry. I was not interested at all. I was interested in getting a degree and a great career. I was raised to be very independent. A college degree was actually kind of a requirement in my family, where getting one was almost not an option.  But God had other plans, and I ended up getting married at 22. At that point I was also well into my education. I graduated a little over a year after I was married, and I also had a great job lined up. I never saw, and was not raised in a family, where college and marriage were seen as one or the other. The way I was raised was kind of odd. I came from a conservative family, where my father worked and my mom stayed home. My mom has a bachelors degree and my father has a masters degree. Getting an education was a huge emphasis in my family–to the point where we were required to start college right after high school. All of the kids (boys and girls) received this message. My parents taught us all of the principles of the gospel, but a lot of the gender stereotypes were not as emphasized. I always knew I would have a career, but one of the problems I had is that I had no examples of women who had careers as well as families. It wasn't until I moved into my current ward where I saw women who had careers, husbands and families. It was very inspirational to see women doing it, and they were happy (and not working because their family couldn't survive or because they were miserable doing it).