Career Day: Marine Corps Officer and Pilot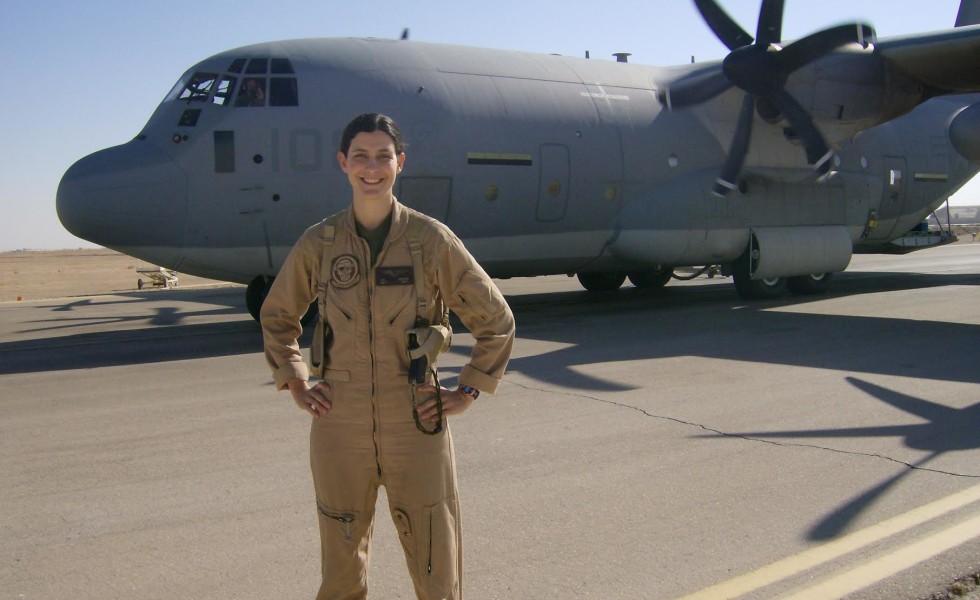 Tell us a little about yourself and about your job.
My name is Janine K. Spendlove and I'm originally from St. George, Utah, but ever since graduating from BYU in 1999 with my BA in history teaching I've lived wherever the US Marine Corps has sent me and my family. Currently I'm deployed, and my family is back in the States. The focus of this interview is geared toward my Marine Corps career as an officer and KC-130J pilot, but I am also a published speculative fiction author with a fantasy series called War of the Seasons, and I was most recently announced as the newest Star Wars author for Del Rey—my story "Star Wars: Inbrief" comes out this October.  I'm married (met my husband fifteen years ago in the Marine Corps), and we have one daughter (with hopefully more children on the way soon).
What does your job entail?
It's nearly impossible for me to describe what an average day at my job is, because no two days are alike! It also depends on what billet (job) I'm currently holding and where in my career progression I currently am.  For example, a year ago I was the deputy director of the Marine Corps' Liaison office to the House of Representatives—which means I educated and informed all 441 members and delegates of Congress, the committees, and their staff about the Marine Corps and our needs. I helped shape legislation and Marine Corps policy at large, and led congressional delegations around the world on various issues.  But I said I'm a pilot, right? Well, flying dominated the first decade of my career. But now, as a more senior officer, I fly less (or not at all, in the case of my previous billet) and have been placed in more leadership oriented billets (management, for lack of a better term).  Currently I'm the Detachment Officer in Charge (DET OIC) of a four-plane, ninety-Marine KC-130 detachment in support of Special Purpose MAGTF Crisis Response Africa (Wikipedia has a nice article on what that is and what we do, if you are curious). Every day is different for me. Some days I fly; other days I'm in meetings all day with the other unit commanders, but regardless, I am 100% of the time concerned for and actively working to improve the health, morale, and welfare of my Marines. However that needs to be done—that's my job. Whether it's making the difficult decisions for the unit that cannot be made at a lower level, ensuring they are attending to their professional military education, counseling them when they make a mistake, mentoring them when they need guidance and advice, or just providing a listening ear when they need to talk . . . there are countless ways that I try to be there for my Marines. And that's the key—I'm here for them. The only reason for my job's existence is to take care of them and their needs—not the other way around. Servant leadership is the key to what I do.
Why did you want to become a pilot/Marine? What drew you to the profession?
Honestly it kind of came out of nowhere. Shortly before I graduated from BYU, I was driving past a recruiting station, and I felt impressed to go inside. And that was weird because never in my life had I considered the military. No one I knew was in the military. This completely broadsided me, and I resisted at first, because I had a PLAN and this was quickly derailing it. I was going to be a high school history teacher and move back to St. George, Utah, and get married to a returned missionary (no one specific in mind, just part of the plan) and have lots of babies and just live what I thought was the "perfect Mormon life." It's what I wanted. I realize now that the Lord knows me better than I know myself. I can't imagine my life going any differently than it did.
After lots of counseling with my parents, friends, bishop, and loads of prayer (SO MUCH PRAYER), I made the decision to join the Marine Corps as an officer. Up until that point I had never been so certain about anything in my life. That is where the Lord wanted me to be. That is where He NEEDED me to be. To this day, I still don't know exactly why I was supposed to join the Marines Corps, but early on in my first decade of service, every time I would consider getting out, both my husband and I felt impressed that it was the wrong decision and not what the Lord desired for us. So, I have stayed in (which makes me happy, because I love what I do, despite the difficulties and trials). I have always felt completely at peace about my decision to join and remain in the Marine Corps, and I have felt the Lord's hand in my career progression (which has been somewhat non-standard for my field).  As for why I became a pilot? Well . . . I actually wrote a short (award-winning) memoir about it, which you can read here: https://www.wattpad.com/myworks/15301854-earning-my-wings-a-mormon-womans-journey-to-marine-corps-aviator
What kind of education/training is required? Any post graduation requirements? What skills/personal characteristics are important to have/develop?
To be an officer in the Marine Corps you must be a US citizen and have a bachelor's degree. But that's just to get your foot in the door. It's incredibly competitive to actually "make it" and become a Marine. You have to meet and maintain not just the strict height and weight standards, but high physical fitness standards as well. You have to be a leader and cannot be afraid to take charge, but you also have to know when to be led. It very much is a people organization, and having/developing good interpersonal skills is a must. It truly is all about relationships and service, putting others before yourself.  I haven't even touched on the schools you have to go to once you join the Marine Corps for everything you do. It begins with Officer Candidate School, then The Basic School, followed by your Military Occupational Specialty school (for me that was flight school), but then other schools throughout the years as you have different "ground jobs" (e.g. I've been to Aviation Safety Officer school, Maintenance Officer school, Expeditionary Warfare School, Command and Staff college, and so on).
What kind of job opportunities are there in your field?
As I think I've illustrated above, the opportunities are uncountable. As a Marine officer, you have so many different and varying opportunities to lead Marines.
What types of jobs have you had within your profession?
I'm a KC-130J pilot, but I've also been a UC-12 pilot, I've been the squadron aircrew training officer, legal officer, maintenance officer, director of safety and standardization . . . and countless other billets.
What is the best part of your job?
My Marines.
What is the worst part of your job?
Being apart from my family as often as I am. I love what I do, and I wouldn't trade it for anything, but I miss my family greatly when I'm gone, especially for extended periods of time.
What's the work/family/life balance like?
It's complicated. Some billets I'm in, I'm rarely gone and am home during set hours on a daily basis. But those billets are rare. For the most part, my schedule is completely unpredictable, and we have all learned to flex. We make the most of the time I am home, and the Marine Corps gives us a lot of leave time, so I make sure to take it and spend as much time with my family as I can. We always have family night—even if it isn't always on Monday (because I may have a flight that evening). And due to the blessings of modern technology like FaceTime and Snapchat, I'm able to talk to my family on a daily basis no matter where I am in the world.
What is the biggest misconception people have about your job?
That all we do is fly all day, every day, and go to cool places and have a great relaxing time. Flying—the kind we do (tactical missions)—is a lot of work and requires a lot of studying, preparation, and mission planning, and that's on top of your existing ground job that takes up the majority of your time. Don't get me wrong—I do fly a lot, and I go to really cool places, and sometimes have a relaxing time or hit the pool. But that is the exception, not the norm. The majority of the time when we are on the road, by the end of the day I've got just about enough energy to eat a nice dinner and then collapse in my bed, only to start it all over again the next day. It's mentally and physically taxing, but SO MUCH FUN.
What opportunities have you had because of your education and profession?
The opportunity to work with Congress, meet with various heads of state, travel the world, FLY, and essentially have one of the best "experience" educations I could possibly imagine.
What stereotypes or criticisms have you faced as an educated Mormon woman with her own career?
I've never faced criticism from either members of the Church or people outside of it for my education or career as a Mormon woman. I have encountered sexism and misogyny, but that had nothing to do with me being a Mormon and everything to do with me being a woman in a traditional "man's" field.
Any other thoughts, advice, or stories you'd like to share with other women?

One of my favorite and the most beautiful things about our faith is that we believe in divine, personal revelation. Trust in the Lord and His guidance for you and your path. He may guide you along one that is more traditional for members of our Church and society at large, or He may not. Regardless, don't be afraid of where He leads you. He knows you and has a plan for you. If I went back twenty years and told my teenage self where I'd be now and what I would be doing, I would have laughed and flat out disbelieved it. But as I said above, I cannot imagine my life going any other way.  Had I not listened to the Lord and the Spirit guiding me, I never would have met my husband, we never would have adopted our daughter and experienced the joy and personal growth that came with that, and I never would have been blessed with the opportunity to serve not only my fellow Marines, but people worldwide to the best of my ability. In short, I would not be the person I am today. The challenges and trials I've faced have shaped and strengthened me. And I'm not gonna lie—I like who I am, I love my life, and pray that the Lord continues to grant clarity to me and my husband about where we are needed next.