D.C. Area Event Recap
by Holly Munson
Earlier this summer Aspiring Mormon Women hosted a networking event in Arlington, VA, part of the Washington, DC metro area. It was the second event outside of Utah, following a successful event in Boston. (We're so grateful to our counterparts in Boston who shared tips gleaned from their event to help make ours better than it would have been otherwise.)
Originally we planned the event to be primarily about speed networking, but we decided that it was just the right amount of people to pull off a discussion group. Though we had nearly two dozen women in attendance, it felt like everyone found a way to get involved in the discussion, whether it was throwing out a question to the group or sharing a helpful response.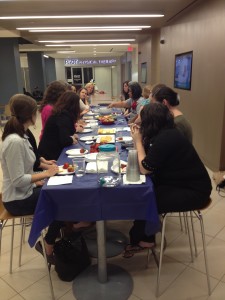 One thing I emphasized at the beginning was that everyone, whatever their career stage or position, had something to offer here. A recent study by Harvard researchers showed that many people feel literally dirty when networking. They "hypothesized that professional networking increases feelings of inauthenticity and immorality—and therefore feelings of dirtiness—much more so than networking to make friends." It's a tricky situation to remedy—of course people who are, say, looking for a job will feel like they have less to offer than someone who is hiring. One approach suggested by a researcher: "If you focus on what you can offer to the relationship, it might be an important mindset to have, and remove some of those feelings of inauthenticity." Based on our conversation, it was clear that each person, with her unique background and experiences, had something beneficial to share.
We talked about general ideas but some women also asked for specific advice about their work situation and seemed to get some good feedback. We covered a wide range of topics—What to do about a workaholic environment? How to make networking less awkward? How to handle not-so-supportive ward members? How to balance work and family? How to find a meaningful career path? We also discussed what attendees hoped to get out of Aspiring Mormon Women, and decided that we would like to organize another event (likely in the fall or winter) with panel speakers of women further along in their careers who could give seasoned advice.
After we wrapped up the discussion, it was great to see attendees chatting with ease and forging connections. I have quickly come to love the AMW Discussion Forum on Facebook for the solid professional advice and consistent emotional support it provides. It was wonderful to see that powerful network in action, in real life.
Our next AMW event will take place in Salt Lake City on September 23. More info here.