The Student Record: Ashley, Masters of Strategic Communication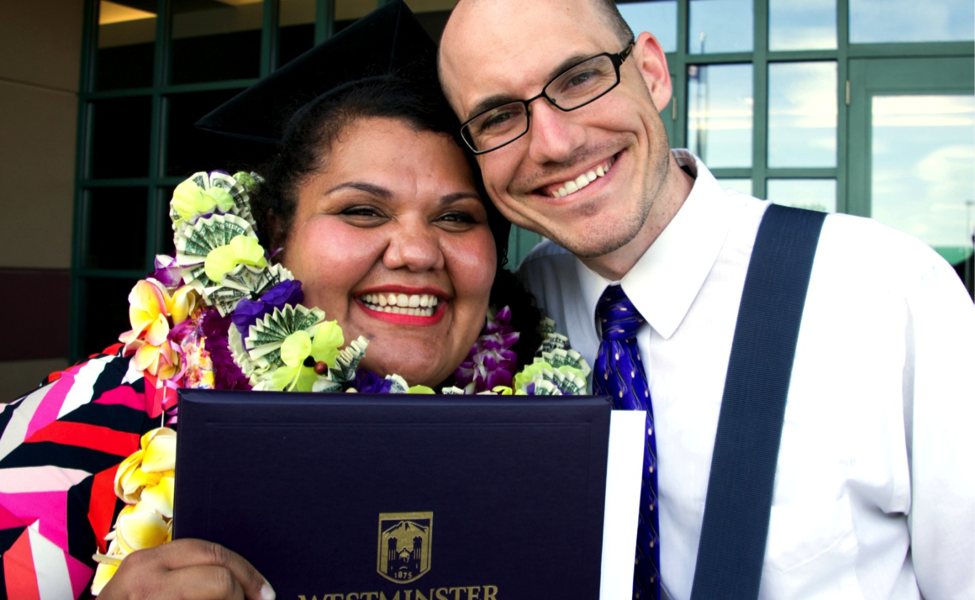 Welcome to our new ongoing series, The Student Record, which profiles current or recently graduated college students, vocational school students, or students enrolled in certificate-type programs. Nominate a woman you know (or yourself) for this feature by emailing us.
Name: Ashley Sokia
School/University: Westminster College
City/Location: Salt Lake City, UT
Major/Field of Study: Master of Strategic Communication
Marital status/children: Married with 2 kids, ages 2 and 4
1. What led you to the program that you are currently pursuing or have completed? Why did you select this major or field of study?
I had been working at the same organization for 10 years when I finally completed my bachelor's degree in business administration. I knew I didn't want to get an MBA, but I did want a master's in some sort of marketing field. I had quit my job and the job I had lined up afterwards fell through. I was without a job for six months and it came to the point where I was jobless and 7 months pregnant, so I prayed sincerely about what I needed to do next. The next day my alumni magazine came from Westminster College and I saw the advertisement for the master's in strategic communication and it sounded exactly like what I wanted to study next. I felt apprehensive about doing graduate school without having a job lined up, but the day I found out I got in, I also got called in to do a job interview at the school, got the job, and it actually helped to pay for my schooling and my husband's. I knew it was the right choice.
2. What feedback did you receive from friends, families or acquaintances about your schooling?
I was nervous about telling my family that I wanted to apply for grad school because I have two little kids and it meant that my husband and my mom would have to take on even more child care and household responsibilities. I don't know why I was surprised, but my mom and my husband were very supportive and encouraging. It wasn't easy. My husband and I had to have a lot of conversations about what support really meant to me and how to balance my homework time and his homework time. Things got even more complicated when I ended up having to travel a lot for work throughout the last two semesters of my program.
The most common feedback I heard from everyone was: "How are you doing it all?" My answer was that I was doing it all poorly. I had my second child two weeks after I started grad school and I was an absolute zombie my first semester. I felt really inconsistent at work, having good weeks and bad weeks. My professors always worried about whether I was going to get all my work in on time. In the end, I felt like I had only been half-good at a million things the entire time. I just coped with feeling mediocre because when I added up all my mediocrity, it was all actually pretty amazing.
My strongest supporter was my mom. She cared for and nurtured my kids the entire time, often caring them for up to 12 hours a day. I would never and could never have done it without her.
My professors were truly my mentors. They didn't give up on me, they would give me help when I was too tired, too busy, and too proud to ask for it. They pushed me through every semester. My supervisors and my family were a huge help by being supportive and flexible, but my professors at Westminster weren't afraid to offend or annoy me to getting my stuff done and that made all the difference.
3. What advice would you give to a student pursuing a similar course of study?
Allow yourself to have fun and not feel guilty about it. As part of my program, my professors required us to complete a project management plan each semester to outline when we would complete each part of our assignments. My third semester, my professor, had us all include a section about how we were going to avoid burnout. I wrote down that I was going to spend one evening a week doing something fun (no homework and no kids) and I was not going to feel guilty about it. It was awesome. I gave myself permission to take care of myself and I was able to make it throughout the week without becoming emotionally and mentally drained.
The most challenging part of my program was that I had to do a comprehensive group project. It was hard to find time to meet with my team around my full-time job, travel, my individual homework assignments, and family time. I know my team got frustrated with me, but I honestly didn't know what more I could do to meet their expectations.
The hardest aspect of my work-life-school balance was definitely my spiritual life. Working all week and doing school in the evenings and Saturdays meant that I was exhausted by Sunday. I ended up only going if I had to teach Sunday School or lead music in Relief Society. My scripture study and prayers really suffered, but I've been doing better since school ended. I wish I would have added them to my "have-to-do" list because I felt it would have made everything so much easier. I really missed out on the peace and comfort that daily worship brings me now.
4. What did you learn about yourself when you became a student?
I learned that one of my strengths is being able to conceptualize concepts. I can take complex ideas and simplify them into content that is more easily digestible for the intended audience. I also learned my weakness is time management and it was something I was constantly working on.
One of the skills I gained during my studies was composing project management and integrated marketing plans. I learned how to modify the plans to best fit the needs of a client and employer and found those skills to be readily transferrable to any position in my chosen career and future goals.
I actually worked a full-time job at my school and they covered 80% of my tuition costs. I took out student loans for the remaining amount. I've always worked while going to school. For my graduate programs, I was able to complete projects that worked for both my job and my schoolwork. It made me more engaged and innovative in both arenas. However, traveling for work was tiring and stressful.
The majority of my classmates were women so I was never criticized or belittled based on gender. I did feel like other women assumed they knew more about me and my life than they really did. Just because someone else had two kids and a full-time job doesn't mean they had the same pressure at work or with child care issues. I was the only woman who actually had a baby during the program and I started getting really irked when there were men in my program that "had babies" that were put on the same level. Unless that man was getting up every two hours to breastfeed, trying to heal from a c-section, and experiencing the physical changes from hormone adjustments, it was not the same thing.
5. What do you most enjoy about school?
I enjoyed working with real clients. I really felt like my program filled in some skill gaps to make me a more complete person and expanded my view of my profession and my world. As part of my program, I was able to go to Peru and work with wonderful people and have my first international trip. However, I enjoyed graduation the most. My four-year-old was excited and I was so happy he could see me up there. I hope it leaves an impression on him about the importance of education. If it doesn't, then I've got a million pictures of it that I can keep showing him over and over to remind him.
6. What are your current or future plans for employment or future schooling?
Right now I'm looking for a full-time job in marketing as a manager or director. My ultimate goal is to become a freelance marketing and business consultant, which is the main reason I went for the master's degree.