Video Series Featuring BYU Women Faculty: An Interview with Producer Amy Jensen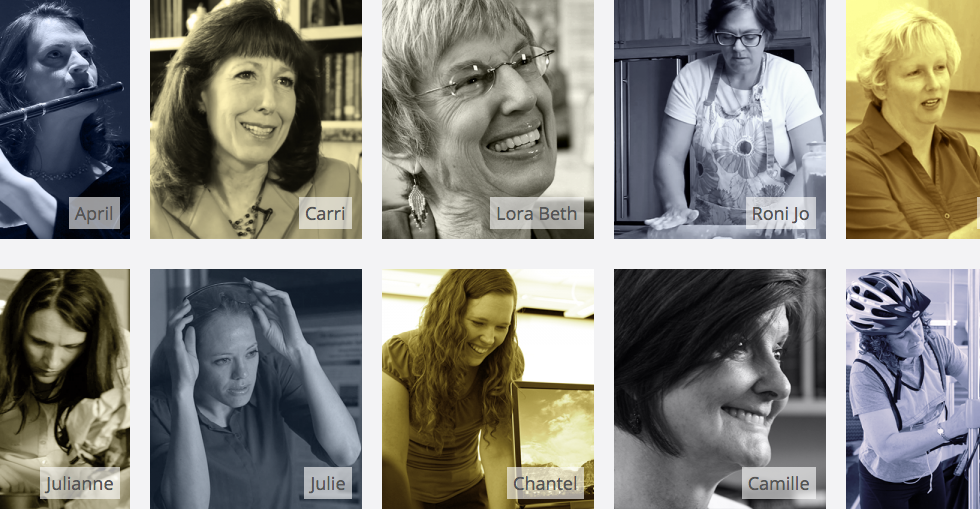 by Melanie Steimle
Earlier this year the BYU Theater and Media Arts Department, in partnership with the BYU Faculty Women's Association, released By Study, By Faith: Choosing a Good Part, a web-series of ten short films and additional written stories about BYU faculty women and their pursuit of learning.
I recently sat down with Amy Jensen, Associate Professor and Chair of the BYU Department of Theater and Media Arts, to find out more about this project.
Tell us a little bit about the origins of By Study, By Faith.
In January of 2014 Barbara Smith from the BYU Faculty Women's Association approached us about a project she was interested in accomplishing. She was interested in creating a short film that had established women and young women having a conversation about education. That got our executive committee thinking about the possibilities that something like that might have for our students. So we invited several young women that are filmmakers in our program to have a conversation about what a project might look like.
As we talked with the girls they thought it would be a great idea to think about the faculty women that were on campus. We tried to invite a diverse population of women, and what I mean by diverse unfortunately is, in this case, people from different colleges so that we had representation of the sciences, humanities, education, and the arts. We were just trying to have a variety of different types of educated women. Over the last year we made these short documentaries – the documentaries are about five or six minutes long – and each of the young filmmakers that were working on the project were assigned a production role. They were producers and usually directors as well or editors, but we all collaborated together on the making of each one. We had lots of really great conversations about what it means to be a woman at BYU, about what it means to be a woman who's getting ready to leave BYU and graduate, what it means to be a woman in the workforce or a woman at home, what it means to be both of those things or neither of those things. I learned so much from the girls and the things that they were thinking about their own being, their own journey, becoming these spectacular girls that they are right now, but thinking forward too.
What were some of the themes and patterns that emerged in your discussions in putting together this project?
We talked a lot about the title of the series: By Study, By Faith: Choosing a Good Part. We talked a lot about whether that phrase was okay. We chose to put a good part and not the/that good part (the scriptures say choosing that good part). We had a lot of conversations about choosing the good part and we determined that it was up to the individual and we didn't want to represent that there was one good way. All of us have moms or sisters who made really different choices than the women, the academics, who are represented in the films, and we wanted to value these stories but we wanted to make sure we weren't devaluing another story that was important to us that wasn't represented here that is equally as powerful.
We had a lot of rich conversations about diverse representations. I said that the girls are a diverse bunch but we ended up with a bunch of white scholars– we're so proud of the women that we're representing, we love all the women that we're representing – but because of logistics we didn't represent all of the populations on this campus that we wanted to and it was timing and logistics, but we talked a lot about that. Because that mattered to the girls, and it mattered to them because of their vibrant diversity, which is one of the things that I love about them: how different they are from each other.
What was one of the "ah hah" moments that you had in these conversations?
One of our students, Coco Mack, is getting ready to graduate from our film program. She's a returned missionary, she's an accomplished young woman, but she didn't know what her next step was. She specifically worked on the documentary about Roni Jo Draper and the documentary about Jenny Pulsipher. As she engaged with these women in an effort to tell their stories, she realized that it wasn't necessarily easy for them all of the way, and that there was work that had to happen but that it was work that could be done. So, nearing the end of our process she decided to apply for graduate school, and she's in the process of doing that right now. She had this realization about herself as she watched these women. She knew that she was capable, she knew that she was good at some things, but she realized that she was ready to do hard things, something that seemed hard for herself and not easy. That was remarkable for me. If Coco is the only girl out of this series that decides to go to graduate school or that decides to have further education, I feel satisfied.
Can you talk a little bit about how this project has been received, both from the young women on campus as well as others in the community?
We're still in the early stages of that. Right now we've had all kinds of great interactions with people from the BYU Women's Studies program, who have shared the work with their students through their newsletter. We've been on the BYU home page for the last ten days. We've had people from all over the world who have viewed the website, and that's kind of exciting. The majority of the women and men who have looked at the website are from the western United States, but it's really interesting that someone from Madagascar also looked at the website. The great thing about it is that it's provided us lots of opportunities to have conversations like this with people who care about women's issues, people who care about the way students and faculty collaborate together, people who care about the way men and women collaborate together, people who care about all kinds of voices being shared. That's been the best part, the conversation. That's the thing I love most about any project: the opportunity we have to create and then reflect on the work that we've created.
Anything else that you want us to know about this project?
I just think the women that the films are about have spectacular and rich lives and they've had all kinds of challenges and all kinds of lovely things have happened to them that we couldn't capture in five minutes. You get to see one of their stories but their stories are so much bigger than that. I like to think about that with women that I encounter all of the time, that I'm lucky enough to get to know this one small story about you, but I know that you're so much bigger than that. I know that what you have to offer is so much larger than that, and I just haven't had the opportunity to see that yet. I like that this project helped me to encounter and engage with women in a better way. I was already trying to do that, but this helped me to focus on that: to know I might only know this one small thing about you but you're so much more than that and I hope that I'll be able to discover other things as we engage together.
Student Creators: Cassie Hiatt, Melissa Lee, Elisabeth Weagel, Coco Mack, Melody Chow, Samantha Copé, Bobbie Lee, Samantha Hill
Faculty Mentors and Executive Producers: Amy Jensen, Thomas J. Lefler
Faculty Women's Association Liaison: Barbara Smith