Career Day: Army National Guard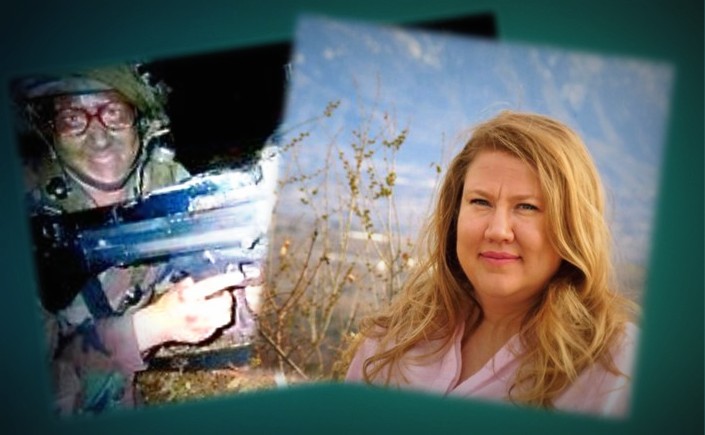 Tell us a little about yourself and about your job.
Hi! I'm Charity Coe, I'm a Physician Assistant working full time in Trauma and Emergency Surgery at University of Utah Hospital and I am in the Army National Guard. Today I'll focus mainly on my 'part-time' job in the National Guard, but there's a fair bit of overlap as the jobs complement each other.
I grew up as an "Army Brat," my dad was an Explosive Ordnance Disposal (Bomb Squad) Officer in the Active Duty Army, and we moved ALL OVER (about every 2 years). I've lived on the west coast, east coast, in the Midwest, and in Germany. My mom has a degree in accounting, but was a stay-at-home/homeschool mom while I was growing up. I wanted to grow up and be just like her, and while I don't have the same lifestyle, both my parents taught me a lot and are often my first call for life/career advice.
I joined the Army National Guard when I was 18, as a Medic, then returned to BYU where I finished my Bachelor's degree in Community Health, and completed ROTC. I accepted a commission in the Army National Guard as a Medical Service Corps Officer, and a year later was accepted to Physician Assistant School. Since graduating from PA school I've worked as a PA in both military and civilian settings. On the Military side, I've done a Humanitarian deployment to Nicaragua, Combat deployments in Iraq and Afghanistan, and a training exercise in Morocco. On the Civilian side, I did a one-year PA Residency at Johns Hopkins Hospital in Surgical Critical Care, and have worked for U of U for the past 7 years.
What IS the National Guard?
The Guard dates back to 1636, when Citizen-Soldiers formed militias to defend community and country. National Guards in each state have Army and Air components, but the troops/ airmen differ from the Army/Air Force Reserves and Active Duty in that they are State (not Federal) troops – under the command of the Governor, not the President…..Except in special situations where the President can "Federalize" Guard members for a specific mission. In recent years that has meant deployments to Iraq, Afghanistan, Bosnia and other places. In addition to Federal deployments, National Guard members can be mobilized by the Governor for local emergencies and, after Hurricane Katrina, may respond to emergencies in other states (so that the Guard soldiers in that state can care for their own families). Each state National Guard traces their own unique military lineage, and the Utah Guard (which I belong to) traces its military lineage back to the Nauvoo Legion, which you have to admit is kind of cool.
What does your job entail?
On the Civilian Side – I work mostly in an in-patient setting (with patients currently admitted to the hospital). I arrive at work, my team takes sign-out from the night team on what's happened over the past 12 hours. We then divide up the team list and each team member takes about an hour to review the past 24 hours of labs/vital signs/ notes, and examine our assigned patients, and then reconvene as a group to discuss and see our patients, and create a plan-of-the-day with the Attending Physician (a.k.a the Boss). The rest of the day may be spent doing procedures, doing paper work, seeing clinic patients and returning patient phone calls. At literally any point in the day we may respond to a trauma activation (car accident etc where based on EMS report the ER physician asks our team to evaluate the patient as soon as they arrive) or new General Surgery consults for things such as appendicitis. At the end of our 12 hour shift we sign out to the night team. I typically work 13 12-hour (really 14-ish hour) shifts in a month and we rotate weekend/holiday coverage.
On the Military side, on a typical drill weekend I attend a leaders meeting, we have formation and training for the day, which may be hands-on or classroom, and may cover medical or military topics. In a deployed setting I provide patient care – often in an aid station (primary care and basic emergency stabilization) but on my most recent deployment I had the opportunity to work in a hospital instead – and those days were much like my civilian job…except I had a number of Pashtu speaking patients, and we had the occasional rocket-attack to add excitement to our lives….
What led you to a career in the Army National Guard?
The joke is…that being in the Army is payback for being a judgmental 17 year old: I remember one Sunday at Ft. Lewis (near Tacoma, Washington), I was leading the singing at an on-base Sacrament Meeting and halfway through the sacrament hymn the filthiest soldier I'd ever seen burst into the chapel. I thought something like "Thank goodness I'll never come to church looking like THAT… Needless to say I've since been to church 'looking like THAT' and worse!
In all seriousness, I originally enrolled in ROTC at my Dad's encouragement to develop some leadership skills, improve my fitness, and have fun (there'd be boys! My major at BYU was 90% women) and I fell in love… with the Army! I realized that the Army National Guard would help pay for BYU, give me experience as a medic, and make PA school affordable.
What kind of education/training is required for the Army National Guard?
Depends on what you do for the National Guard…or anything else in the Army:
– Enlisted Soldiers (in the medical field this includes Medics, LPN's, Respiratory Therapists, Lab techs, x-ray techs, OR techs, etc): Basic Training a.k.a Boot Camp 9 weeks + Advanced Individual Training (AIT) a.k. Medic school/RT/OR Tech etc school – variable length.
– Officers typically have a bachelor's degree, and all officers complete a Basic Leadership Course after they Commission (the formal term for becoming an officer). There are 3 paths to commissioning:
– ROTC – a college based program, you take courses in leadership and receive in-depth mentoring during your college years, and commission as an officer at the end of your Bachelor's degree. – Of note, ROTC is a nice "try-it-out" I took 2 semesters before deciding to enlist, you can typically take up to 4 semesters without a military obligation, and those are some fun and useful classes!
– OCS – a non-college based Officer training school, for Soldiers already in the military, typically a few months long.
– Direct Commission – for certain skills the Army will grant a direct commission, no pre-commissioning course needed. This applies to Doctors, Physician Assistant's / Nurse Practitioners, Registered Nurses, Dentists, Lawyers, and a few other specialties.
What kind of job opportunities are there in the National Guard?
There are literally hundreds of jobs and educational opportunities in the National Guard. Opportunities vary a little bit by state, more information is available at http://www.nationalguard.com/careers
What types of jobs have you had in the National Guard?
Medic – When I first joined, my unit did physical exams – I drew blood, tested vision, did urinalysis (you know you're jealous!) and gave shots. On a few occasions I provided EMS type support to training events.
ROTC Cadet – Once I had completed Basic Training, AIT (Medic School) and was a Junior in college, I was able to 'contract' meaning I promised 8 years of service after school, and got a monthly stipend to pay for school. My Junior year I rotated with other juniors leading squads (7-10 cadets) and platoons (30-40 cadets) and had my own 4-cadet color guard team, we rotated through doing color guard for sports and other special events. My Senior year, I spent 1 semester as the Cadet Company Commander (in charge of training & overseeing about 70 cadets and a 3 day training exercise) and the other semester as the Public Affairs Cadet (Oversaw all color guard teams, did press releases, etc).
Medical Service Corps Officer – When I first graduated from BYU I was a generic Medical Admin/plans/operations officer, I worked a few short-term full time assignments processing physical exams, assisting with base operations, and I completed an Army Medical Officers Basic Course.
Physician Assistant – I was fortunate to be able to attend the Military's Physician Assistant School (a 2 year program) with the military paying for books, tuition, and my salary (as a 2nd Lieutenant). As a Physician Assistant in the National Guard I've worked in a variety of roles, including Medical Planner (planning medical aspects of a humanitarian operation, and advising the commander on medical issues). I've also served as the health care officer at a small aid station in Iraq (my supervising Doc was about 20 miles away), and in a Combat Hospital in Afghanistan where I worked on the inpatient floor and ICU. Currently in addition to any clinical responsibilities I serve as the medical training officer in my National Guard Unit.
What is the best part of your job?
In both my military and civilian careers, I love having a job that makes a difference! After one particularly rough night in Afghanistan I thought that we'd lost the fight to return a young soldier to a functional life. His heart was still beating, but he otherwise showed no signs of life. Someone had told me 'thanks for trying' and I lost it, and said that the only thanks I wanted was to see that soldier walk, talk, and hug his mom…then I sheepishly went to my room to calm down & try to sleep. Six very long months later someone sent me a link to a news article & video clip, showing my former patient alive and well – and he walked, talked and hugged his mom. – I cried, laughed, and danced around my living room when I saw that!
Even when our team efforts are not making the difference between life and death, I love taking care of people who are having a terrible day (car accident, appendicitis, etc) and making it a little less awful.
What is the worst part of being in the Army National Guard?
Boring Mandatory Training…Just kidding!
Most people assume that the worst part of the job is that sometimes there are genuinely hard things – hard to see, hear, smell, or do. The silver lining that keeps this from being the worst part of the job is that in enduing hard times helps you grow, and that we all tend to pull together in a crisis.
The truly worst part is missing time with family, towards the end of my time in Afghanistan I was rushed home a few days ahead of the rest of my unit, to the bedside of my Grandmother, who died 2 days later, I missed most of the last year of her life. I have been blessed with a wonderful family and I am so grateful for their understanding and support.
What's the work/family/life balance like in the National Guard?
The National Guard is a little more forgiving than the Active Duty Army – since you're typically only working a weekend a month and a few weeks a year, although your initial entry training may involve several months away from home (We are required to complete the same initial entry training as Active Duty Army Soldiers). There are also sometimes opportunities to work full time for weeks or months on special projects, and some full-time National Guard jobs (all the benefits of Active Duty Army, without the moving around the world part). Unlike most other part-time jobs, The National Guard offers a career path and formal mentorship program – So when you're home (most of the time) this is a great balanced career.
Deployments vary in length and frequency depending on the world situation and your military skill set. When I first joined (Pre 9/11/2001) deployments were an almost-never/ don't-worry-about-it thing. For the past decade they've been more frequent. Everyone says deployments are winding back down now… but they are still ongoing and no one knows exactly what the future holds.
In the case of pregnancy, maternity leave is offered (typically 6-12 weeks), and women are exempt from deployment during their pregnancy and for 6 months after the birth of their child.
What is the biggest misconception people have about women in the Army National Guard?
That this is not a job that "nice Mormon girls" do…to which I say that the Army is anything but tranquil, and Spencer W Kimball once said "The Righteous woman's strength and influence today can be ten-fold what it might be in more tranquil times" – the Army needs good women as much or more than anywhere else.
What opportunities have you had because of your education and profession?
I've been able to see parts of the world I never thought I could visit, made some amazing friends and gained a useful set of skills. My world view has expanded significantly, and really you can't ask more than that of any profession.
What stereotypes or criticisms have you faced as an educated Mormon woman?
I've had some people question my choice of faith – either how I can believe in a God when we see some ugly things, or why I affiliate with the LDS church specifically, or (usually joking) how many sister-wives I have. People are not perfect, and while I don't have an answer for every question or criticism, I know that for me, my faith is my rock, and I couldn't do a job that is sometimes heart-rending without it.
What spiritual guidance have you felt as you have pursued your education and developed your career?
Entering the military, and accepting assignments away from home (if I have a choice) are things I don't take lightly, all those decisions are taken with a great deal of prayer and consideration. For the deployments I haven't had a 'choice' in, I've been able to pray and come to a place of peace.
In general I know that women in camo is not the first thing that comes to mind when you sing "As sisters in Zion," but I feel that the words "The Errand of Angels is given to women, and this is a gift that as sisters we claim: To do whatsoever is gentle and human, to cheer and to bless in humanities name" applies even more in a sometimes harsh environment – and not just for women who work in the medical field. I've seen women in administration, intelligence, supply and other roles nurture and cheer those around them.
Any other thoughts, advice, or stories you'd like to share with other women?
I truly believe that there is no one perfect plan, and that no matter where you are in life, you can be an influence for good and find opportunities for personal growth and development. There is a unique path out there for you – and finding it is a great adventure!