YW Activity Plan: Preparing for a Successful Job Interview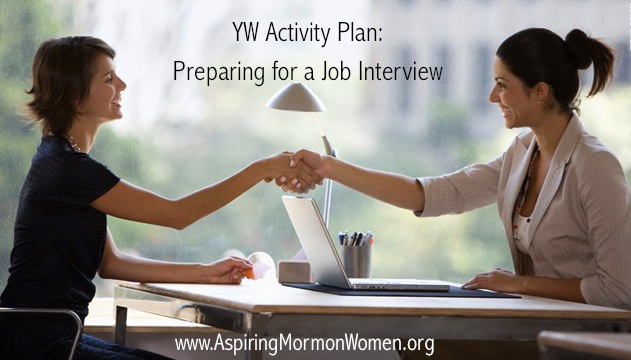 Prepared by Laura Durham
PURPOSE:
Convincing someone that you're the right person for a job is essential to success. Interview skills are important not just for job applications, but for any situation where young women need to effectively represent themselves.
OBJECTIVES:
To prepare young women for real life interviews by practicing needed skills.
To inform young women of what will be expected of them in the workplace.
To practice asking the right questions and representing themselves effectively.
To build confidence and character.
PERSONAL PROGRESS:
Individual Worth: #4, #7
Knowledge: #2, #5
PLAN AHEAD:
This activity may require some volunteers from the ward if you don't have enough Young Women leaders. One leader for every 2 or 3 girls should work.
Collect the classified section from local papers or print them out from the papers' websites. Pick four or five jobs and highlight them as "available" and prep your leaders or volunteers with five interview questions relevant to that position (see sample list of interview questions here). Possible questions could include: What is your previous experience? What is your ultimate career goal? What strengths will you bring to this company?
Optional:
Develop your own jobs that the girls will interview for such as chef at a restaurant, manager of a bookstore, head writer for a television series, photographer at a magazine.
OR
If you want to be silly, you can create imaginary jobs such as applying to be the school mascot, the head dishwasher at their house, the sole proprietor of the remote control, or the official decorator of their home.
INTRODUCTION:
Talk to the girls about their education and family/career goals. If you want, you can do a visual activity to help the girls realize how many mothers in the United States are working mothers (70%) by having them all stand, and have 70% of them sit down to reveal that statistics show that only 30% of them will be in the financial position to stay at home while their husbands take full responsibility for the family's financial welfare.
Ask the girls what they want to study in college. What kind of job do they want? How will this path of study prepare them for that job? Some of the older girls might already have part-time jobs. Ask them about their jobs and how they chose that job, and what they needed to do to prepare for that job. If you think that might be an awkward discussion for whatever reason, talk to one of the girls beforehand and ask her to prepare answers for these questions so she can briefly talk about her experience with the other girls.
Pass out interview tips (see links below) or come up with your own list of tips for the girls to remember when they interview. Talk about why these tips are important and ask them what they think is good/bad behavior at an interview. See video link under resources if you want to offer some specific guidance.
MOCK INTERVIEW ACTIVITY:
The amount of work you want to put into this activity will depend on the support you have from leaders and other volunteers. Here are some ideas:
Set up classrooms with a sign on each door with the company name. Have a receptionist outside each door and chairs for the "waiting room." Or set up different stations in the cultural hall in different areas with chairs. Provide one interviewer per girl or more depending on the amount of leaders you have.
Girls could interview one-on-one with an interviewer, or if you think the girls won't be too nervous or overly critical, have them watch other girls interview and provide feedback at the end. Be diplomatic in offering positive feedback to all the girls and making sure they all feel confident in what they did well and what they might improve on. Interviewers should also offer feedback to the girls at the conclusion of the interviews.
WRAP UP:
Gather all the girls together and ask them to share their experiences about how they felt, what made them nervous, what interview tips they used and if they worked. Ask the leaders to publicly compliment on their interview performances. Be diplomatic in offering positive feedback to all the girls to ensure they all leave feeling more confident as well as understanding as to what they might improve on.
QUOTES:
"We can choose to be passive or active, to ask questions or be silent, conform to social pressure or resist the status quo. I think women need to make more active choices more of the time."
Chieko Okazaki, Cat's Cradle
RESOURCES:
Job Interview Do's & Dont's Video
Interesting History of Working Mothers
Interview Tips for High School Students Presentation
Additional Interview Activities