Career Day: Architect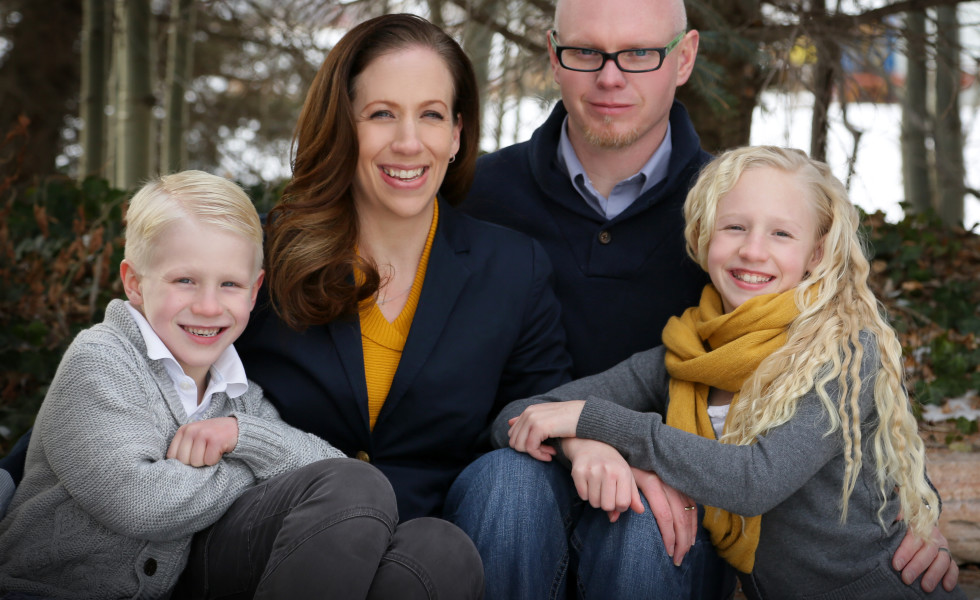 Tell us a little about yourself and about your job?
My name is Natalie Whitney and I'm from West Point, Utah. For the past five years I have lived in Calgary, Alberta, Canada, with my husband and two children. We love running, biking, and our newest hobby and attempt at embracing Canadian winters—skiing. I have a master's degree in architecture and I've completed all the requirements for a license in the United States but I still have a few requirements to meet to earn an architectural license in Alberta. Hopefully in another six months I can finally call myself an architect. I currently work for an architecture firm as a project manager on commercial and industrial types of projects.
What does your job entail?
My job as a project manager is to oversee the process of developing the design, construction documents, specifications, and the construction contract administration process. In other words, I oversee project from conception until completion. My job involves coordinating with clients, designers and design architects, technicians/drafters, specification writers, engineering consultants (mechanical, electrical, structural, landscape, civil), and the construction team. Some of my biggest responsibilities are to make sure the flow of information is happening in a timely manner and to manage the project budget.
Why did you want to become an architect? What drew you to the profession?
Crazy as it sounds, I decided I wanted to become an architect when I was ten years old, and I never changed by mind! My dad is an artist, and his sculptures were very geometric and architectural in nature. As a child I would daydream and pretend that his sculptures were buildings. As I grew up, my parents fostered my interest in architecture—they exposed me to art and architecture through books, magazines, and visits to art galleries and buildings.
What kind of education/training is required? Any post graduation requirements? What skills/personal characteristics are important to have/develop?
If your end goal is to become a licensed architect you have to earn a master's of architecture from an accredited program. I did my undergrad in architecture, which meant the transition from undergrad school to grad school was fairly seamless. I didn't have to take any of the graduate school exams, but I did have to apply and provide a portfolio of my work. To be honest, architecture school is tough mainly because it is time-consuming and physically demanding. It isn't the type of program that allows you to go at your own pace, either. Once you get accepted into the program you need to be prepared to keep up, which means a lot of all-nighters.
The next step after graduation is to get a job and register with the National Council of Architectural Registration Boards (NCARB) as an intern architect and begin the Intern Development Program (IDP). The IDP requires that you log your hours of experience, and it is broken down into several categories. On average, the IDP program takes between three and five years or longer to complete. Many states now allow you to start taking the Architectural Registration Exams after you have completed a minimum number of hours, prior to completing the IDP.
The AREs are made up of seven exams, and most exams have two parts: multiple choice and one or more vignettes (drawings). Some exams are harder than others, but the entire exam process can be fairly rigorous. When I started studying, the materials I used recommended studying forty hours per exam. I found that number to be quite low, and for some exams I studied two or three times that. I also wanted to make sure I was prepared because I was fast-tracking the process and wanted to minimize the number of exams I would have to retake. If you fail any part of an exam you have to wait a minimum of six months before you can retake it.
The entire process can seem daunting, but it is doable. To become an architect you don't have to be the smartest or the most talented; it simply requires time, patience, and commitment. More information can be found at http://www.ncarb.org/en/Becoming-an-Architect.aspx
What kind of job opportunities are there in your field?
There are many job opportunities within the architectural industry. I've stuck to the more traditional route and I have always had fairly traditional architectural types of jobs. But even within the traditional route there are different career paths you can choose from. Once someone has graduated and has a few years of experience, she might gravitate toward being either a project architect or a design architect. Project architects manage the project, budget, construction, etc., whereas design architects are mainly involved in the upfront design of the building (elevations and floor plans). Oftentimes in smaller firms with less structure, one person might do both jobs. Many architects specialize in other areas, such as sustainability, quality control, marketing, programming (space planning), building codes, urban planning, etc. In addition, many architects specialize in different building types, such as residential, schools, hospitals, industrial, commercial, etc.
What types of jobs have you had within your profession?
I've held many different jobs within my profession simply because an intern architect right out of architecture school starts out at the bottom and has to work her way up. So I've had several different types of jobs, including technologist/drafter, job captain, construction/contract administrator, and project manager. I've heard interns complain about having to start at the bottom, but looking back at the process I see that it's necessary. Architecture school mainly focuses on design and in my opinion does not cover enough regarding professional practice. The professional practice part has to be learned on the job, and it simply takes time and experience to learn.
What is the best part of your job?
The best part of this job is the different projects/buildings I get to work on and people I get to meet and work with. I love learning about what other people do and how I can help them achieve a physical environment that meets their needs. It is also extremely satisfying to see the final product of a project that you have worked on from conception to completion, which often takes years.
What is the worst part of your job?
For me there are a few difficult parts to this profession. A common phrase used in this profession is "feast or famine," meaning we often have either too much work or not enough—both are very difficult. Architecture is always very affected by the ups and downs in the economy, and that can be stressful.
Something else that can be difficult is that you need to understand architecture but you also need to understand construction, mechanical, electrical, structural, and civil engineering. It can take years after graduating from university and even after becoming licensed before you are ready to take the lead role on a project. The profession requires a lot of work, patience, and tenacity. You have to go after what you want—that doesn't always mean you'll get it, but you can't sit back and wait for opportunities to fall in your lap.
What's the work/family/life balance like?
In my experience the work/family/life balance depends upon your job responsibilities and employer. I have had both negative and positive experiences, but I would rather focus on the positive. When I had my second baby, my employer at the time was very supportive. Just after returning from maternity leave they allowed me to reduce my hours and they purchased a laptop for me and gave me the freedom to work from home as needed. I think it is important to note that sometimes flexibility must be earned first and should never be abused.
Now that our children are both in school, my husband and I both work full time. It's not easy but the key for us being able to make it work is flexibility. We don't get caught up in my responsibilities versus his—we both jump in and do what is needed when it's needed. It has made us a stronger couple and family.
What is the biggest misconception people have about your job?
There are many misconceptions about architects! One of the biggest misconceptions is that all architects are design architects and that you must be able to draw and be artistic to become an architect. There certainly are many architects who can draw and are very artistic, but not all fit this category. Some architects are less artistic but have a good understanding of the technical aspects of getting a building built. Both types of architects are equally important, and both require creativity and problem-solving skills but in different ways.
The other big misconception that is common is that architects make a lot of money. While there are a few architects who do make a lot of money, the higher salaries are generally reserved for firm leadership such as partners or principals. That being said, those people also have a lot of financial responsibility to the firm. Getting to that stage in your career as an architect generally takes many years of experience. That isn't to say you can't make a living, but you aren't likely to become wealthy. In addition, when you enter the workforce as a new intern architect, you start at the bottom and have to work your way up. Don't go into architecture because you think you're going to make a lot of money; go into architecture because it's really what you want to do.
What opportunities have you had because of your education and profession?
One of the best opportunities I've had was working on the new senior residence building at the Missionary Training Center in Provo. I didn't have the opportunity to serve a mission, so it was a wonderful experience being able to spend time there each week. I loved walking down the halls of the administration building each week and hearing the missionaries sing "Called to Serve"—it was so powerful. One of the other things I enjoyed about working on this project is that I came to understand how sacred the Church views the use of tithing funds on Church building projects. We prayed at the start and end of many of our meetings for the guidance we needed in handling these sacred funds.
What stereotypes or criticisms have you faced as an educated Mormon woman with her own career?
For me, being an educated Mormon woman has not come without criticisms. My family has always been very supportive, but there are other people in my life who do not support my decisions to pursue an education and career. It is their opinion that instead of my husband and I both going to school at the same time, I should have quit and worked to put him through school. In order to continue a relationship with them, I don't talk about my job and we pretend that that part of my life doesn't exist. It is hurtful and causes a lot of strain in the relationship, but I know that getting an education is what I was supposed to do. It has always been necessary for me to work and contribute financially. In fact, at one point we decided it would be best for our family if my husband was a stay-at-home dad while our kids were younger. It worked really well for us and our kids still talk about how fun it was—Daddy had daily wrestle time with them! I'm so glad that I've been able to contribute to the needs of our family and been able to build the meaningful career of my choice.
What spiritual guidance have you felt as you have pursued your education and developed your career?
I have known since I was about twelve years old that I was supposed to get an education. It is difficult for me to even explain to people how clearly I have known this, and I know that it was through the guidance of the Holy Ghost.
About three years ago I started feeling the promptings of the Spirit that I needed to quit my job and focus on taking the Architectural Registration Exams. I had tried for years to find the time to study, but between working full time and having two young children, it was nearly impossible. So I took that leap of faith and quit! Just as I was starting the process of taking the AREs I was called to the Young Women presidency in my ward. I was worried about how I would be a good mom, wife, and YW leader and get through the exams—I was tempted to turn the calling down. Instead I decided to make a promise to the Lord. I promised that I would not study on Sundays and that I would make my family and my calling a priority if the Lord would guide me and help me through the process of taking the AREs. I received confirmation from the Lord that He had heard my promise to Him when I received a blessing for my new calling. This experience has really helped to build my testimony. Many times during the process of taking the exams I felt the Lord's help and guidance especially when I needed it most.
Any other thoughts, advice, or stories you'd like to share with other women?
Follow your heart and the promptings of the Spirit! Do what you feel is the right thing for you and your family or future family, especially if there is something you are passionate about. Don't let other people make choices for you or discourage you from your goals or passions. You will likely experience negativity in some form if you choose to pursue an education and career. I've found that oftentimes the people who tend to be the most negative toward the choices I have made are sometimes insecure about the choices they have made for themselves.