Career Day: Deaf Studies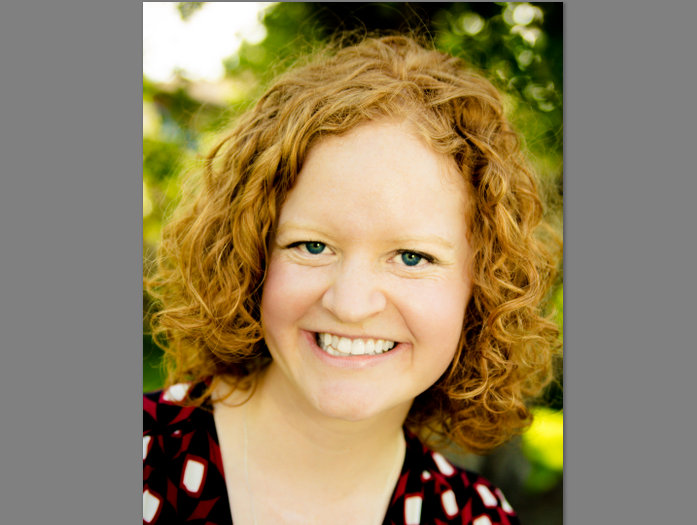 Tell us a little about yourself and about your job.
My name is Kati Morton. I am originally from Pleasant Grove, Utah. I have a BA in Deaf Studies from Utah Valley University (UVU) and a MA in Deaf Studies with a Concentration in Deaf History from Gallaudet. I have lived in the Washington, DC region for over five years. I came for graduate school and planned to leave post-completion, but ultimately decided to stay.
I currently work at Gallaudet University in the District, doing government and community relations. Gallaudet is a one-of-a-kind school. It has the unique mission of educating deaf and hard of hearing students and has been doing so for the last 150 years. It is a bilingual place, with communication taking place in American Sign Language and English.
What does your job entail?
My job is a bit of the "jack-of-all-trades" sort, but my primary responsibilities are to help foster the relationship between the University and the local community, as well as the DC and federal governments. I work with community organizations, businesses, City Council, Congressional offices, and others, to build partnerships and create opportunities for our students.
What drew you to a career working with deaf populations?
It just sort of happened. I took an ASL class my senior year of high school, but when I entered UVU, I planned to major in history. However, I kept taking ASL because I enjoyed it. At that time, UVU was in the process of establishing a Deaf Studies Bachelor's Degree program, and so I switched. My masters ended up being in Deaf History so I was able to combine two of my passions.
What kind of education/training is required?
Fluency in American Sign Language and an understanding of Deaf Culture are a must. While I work doing external relations, and that entails a lot of writing, planning, and coordinating, my BA in Deaf Studies and my MA in Deaf History are the foundation for being able to do my job, especially because I am not deaf myself. It is critical in my profession to be able to work with people different from me. As a young, hearing, LDS woman from the West, I am surrounded daily by people with very different backgrounds than me, both within the University and those externally that I work with. I love that about my job. It requires flexibility and a sense of humor, as well as acknowledgement that I have a lot to learn. The right attitude is everything.
What kind of job opportunities are there in your field?
While I am not an interpreter myself, interpreting is a very popular career option for people who learn American Sign Language. I have many friends and colleagues who are interpreters and love it. Additionally, linguistics, international development, social work, and psychology are some other options. Learning a new language opens up many opportunities for growth and a whole community of people you didn't know before.
What is the biggest misconception people have about your job?
People often think that because I work with American Sign Language that I am an interpreter. While I have taken interpreting classes and do it on rare occasions, it is not what I do everyday. The way I have found myself explaining it is that I have a "regular" job that is in ASL.
What opportunities have you had because of your education and profession?
I have had incredible opportunities in my profession. The nature of what I do means I get to work with Congressional staff, DC government, Gallaudet administrators and others. This has provided many learning opportunities that I really love. We are also working on a real estate development project that I am heavily involved in. That has opened up an entirely new field to me that I never anticipated participating in.
Additionally, while I work on the administrative side of things, I still get to dabble occasionally with academics. I did a poster presentation at the 2012 Deaf History International conference and I recently had the incredible opportunity of having a deaf history article I wrote published in a book. Deaf history is a very niche field, with more research always needed. Due to the small number of people involved, there are more opportunities to present and be published than are found in other historical fields.
What advice would you give to a woman considering studying deaf studies, or otherwise preparing for a career working with the deaf or hard of hearing?
For those planning to work with the signing deaf community, learning ASL is a must. Not just a couple classes, but becoming fluent. This helps with both communication as well as cultural knowledge. Immerse yourself- the majority of my ASL classes were taught by deaf people completely in ASL and that is the best way to learn. I know that sounds intimidating, but if you want to work with deaf people, you must learn from and interact with deaf people. Be flexible and willing to learn and have your ideas about the world challenged.
What spiritual guidance have you felt as you have pursued your education and developed your career?
Spiritual guidance is the reason I am where I am today. Sometimes I pause and think, "Wait. I work in Washington, DC. At a deaf university. Using American Sign Language. How did that happen?" It started when I followed the prompting to attend Utah Valley University (UVSC at the time of my enrollment). I had always planned on going to a different school, but around my junior year of high school, I felt strongly UVSC was where I needed to be. That was difficult to swallow in many ways. People in my school liked to make fun of UVSC, and I received some pressure to change my mind, but I stood firm, even though I did not understand it myself. At all. However, after enrolling, it became clear why I was supposed to be there, and I look back now with increasing gratitude that I listened. I absolutely adore that school and am incredibly proud to be a Wolverine. It was exactly what I needed. Leaps of faith into the unknown can be terrifying, but once you are across the chasm and can see things with light and perspective, the view is amazing.
While there were many reasons I think I was guided to go to UVSC, finding the field of Deaf Studies was a main one. I took ASL my senior year of high school, and kept taking it at UVSC, but planned on becoming a high school history teacher. However, UVSC was in the process of developing a Deaf Studies degree at the time. After taking more ASL classes, I realized this was what I enjoyed, so I switched to the Deaf Studies program. It is a phenomenal program with incredible professors who mentored me and helped me grow.
As graduation grew closer, I started looking at jobs and trying to decide what I wanted to do, when one of my professors encouraged me to go to graduate school at Gallaudet. Well, encouraged isn't quite the right word. It was more of an incessant urging, with him asking me practically daily where my grad school application was. I had never thought of going to grad school, so it was easy to shrug off for a while. Having someone believe in you like that though is really empowering. One day, while I was contemplating this, I went to an institute class at the Orem Institute of Religion affiliated with UVSC. I can't remember the exact name of the course, but it was something along the lines of "History of Women in the Church". The discussion that day revolved around education. I believe we read the quote by President Hinckley where he says to get as much education as we can. That hit me, and I started to reflect- I could either sit around in Utah County, waiting to get married, or I could take a chance and apply to graduate school, and if I got in, head out on a grand adventure in the nation's capital. There were many more prayers and much contemplation, even after I made my decision and moved to DC. Heavenly Father has supported me every step of the way and I am so grateful.
Any other thoughts, advice, or stories you'd like to share with other women? 
Always keep learning! I think at times we get caught up in degrees and titles, and that makes a person "educated" v. "uneducated". It makes me sad when LDS women who don't have college educations feel intimidated at church by those who do. Not everyone is afforded the same opportunities. To me, the educated are those who always strive to learn. Not just learn to spout off facts, but learn to understand. Understand the human condition and understand varied experiences, which spurs understanding about ourselves.
To illustrate- I attended my grandmother's high school graduation. To me, this is one of the most powerful sermons on education I could have received, even though I didn't catch it at the time (I was about 10 years old). My grandma, for a variety of reasons, did not graduate from high school. In her 60s, she went back to school, took classes, and earned her GED. She didn't need to do this, but she wanted to, and that's what I love. I'm sure it must have been intimidating, taking classes with teenagers and young adults, but she did it anyway. A few years later she started taking piano lessons. These are powerful examples that have taught me that there are no excuses- learning, growth, and progression should always be a part of our lives.