How I Learned to Code–And So Can You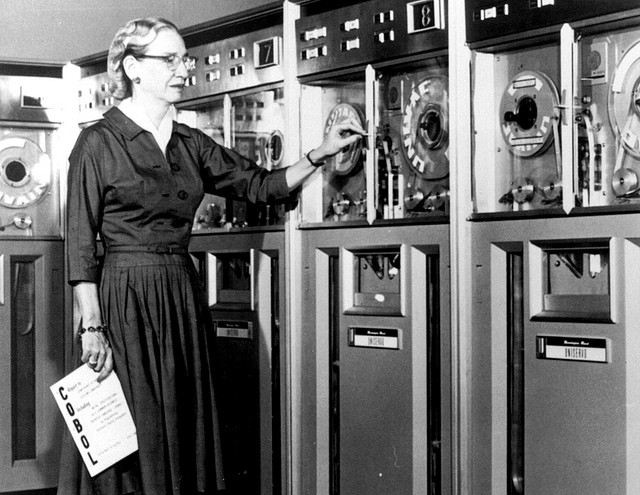 Image of Grace Hopper, an American computer scientist and U.S. Navy rear admiral.
by Kristina Giantsos Adams
There was a time when I was underemployed and incredibly bored with my job. Often I found myself looking for things to do and creating projects to pass the day. The company that I was working for had a very old and outdated website that I volunteered to update. I downloaded a free text editor and FTP client (SublimeText and WinSCP) and was handed the login and passwords to the company website. This is how I became the company's go-to web developer. I used W3 schools' tutorials to get started learning HTML and CSS. Luckily for me, my husband is a developer so he gave me valuable tips such as "I don't know, Google it" and "Make backup pages before you change anything." Also, I could find him on gchat when the page suddenly loaded all wrong (or didn't load at all) and he could usually help me walk through my mistakes. Unfortunately, not everyone has personal 24/7 tech support. The good news is that there are tons of resources out there to start anyone in coding (which can be overwhelming), ranging in price from free to somewhat expensive, and a large online community of coders who have all started at the beginning to support you on your journey.
Overview of Disciplines in Web Design & Development
I think coding is incredibly useful because it's a marketable skill that you can do part time or at your own pace from home and you don't necessarily need a degree to do it. You can start from zero and pick it up when your schedule permits. But first of all, it's helpful to understand that there are several distinct disciplines in web design and development and each discipline requires certain skills and abilities. Having even an elementary understanding of these various disciplines will help when considering the best resources and tutorials to use. Also, women who already have some basic coding skills may be interested in furthering their knowledge and expertise in a particular area.
Web Design
This is the graphic design or look of a website. Many people get started with building websites in Drupal or WordPress. The advantage to these types of builds is that it's a great way to get your feet wet. You can go in and tweak the code and learn a little about HTML and CSS in the process. Another advantage is that these pages generally have search engine optimization (SEO) built in. This enables Google and, uh…Google, to find your site more easily and automatically boost your rankings when people do search for your topic. A disadvantage to using templates is that they are limited to designs that someone else has already made.
Client-side and Server-side Programming and Web Development
This is the nuts and bolts of how a site functions, which includes HTML, XHTML, CSS, Javascript, APIs, Unix, PHP. Each of these is a different language with a different function. If you are coding a website from scratch, you can use templates like Bootstrap to copy/paste code into a file hosted on a remote server by a web hosting service (e.g. GoDaddy, Yahoo Small Business). Once the HTML template is in place, you can modify it to fit your needs with CSS. You can make it perform functions with PHP and Javascript and you can make it communicate with other websites with APIs, which make it possible for application programs to interact with each other and share data.
Information Architecture
This refers to the structure of the content within a site and interaction design. It may also be referred to as User Experience or UX, meaning how a user interacts with the site to find what he/she is looking for.
Content and Site Maintenance
Once a website is up and running, it's useful to understand how to maintain the site. This can includes security upgrades, content editing and development, and SEO, which changes periodically as search engines update their search algorithms.
Mobile Development
This is a rapidly developing field. Since much of the Internet's traffic now comes through smartphones and tablets, it's important that web sites look right on any size screen and adjust the user experience accordingly.
To begin, the languages that will give you a good foundation are HTML/CSS, JavaScript, and Python. These are great for building websites and developing a breadth of understanding of coding. If you find that you'd like to take these skills further and specialize, you can learn C++ or any .NET language. These will cost money to use, but they will make you incredibly marketable and significantly increase job opportunities. If designing and managing databases sounds fun to you, you can learn PHP, SQL, and Hadoup or Mongo, which are all free to learn online. There are also some charity/not-for-profit coding experiences that you can try out once you get a few programming languages under your belt: CodeDC, RubyforGood, RailsGirls.
Resources
With a basic overview of web design and development, it's a bit easier to examine resources, especially when there are a number of resources with costs ranging from free, to reasonable, to very expensive.  Many thanks to Natassja Lindzau for providing the bulk of the following information. These resources will help you learn the art and science of web design:
You can certify online as a web developer (programmer) with the World Wide Web Consortium: http://www.w3schools.com/cert/default.asp They are now charging $95 per certification but you can still use all of their resources for free.  You just have to pay to get certified. W3 schools have interactive tutorials and it is a great place to start to learn HTML and CSS.
The O'Reilly School of Technology has an excellent certificate program that is very reasonably priced and paced. For beginning coders, the "Introduction to HTML and CSS" course is recommended at a cost of $448.00.  (Look online for promotional coupons–sometimes their courses go on "sale" for 25-50% off!) 

http://www.oreillyschool.com/

An excellent resource and a frequent source of inspiration is 

lynda.com

, which offers all the video tutorials you could possibly watch about anything web-related and software-related.  For only $25 a month ($37.50 a month gives you the exercise files as well so you can practice what you see in the videos), you have access to a vast library of tutorials and that can be a great place to explore.  You can try it for free for 7 days or try it for a month and stop, then resume when you have more time (kind of like Netflix).
Now we get to the more expensive end of things: the graduate certificates.  If you are interested in Information Architecture, there are several universities around the country that offer certificates and master's degrees. A listing is available here. We personally haven't reviewed all of these programs so before signing up for anything it would be worthwhile to do some research on them first.
DevBootCamps can be a great way to learn, particularly if you live in Chicago, New York City, or San Francisco, which is where these centers are located. They can be quite expensive so it would be worthwhile to consider this if you've been programming for a while and know it's something that will be worth the investment.  There are scholarships available for women to attend. Without aid, the cost is $10,000 to $20,000 and the courses last between 6-8 weeks. The Course Report website is a good resource for exploring Dev Bootcamp options.
General Assembly is a local organization that has evening and day classes in coding.
Mobile Makers is another great program to learn mobile development, worth checking out.
One of the things I love about the web community–and Women Who Code in particular–is their willingness to help newcomers learn the ropes.  You will also find many online forums for developing web expertise and many very experienced web designers will offer advice and even help with debugging your code. As coders, we've all been newbies and this is one of the few fields where the "volunteer ethic" is still alive and kicking.
*Read about early women computer programmers here–the individuals who were the pioneers of the field.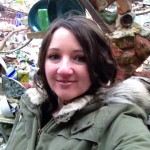 Kristina Giantsos Adams earned a BS in Chemistry and PhD in Pharmaceutics and Pharmaceutical Chemistry from the University of Utah.  She completed postdoctoral training at MIT in Mechanical Engineering and is a chemist with the US Food and Drug Administration where she reviews new drug applications and advises industry on policy.  Besides having a nerd crush on Neil Degrasse Tyson and knowing just enough programming to be dangerous, she enjoys kayaking, baking, sewing, drawing, and road trips with her husband.  They are expecting their first child in the summer.