Career Day: Nonprofits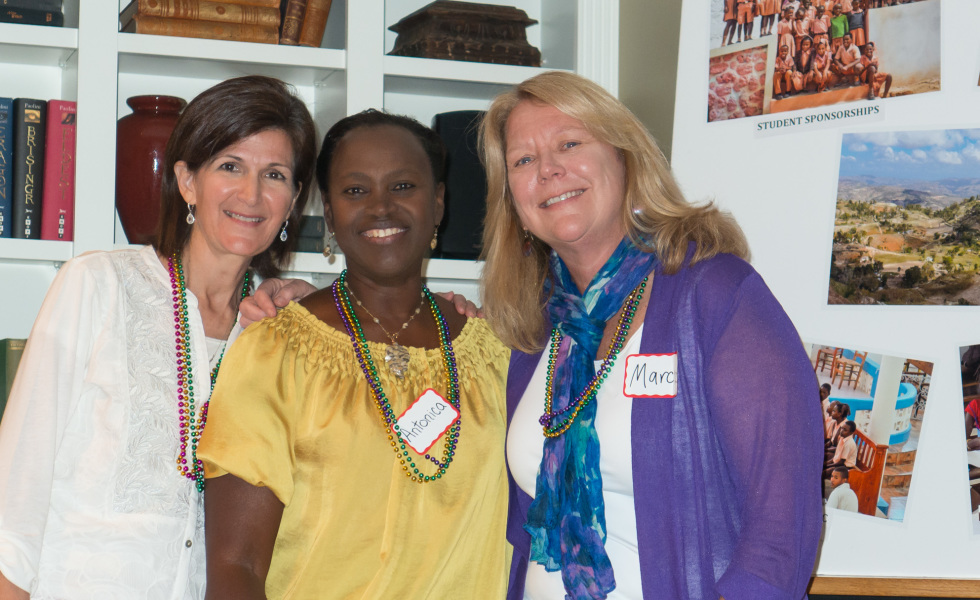 Tell us a little about yourself and about your job.
My name is Ann Korologos Bazzarone. I was born in Salt Lake City, Utah, but have lived for most of my life in the Washington D.C. area. My education and career path has been somewhat of a nontraditional and winding road, but I am currently helping to operate a nonprofit organization called La Vallee Alliance, which supports education in rural Haiti. I have a B.A. in classics/ancient Greek from the College of William and Mary, a master's degree in archaeology, and a Ph.D. in cultural studies from George Mason University. I served for nine years as a member of the Board of Trustees of the American College of Greece, a nonprofit university located outside Athens, Greece. I have taught college courses in Greece and in the U.S. on American history and research methods. I am also a wife and mother of two wonderful children, one of whom is currently serving a mission in Cape Verde off the coast of West Africa. (Can you tell I am a proud missionary mom? Since my husband was an adult convert, our Nick is the first to serve on either side of his family!)
What does your job entail?
As a cofounder and Director of Programs for La Vallee Alliance, I work with our advisory council and program manager in Haiti to coordinate all aspects of our organization. Our mission is to empower children and build communities through integrated education programs. Our model includes a summer academic enrichment program implemented by teams of U.S. volunteers, student scholarships, and a community-wide interscholastic academic competition, all supported by a new computer learning center and community library. This means my day consists of such varied activities as conducting ongoing communications with our team in Haiti and our board in the U.S., researching and strategizing how to make our programs increasingly sustainable, organizing volunteers, making presentations to potential funders, and collecting needed school supplies. One of the best aspects of my job is the opportunity to engage in a wide variety of activities ranging from the intellectual to the very practical, all in an effort to provide educational opportunities for children suffering from intense poverty.
Why did you want to work in the nonprofit sector?
To be perfectly honest, I did not set out to work in the nonprofit sector, rather the opportunity simply presented itself and I felt compelled to act.
In 1994, I met a wonderful woman named Antonica Payen, who had recently immigrated to the U.S. from Haiti in an effort to provide a better life for her family. After living in the D.C. area for about twelve years, Antonica's oldest daughter, Doris, was tragically killed in an automobile accident on the capital beltway. Facing immeasurable grief, Antonica and her husband, Theodore, mourned the loss of their daughter. In honor of Doris, the Payens eventually decided to return to their hometown of La Vallee. In what continues to be a source of inspiration to all of us, they made the decision to leave the relative comforts of the U.S. and heal themselves by working to help their community back home in Haiti. At the time, a group of us in Virginia thought it would be a great idea to assist their efforts, but we didn't really take action until January 2010, when Haiti experienced the most destructive earthquake in centuries. La Vallee, located less than twenty miles from the epicenter in Leogane, experienced widespread destruction. Most homes and schools were damaged or destroyed, and virtually every member of the population experienced the tragic loss of loved ones and family members. Back in northern Virginia, our founders rallied together to support the community. We formalized La Vallee Alliance in February 2010, and we took our first trip to Haiti a few months later. After witnessing firsthand the incredible destruction, seemingly insurmountable needs, and chronic poverty experienced by the people there, we determined to dedicate ourselves to a long-term and sustained effort. Since that first trip, our mission has evolved into one of improving educational opportunities and supporting integrated education programs for La Vallee's children. I guess, in sum, a personal relationship, a series of tragic and devastating events, and coming face to face with enormous need propelled me into working in the nonprofit sector.
What kind of education/training is required? Any post-graduation requirements? What skills/personal characteristics are important to have/develop?
There is such a variety of opportunity in the nonprofit arena that you can really adapt any type of education, training, or background to the work. To just name a few, there is a need for development, marketing and communications, accounting, program development, graphic design, grant writing, public speaking, logistics, translation, and event planning. Really, the list is endless. There is also the ever-needed and very rewarding opportunity to simply volunteer. If you have a particular interest or passion in working with children, sustainable economics, women's issues, water distribution, education, government, medical aid, etc., you can find large and small nonprofit organizations throughout the world with which to become affiliated. It can often be helpful to test the waters of an organization through volunteering in some capacity and then working to secure a permanent position. Alternatively, if you are just starting out in your career, courses and degrees in international development, nonprofit management, or a specific field like nutrition or economics can lead to great internships and positions in the field.
As far as skills/personal characteristics, I think it is very important to be a collaborator and a communicator. Understanding where people are coming from with different backgrounds and cultures and experiences is a critical skill. Thus, while I didn't plan it that way, my advanced degree in cultural studies has been an invaluable asset. It is also important to be resilient when things don't go as planned, which in Haiti is a regular occurrence. In addition, the nonprofit world is not one to enter if you are intent upon amassing a lot of money. It is truly a service sector.
What is the best part of your job?
The very best part of my job is the feeling of making a difference and affecting individual lives. Last summer we conducted one of our annual academic enrichment summer camps, teaching English and computer skills to 75 La Vallee students ranging in age from 6 to 18. In my class of older students there was a 15-year-old young woman named Mardouche. She was clearly very smart, but at first she held back and would only quietly respond to questions, head down and eyes on the ground. After a day or two of this, I decided that I just had to reach her, so I began gently putting my hand on her shoulder and saying in Haitian Creole, "Mardouche—you are very intelligent. You must believe me, you are very intelligent." For a while she continued to simply look away or shake her head. But then slowly, slowly, she began meeting my eyes and smiling up into my face, and finally she started to confidently participate in class using beautiful English. When I asked our program manager about her, she said that Mardouche has had a terribly difficult life. She has few living family members and has to live with distant relatives. On the final day of our camp, following the "graduation" ceremony, Mardouche was the last student to say good-bye. She came up to me smiling through her tears, gave me a big hug, and said, "Please do not forget your friends here in La Vallee. Please do not forget us." At that moment I understood how all of our efforts on a grand scale really boil down to effecting change one life at a time. It was also reaffirmed to me that, just as Mardouche learned, the knowledge that we matter can be among the most empowering of principles.
What is the worst part of your job?
Just as the best part of my job is making a difference, the worst part is feeling like you are never making enough of a difference. The acute and the chronic problems we have witnessed in Haiti can be very overwhelming. At the outset, we were cautioned by a seasoned international development veteran to "do one thing well" rather than to try to focus on too many issues all at once. While the "one thing" we have chosen is educational opportunities for children, even within that realm it is easy to become discouraged and even distracted by the very enormity of issues facing the 12,000 children in La Vallee. We constantly have to remind ourselves that regardless of setbacks, curveballs, and complications, at least in some small way our work is moving things forward. At the same time, we have found it imperative to carefully think through our plans and programs, listen intently to the desires and perspectives of those in Haiti we are trying to serve, and strive to both "do no harm" and create sustainable opportunities for growth.
What's the work/family/life balance like?
My children are now grown and for the most part out of the house, so I am currently in a stage of life where this has become less of an issue for me. However, I completed my Ph.D. and taught university courses while they were still young, and I well remember the constant tug and pull of various responsibilities with a young family.
What is the biggest misconception people have about your job?
I think the biggest misconception is that real service somehow requires that you do something exotic and big like work in Haiti. There are opportunities to aid the poor and needy, make a difference, and work for nonprofit organizations at all levels and in every sphere. The important thing is to simply be open to opportunities and recognize that even the seemingly smallest efforts can make an enormous difference.
What opportunities have you had because of your education and profession?
As I have mentioned, I have been blessed to have had access to incredible educational opportunities. I suppose that is one reason I am so passionate about providing opportunities to the children in Haiti. There are thousands of children there whose families are too poor to pay the $150-a-year school fee because their annual family income is merely $350. Some of these children walk three hours each way to simply sit outside of the walls of their schools and feel as though they are somehow participating, even though they cannot attend class since their fees aren't covered. When I work with children who lack this basic opportunity, my own educational opportunities are thrown into stark contrast. So, I guess above all I have gained enormous perspective. I have also found that for me, I have never known the end before the beginning. I started out with a degree in ancient Greek simply because I was passionate about my own Greek ancestry. That led to a dissertation examining Greek-American cemeteries and communities. And that somehow led to working in Haiti. Mine has been a very serendipitous road, but one that I have enjoyed very much.
What stereotypes or criticisms have you faced as an educated Mormon woman with her own career?
In all honesty, I really can't say that I have faced any stereotypes or criticisms. I have served in all kinds of church capacities, as ward Primary and YW president, Relief Society teacher, and now in my fourth year as stake YW president. I have always felt that my educational pursuits were supported. And, my work in Haiti has been extremely supported by my ward and stake families and other leaders. I also have truthfully never had time to pay attention to any potential criticism!
What spiritual guidance have you felt as you have pursued your education and developed your career?
I think perhaps this is the most important question you have asked. I have truly always felt guided by the Spirit in all of my professional and educational decisions and choices. On paper, my professional path really doesn't make a whole lot of sense, in that it doesn't logically flow from A to Z. However, at each turn I have felt that the next step was the one the Lord wanted me to take, and that has brought me great comfort when things get tough and great satisfaction when things go well. We are taught that each person on earth has a specific mission to fulfill. My singular goal has always been to recognize and fulfill that mission. I have witnessed the hand of the Lord so many times as I have done so, and perhaps that is one of the greatest blessings of my life. Just as Mardouche learned that someone from the U.S. cared for her, the knowledge that we are daughters of God whose hand is in every aspect of our lives is among the most empowering pieces of understanding we can have. It is far more powerful than any worldly success or accomplishment.
*Ann is pictured at left, with her co-founder, Antonica Payen, in the middle, and colleague Marcy Rehberger.