Career Day: Physician Assistant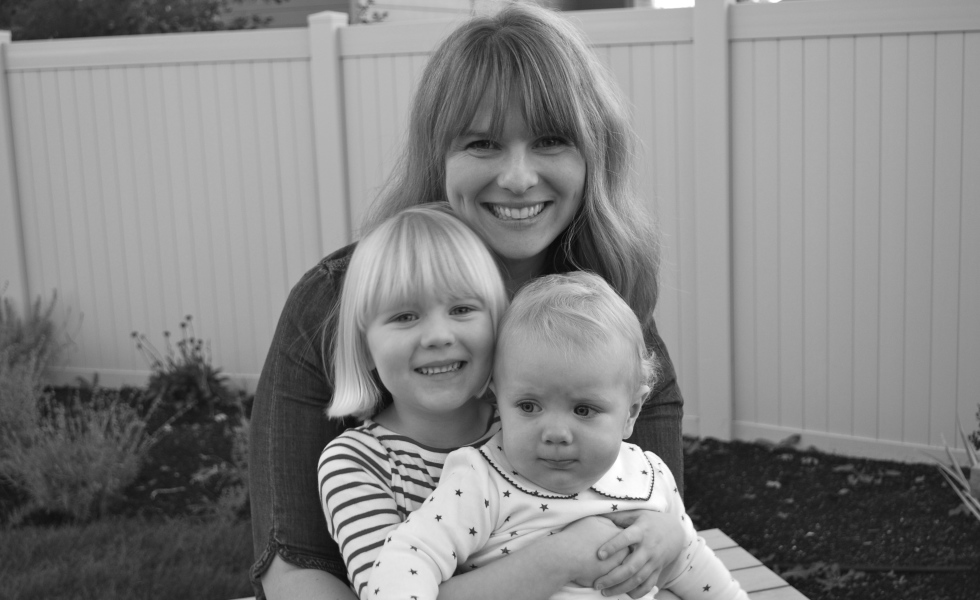 Tell us a little about yourself and about your job.
My name is Megan and I grew up in rural eastern Oregon. I live in Nampa, a suburb of Boise, Idaho. My husband and I met at Utah State University and were married while still undergrads. Together we obtained our Master's degrees in Physician Assistant Studies at Oregon Health Science University in Portland. We work together at a Community Health Center not far from our home. We have two girls: Amelia, 4 and Maggie, who is 1.
What does your job entail?
I practice family medicine, which means I manage the general health needs of patients across the lifespan, from newborns to my oldest patient who is 94. My days are varied, but may include wellness visits, managing diabetes and other chronic diseases, and assessing new patient concerns like abdominal pain or joint pain. Many of my patients are female, so I do a lot of gynecological care like contraceptive management, well woman exams, and menopausal concerns. Our clinic provides OB care, so I also manage women throughout their pregnancy and postpartum, though I am not involved in deliveries. I also do procedures such as skin biopsies and joint injections. Working at a community health center means most of my patients are uninsured including some homeless patients, and about half are Spanish speaking only, which is perfect because my husband and I are fluent. Because of the population we work with, our job also entails dealing with significant lack of resources and social issues that can complicate patient care.
Why did you want to become a Physician Assistant?
The summer before I started college, I was visiting my older sister when out of the blue she had a grand mal seizure, a type of seizure that can be dangerous and is really frightening to see. I called an ambulance and she was life flighted to a nearby hospital. She ended up being okay, but during her time in the hospital I observed medical residents on rounds discussing her case and I was enthralled with the medical decision making process. I decided then that I wanted to pursue a career in medicine. I enrolled in a pre-med physiology course and loved it, so I decided to pursue medical school. When I met my husband my junior year and we started to talk about getting married (a lot sooner than I had previously planned for myself!) we inevitably began to discuss our future together and how our career goals would fit into our family plans. We agreed that both of us going to medical school and then residency would mean we'd have to put off having children longer than we wanted, or we'd have to juggle things in a way that for us sounded a bit too stressful. As PAs we'd have shorter postgraduate work but we'd be able to do exactly what we both wanted, and that was to practice medicine.
What kind of education/training is required?
PA school is a graduate program.  You have to take the GRE to get in, but it's more of a technicality – the schools don't weigh it very heavily.  They really care about grades, clinical experience, application essays, and the interview.  PA school admittance can be very competitive, especially at the top schools.  Similar to medical school, there are no preferred majors to get into PA school, they simply want a core of courses completed which are similar to the pre-med core.  A person can complete a non-science major if they want in addition to the pre-med classes.
Most PA schools require the same pre-med courses as medical school. I chose a degree in Cellular/Molecular Biology. PA schools also value clinical experience. During college I worked as a hospice aide, though many PAs have been paramedics, RNs, and respiratory therapists. PA school consists of an academic year followed by a clinical year with 5 week long rotations in varying clinical settings and specialties. PA school is condensed and rigorous. Regardless of their field of practice, PAs are typically involved in direct patient care, so having good interpersonal skills is a must. PAs work under a supervising physician, so being a team player and seeking out and accepting feedback is also important.
What kind of job opportunities are there in your field?
A really great thing about the PA profession is that we obtain a degree in general medicine, so PAs are able to move between fields of practice if they want. I am currently practicing family medicine and loving it, but I could get a job in a specialty in the future if I want. PAs are commonly employed in orthopedics, dermatology, pediatrics, urgent care, and general surgery, among other specialties.
What types of jobs have you had within your profession?
I've been working my current job since I graduated from PA school six years ago.
What is the best part of your job?
I really love diagnosing problems; I feel like a detective obtaining clues through the patient history, exam, labs, and imaging studies and the process can be exciting. I also enjoy the relationships I have built with my patients. A person might come in for a diabetic visit but then it may become obvious they are struggling with depression and so the visit will change course completely. It feels good to be able to help someone in a meaningful and lasting way. And then to do it all in Spanish just adds another layer of satisfaction.
What is the worst part of your job?
It's really difficult to tell a patient that they need further testing or treatment and know that they'll decline due to lack of insurance or cost concerns. This is especially hard when there is a worry that something really serious might be happening. Our clinic does have some resources to help out, but those are also limited. I've also dealt with some pretty strong personalities at times, and I've had patients yell at me or walk out on me over a disagreement regarding narcotic or other potentially dangerous medications. I try to stay true to what I believe is safe and good for the patient and to current recommendations on these matters, but it's never fun to have that type of a confrontation. Oh, and the charting. It just never ends!
What's the work/family/life balance like?
My husband works full time and I work half time, which for me means I work two days a week and one Saturday a month. We take advantage of our clinic's flexible hours, so for the most part we don't need any outside childcare. There's always charting to get done, which I do after the girls are in bed or early in the morning. It took us a while to figure out what works best for us regarding scheduling, and we are always reevaluating and tweaking things as needed. Our current schedule is very child focused which is a good thing, though I would like to see my husband a bit more than I do. I like that my girls get to spend some of their weekdays with their dad and that it is a regular part of their lives. I do miss them the days that I am gone, so on the days I'm home I really make an effort to spend some quality one on one time with each of them. I support the gendered division of responsibilities outlined in the Proclamation, but I also don't see them as being mutually exclusive. While my husband takes on the mantel of providing for our family, he's also dealing with diapers, nap time, and dance lessons. Similarly, though I identify with being the primary nurturer of our children, I'm also thinking about work deadlines and trying to maximize my earnings potential. For us this feels like a very true partnership.
What is the biggest misconception people have about your job?
I haven't seen it much at my clinic, but I know some patients are bummed that they were seen by "just a PA." I by no means feel that my education and training are equal to that of an MD, they go to school for quite a long time! But when a person is seen by a PA, they are being seen by a member of a healthcare team. My first several months of practice I presented each of my patients to an MD to ensure that my workup and treatment plans were correct. Currently, my charts are routinely reviewed by my supervising physician. And when I encounter something that seems quite complicated I'll run the case by an MD or even have them see the patient as well. When a patient has a concern, the majority of the time I've managed it before, and, if I haven't, I'm able to recognize the need for further investigation, and this often involves the help of my supervising physician.
What opportunities have you had because of your education and profession?
PA school provided lots of opportunities for growth, and I left much more confident, which is something I had really struggled with previously. I'm also involved in some pretty important and sensitive moments in the lives of others. I've cried with parents as they hear their baby's heartbeat the first time. I've discussed depression with patients, and heard terrible stories of abuse. I've also had the grim task of delivering devastating test results. I'm grateful for these experiences, even the difficult ones. It helps me feel very connected to the people I serve.
What stereotypes or criticisms have you faced as an educated Mormon woman with her own career?
As an undergrad I remember discussing my postgraduate plans with an LDS pre-med classmate, and he asked "but don't you want to have a family?" I think most of the negative cultural influences I have experienced have centered on the idea that a woman has to choose between career and family. At USU I was often only one of a few women in my upper division science courses, and the only LDS woman I knew pursuing medicine. I was loving my coursework and had such a strong desire to take it to the next level, but I was about to get married and I felt this pressure to lay down those desires as some sort of honorable sacrifice. But through all of it I truly felt Heavenly Father wanted me to realize my dream just as much as I did. I received my patriarchal blessing, which repeatedly told me I had the responsibility while in my youth to obtain knowledge, and to use that knowledge to bless my fellow beings. This was a turning point for me, and allowed me to go forward in confidence.
What spiritual guidance have you felt as you have pursued your education and developed your career?
I couldn't have gotten through the rigors of PA school without lots of prayer and faith in what my husband and I were doing, and I truly felt the support of my Heavenly Father. In my current practice I pray frequently for guidance on how to best help my patients, and I've felt the Spirit guide me in difficult situations, whether it's knowing the right words to say to a patient or evaluating a patient with concerning symptoms.
Any other thoughts, advice, or stories you'd like to share with other women?
One of the things I am most certain of is that my Heavenly Father loves me, and I truly believe that my righteous desires are as important to Him as they are to me. It involves faith to go against what Mormon culture sometimes tells us is the correct course for an LDS woman. But if we can ignore those pressures and follow the Spirit, Heavenly Father will provide a way for us to realize our dreams while allowing us to fulfill our full potential as mothers, if that is our path. It may have been more difficult to do this in the past, but with more and more women pursuing professional careers, there are so many opportunities out there to find harmony with working and having a family.