Career Day: Radiologist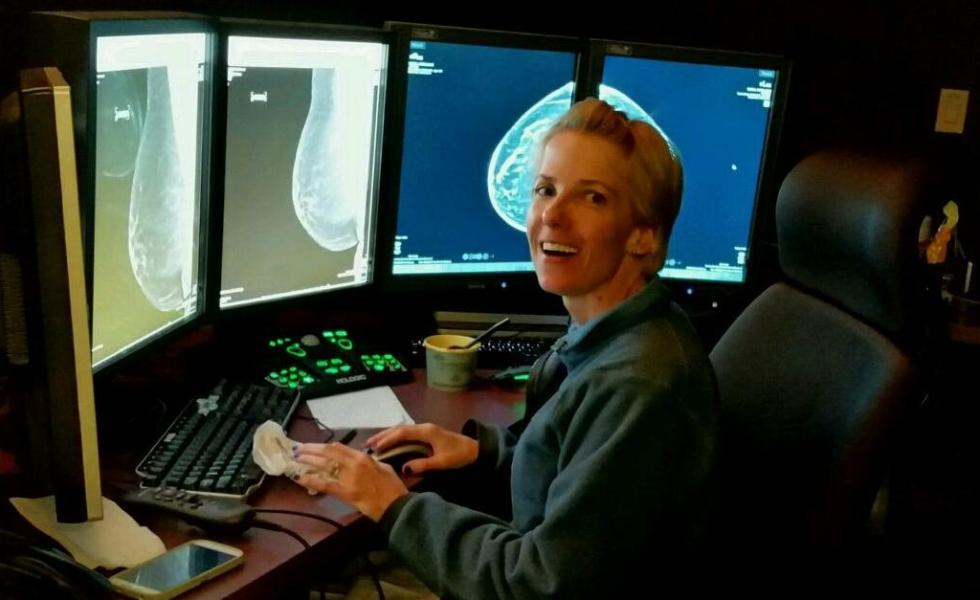 Tell us a little about yourself and about your job?
My name is Dawn and I was born and raised on California's Central Coast. I traveled quite a bit during and after graduation from BYU and before I went to medical school. Those in-between years were priceless; as a result, I was a more well-rounded person when I started my medical training. Currently I split my time between Orange County, California, and Salt Lake City. I work 2-3 weeks of the month in Southern California as a Radiologist specializing in Breast Imaging. My husband and I recently got married, and he's finishing his medical training in SLC where I spend my off time.
What does your job entail?
My day is a mix of reading screening mammograms, diagnostic mammograms (call backs from screening or symptomatic patients due for their annual mammogram), reading breast ultrasounds and MRIs, and breast and lymph node biopsies. I also discuss my findings with each woman who has a diagnostic mammogram, take consultations from my surgical colleagues, as well as inform women of their biopsy results. This is often the most sensitive part of my day as this may include a cancer diagnosis. These personal interactions are humbling as well as validating. These are the moments when I am reminded why I went into medicine, when I educate and directly care for my patients.
Why did you want to become a radiologist?
I fell in love with radiology as a medical student after watching radiology residents verbally work through a complicated CT (cat scan). I was enthralled with the process of analyzing the various imaging abnormalities in order to deduce the probable diagnosis, much like subtle puzzle pieces falling into place. However one of my strengths in medical school was my people skills, and I was concerned I would miss direct patient interaction. The public's perception of a radiologist is a greying doctor in a dark room, far removed from the patient in the hospital bed or waiting room. There is some truth to this; radiologists are doctor's doctors. Our job is to assist clinicians with treating their patients by interpreting medical imaging. The wonderfulness of Breast Imaging is the mix of imaging interpretation and one-on-one time with patients.
What kind of education/training is required?
Radiology, like any medical specialty, requires extensive training. My medical training included four years of medical school with three national medical licensing exams, and a standard five year radiology residency with three Board exams including physics, a written diagnostic radiology exam, and a final oral Board exam. Diagnostic radiology residency is one of the longer residencies at five years, similar in time to surgical residencies. Currently, most radiologists choose to do an extra year or two of subspecialty training after board certification. I completed a one year subspecialty fellowship in Breast Imaging.
What kind of job opportunities are there in your field?
Depending on location, there are a variable number of employment opportunities. Metropolitan areas are often saturated with medical professionals, depending on the specialty. Many radiologists practice as general radiologists, relying on their detailed knowledge from fellowship training as an edge in the job hunt. I was fortunate to find a job that allows me to spend the majority of my work time as a dedicated Breast Imager and the other part of the month with my out-of-state husband. Breast Imaging, in particular, is in slightly higher demand right now given increasing quantities and advancements in digital mammography and MRI.
What is the best part of your profession?
Educating my patients and advocating for breast health. Go get your mammogram! I love changing people's perception of what a radiologist does ("Yes, I am a doctor").
What is the worst part of your profession?
Throughout medical training, geography is often out of one's control. I went to different universities for college, medical school, residency, and fellowship. This maximized my learning curve, as each facility teaches differently. My husband and I are both in medicine and we spent the majority of our training in different locations. Many of my colleagues have dealt with similar long-distant relationships in order to complete their training, and this often takes a toll.
What's the work/family/life balance like?
Not surprisingly, long hours are routine. My work day is a minimum of 12 hours, often longer. My work situation is unique as I have chosen to work part time while my husband finishes his training in Utah. When my husband accepted a fellowship in Utah and my job offer came from California, working part time was the solution that worked the best for us and so I work approximately two weeks a month in Southern California. After spending most of our relationship in different cities, we promised to do better. Although we still spend about half our time apart, I am grateful for both a validating job and quality time with my husband as we both support each other in our individual careers.
What is the biggest misconception people have about your job?
Radiologists are indeed physicians. I am not the skillful technician who took your x-ray, but the physician who interprets the images and makes recommendations based on my findings. We also use imaging to perform various procedures.
What stereotypes or criticisms have you faced as an educated Mormon woman with her own career?
Often, upon hearing I am Mormon and recently married, many colleagues assume I will be putting my career on hold to start a family. I innately love my career, the time I can devote to it, and the people I help. I also adore children; however, we have no current plans to have our own. I bow my head in respect towards my female friends and colleagues who are balancing both children and a medical career. I have witnessed this success story numerous times. For my husband and I, working hard at our jobs in two different states and our downtime together is our own success story.
What spiritual guidance have you felt as you have pursued your education and developed your career?
Like so many careers, this has been a very long and often bumpy road. Prayer has been a solace at all times. I am grateful that whenever I have felt doubt during this process, when a day or week has been extraordinarily tough because of a difficult case, a sad outcome, or an overwhelming quantity of work at an urgent speed, that my faith in this path has always been restored by a simple prayer. It is incredibly rewarding to know unhesitatingly that my work is helping others, that my efforts can make an impact on another woman's health. Looking back over the years, without fail everything has worked out better than I could have planned. Divine intervention is always at play. I have been given opportunities and learning experiences that I needed, only after I went somewhere I initially resisted going. My path, in hindsight, has been well laid by a very loving and wise Father in Heaven.
Are there any thoughts you would like to share with other women?
I did not go directly from college into medical school. I took time off to explore, work, travel, and volunteer… this route worked best for me because it gave me insight into where I wanted to go and who I wanted to be. I personally believe anyone who puts the effort in can complete medical school. It requires a simple commitment to hard work and self-education. Although most physicians pursue medical school immediately after college, I found that my classmates who had pursued other careers or left academics even briefly, had a deeper sense of the type of physician they could be and how best to get there. A career in medicine really is possible for anyone at any stage in life.