'Girls Who Choose God': A Reflection & Author Interview
Posted on August 20, 2014 by AMW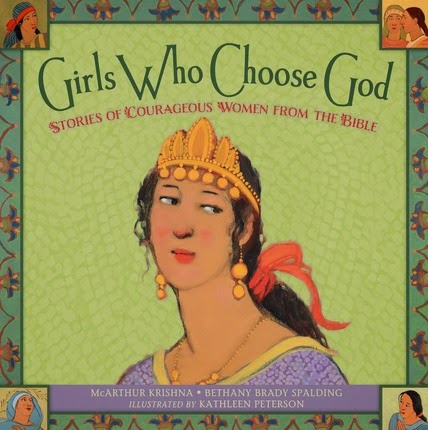 by Naomi Watkins
"Books are sometimes windows, offering views of worlds that may be real or imagined, familiar or strange. These windows are also sliding glass doors, and readers have only to walk through in imagination to become part of whatever world has been created or recreated by the author. When lighting conditions are just right, however, a window can also be a mirror. Literature transforms human experience and reflects it back to us, and in that reflection we can see our own lives and experiences as part of the larger human experience. Reading, then, becomes a means of self-affirmation, and readers often seek their mirrors in books… 
When children cannot find themselves reflected in the books they read, or when the images they see are distorted, negative, or laughable, they learn a powerful lesson about how they are devalued in the society of which they are a part…Children from dominant social groups have always found their mirrors in books, but they, too, have suffered from the lack of availability of books about others." [1]
In the children's literature courses that I teach to aspiring teachers, we discuss how kids need books that reflect who they are and who they can become (I've commandeered this same metaphor when talking about the need for LDS female mentors, too). Kids also need to read books reflecting characters who are different than they. Such diversity in reading reflects not only the diversity that exists in the world, but also showcases that there is value in the stories and histories of all and that while differences exist, we also share many commonalities. But what if no (or very few) quality books serve as mirrors of your life experience? Of your race? Of your culture? Of your religion? Of your gender?
Shortly after I finished binge-reading Nancy Drew at the start of fourth grade, I turned to a series of biographies about American women written for middle-grade readers: Abigail Adams, Betsy Ross, Martha Washington, Florence Nightingale, and more. I hungered to read and learn about real, strong and extraordinary women, and I dreamed of one day accomplishing great things myself. Growing up, I was also told stories of women from my own ancestry who lived common, but remarkable lives (I'm even named after one). Eventually, I finished this particular biography series and wanted to read about Mormon girls and women. My mother had several anthologies about women from LDS Church history, but at the time, they were a bit "too dry" for me. Biographies about LDS women for young readers did not exist–they still do not. So I turned instead to LDS fiction, reading novels about Mormon kids, but I quickly tired of them. Even though they featured Mormon protagonists, few of them seemed like me and I disliked the often heavy-handedness of message. And when I read my scriptures, I paid close attention to the stories featuring women, especially those women who were named. I found a connection to these women; I could more easily liken their experiences to my own–different than when I read accounts about men. Through these women in the scriptures, I could more tangibly see and envision a direct relationship with God and Jesus Christ.
As I teach Gospel Doctrine this year, I have enjoyed the opportunity to teach lessons focused specifically on Biblical women. Anecdotally, I have noticed that it is the women in attendance who can most often re-tell the details of these women's stories. However, I think we all, men and women, can do better regarding our knowledge about women involved in our religious histories. Brittany Chapman, a historian for the Church History Library, shared that she polled Gospel Doctrine classes around the world, asking attendants to list five men and women from LDS history. Eighty percent of participants were able to name five men; 15% could name five women. [2]
Children's literature is a natural gateway to teaching children (and learning for ourselves) about the people who played a part in our religious histories. Friends have asked for recommendations of picture books that share the stories of women that can be used in Primary sharing times or during Family Home Evenings, and until the publication of the new picture book, Girls Who Choose God: Stories of Courageous Women from the Bible, I haven't recommended the very few that do exist [3]. But now I luckily can. Girls Who Choose God has not only beautiful artwork, but shares the stories of Biblical women as agents of their own experiences and lives–not as a backdrop to the stories of men. It's a book that I wish existed when I was young girl. Luckily, it's a book I can read now–and that I can share with both women and men, girls and boys. In talking about this book, people have mentioned that they are excited to share it with their daughters, but I hope it is shared with sons, too. I'll be sharing it with my Gospel Doctrine class soon.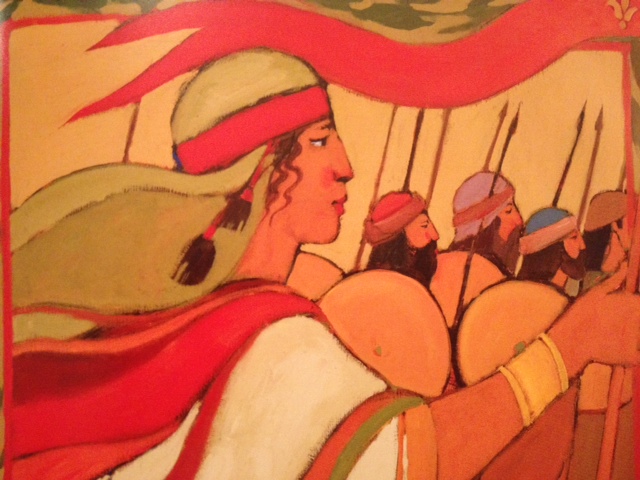 My hope is that publishers will see that there is demand for quality children's literature depicting religious women and desire to publish more. Girls Who Choose God is an excellent beginning of what could be a great legacy.
The authors, McArthur Krishna and Bethany Brady Spalding, were generous to share their motivations for writing the book and their experiences as they did so. Please read their interview below, and then, go buy the book!
For a full review of the book, visit Heather Farrell's website Women in the Scriptures. Not only do I say Amen! to her review, but her website is also a fantastic resource and her book on women in the scriptures comes out in the fall.
Tell us a bit about yourselves.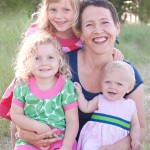 Bethany: I aspire to create a healthier food culture and currently lead a coalition of community partners in Richmond, Virginia to make nourishing food available to low-income families.  I also aspire to create a healthier gender culture at church—this passion fueled mainly by the love for my three young, fiery girls.  Food and feminism, that's what I'm all about these days.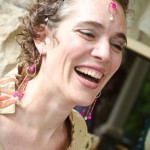 McArthur: I co-owned an ideas-marketing business for thirteen years to tell stories focusing on the most important issues facing the world today. In 2011, I retired, moved to the Magic Land of India and started writing books (even though I am only, at my finest, a contender for the third-best story teller in my family). I continue to forge new adventures in India—I have promised myself I would never be bored of my own life. You can see more of my stories at McArthurKrishna.com
What influenced you to create this book about women from the Bible? Why do you feel this book is necessary?
McArthur: When Bethany's three-year-old daughter asked, "Mom, where are the girls?" as she was reading her cartoon scripture book of prophets, warriors and heroes, Bethany got motivated. She looked everywhere. At the time, there wasn't a single children's book focused on women in the scriptures. For many people that would have been the end of the road, but she's a force of nature.
Bethany was living in Mumbai, India at the time. And knowing that I was on my annual brain-scrubbing India trip, she dropped an email asking me to come on by. Over dosa and idlis, we chatted, schemed, and finally looked at each other—could we do this?
But it took four years.
In between Bethany moving back to the states, me leaving my business, Bethany giving birth, me moving to India—we Skyped our way through the Bible. (I am not sure we were on the same continent for more than just a few months of the project. Obviously one or the other of us was always slightly brain dead in the windows of time we could overlap to meet.)
We debated everything. (Knowing us, this is not really a surprise.) Which women we wanted to include, what those stories meant to each of us, how that meaning was different, what we thought were the core teachings of the stories and were these lessons ones we wanted to highlight for our girls, which words had the truest meaning for the ideas we wanted to convey. Everything. (See above mention of four years.)
We picked the boldest stories we could cull out. We were careful to be true to text, but we also intentionally chose those women with spunk. Shocker. They are mothers, wives, sisters, friends, daughters, queens, servants and generals. However, the one thing they have in common is that they all used their agency to further the work of God. Their stories powerfully model how an individual choice can have great impact.
Today, our daughters and sons have an array of decisions in front of them; they need to know they are capable of making wise choices. The examples of these courageous women can inspire our children to be forces for good.
What spiritual guidance did you feel as you created this book? 
We believe there is a profound power in goodness.  We felt this book had the potential to do a great deal of good in the world. The Spirit certainly prompted and prodded us along to complete the project despite difficulties, interruptions, different time zones, and life events—everything that could have easily derailed us.
Bethany: Specifically, I once spent the whole day praying and fasting about what the last story for the book should be.  After intense prayer I had the story of Mahlah and her sisters just unfold before me.  I had never heard of this story before but it was clear it needed to be in the book. This is one of the most striking stories of women in the entire Bible and most of us have never read it—much less drawn powerful lessons from it.
We also feel there was divine guidance on timing to get the manuscript in the right hands at the right time to publish when there is a pressing need to acknowledge women's courage and contributions to God's work.
What support did you receive and how did you manage your time in order to create this book?
Bethany: My husband, Andy, is a true believer in equal partnership. He pursues his professional and family passions wholeheartedly and feels deeply that I should do the same. He made a lot of this possible. Besides, who needs sleep?
Also, Lisa Roper with Deseret Book has been a champion from the beginning.
Some readers may notice that the story of Ruth and Naomi is missing from the book. Why did you elect to not include these women?
The book format selected by Deseret Book meant we could highlight only eleven women so that means many, many Biblical women and their stories are not included. The women we did choose are those who represent a wide array of choices and roles—and maybe some unknown stories.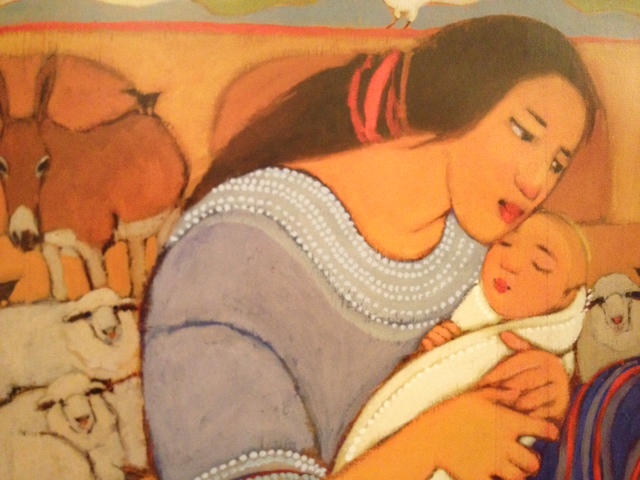 What did you learn as you wrote this book? What do you hope readers will learn?
Faithful women have always been with us—but we have not always acknowledged them. Our scriptures do not have equal number of stories of men and women and do not always mention women by name.  However, the Bible does provide fascinating stories of women in a wide array of capacities—as I am sure Aspiring Mormon Women will appreciate.  The stories we picked highlight a woman judge and general and women who were also, advocates, learners, co-creators and more. Our scriptures hold up an exciting latitude of roles for faithful women. There is much to celebrate.
Not only did we want this book to be a force for good for readers, but we also want the book to benefit and lift women who may never have an opportunity to read it. All authors' proceeds will be donated to Interweave Solutions, which supports educational and employment opportunities for young women around the world. Giving women more opportunities for education and employment are two avenues we feel passionate about.
What future projects do you have planned?
Lots! The good news is that this volume of stories is not our last.  We hope that demand of Girls Who Choose God demonstrates there is a robust need for children's books about women and girls in the religious marketplace. We have several more volumes in the works including stories about women from the Book of Mormon, LDS church history, and around the world. We also have other books with themes that are encouraging to women.
What advice would you give to women aspiring to be writers?
Simple—write. Oh yeah, and write with someone who makes you laugh, cry and celebrate. That helps.
Order your copy here. Learn about authors' events near you.
[1] Rudine Sims Bishop, Professor Emeritus of Education at The Ohio State University and a leading scholar in multicultural children's literature, made this statement in response to the lack of  literature representing children of color. Bishop, R. S. (1990). Mirrors, windows, and sliding glass doors. Perspectives: Choosing and Using Books for the Classroom, 6(3).  For further reading: Official site of #WeNeedDiverseBooks (a grassroots campaign to increase publication of multicultural books), Christopher Myers's New York Times opinion piece "The Apartheid of Children's Literature," and an info graphic on the number of multicultural books in the past 18 years.
[2] Chapman, Brittany. (2014, August 9). "Collecting their Stories: Edited Volumes." Presentation given at Origins and Destinies: Forty Years of Mormon Women's Histor(ies), Mormon Women's History Initiative, Orem, Utah.
[3] Take that back. I do like I Walked to Zion: True Stories of Young Pioneers on the Mormon Trail by Susan Arrington Madsen.