Voices from the Past: Inspiring "Pioneers"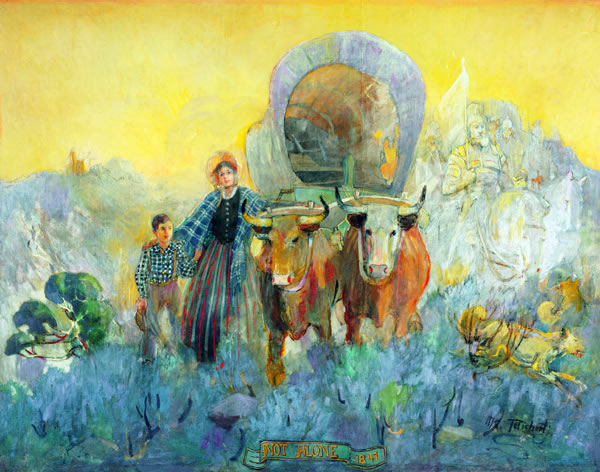 Not Alone by Minerva Teichert
As a way to commemorate Pioneer Day, we're sharing stories about women from the past–both traditional and more modern women pioneers–who continue to inspire and motivate us. We invite you to share your own stories in the comments.
Kelli: On this Pioneer Day, I remember my grandmother, Lillian Ruby Duersch Anthon.  With a true pioneer spirit of living off the land she kept the most wonderful vegetable garden.  How lucky was I to live right next door!  Now that she is gone, I often think of the bright orange and red tomatoes warmed by the sun (a garden staple every year) and wish I could go back to that time when I would walk out to her garden, pick one and eat it right on the spot.  Grandma Anthon also cared for a beautiful flower garden and a large raspberry patch, both of which were equally as wonderful as her vegetable garden.  Her love of gardening was a great example of hard work and dedication and the fruits of her labors have been enjoyed by so many over the years.  My thumb will probably never be as green as hers, but I'm inspired to give gardening an honest try one of these days.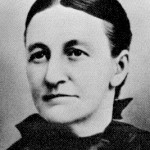 Naomi: Jessie McNiven Taggart, my great-great grandmother, emigrated from Scotland in 1861 to the U.S. when she was eight years old, and crossed the plains, settling in Morgan County, Utah. One of her daily chores was to take the cattle to pasture. A big storm passed through one day, quickly filling up the wash separating her from home. A party of men gathered to search for Jessie, concerned that she had drowned in the flash flood. But just as they were about to leave, she came into town with the cows. They asked her how she had gotten across the wash, and she replied, "I crossed on the bridge." The men argued that no such bridge existed, but Jessie was adamant (until her death) that she had knelt down and prayed for help, and then, she and the cows walked across a bridge to safety. She later had 16 children (!), migrated with the last organized Church colony to the Big Horn Basin in Wyoming, and worked as a midwife.
I've heard this story since I was a young girl. It illustrates to me that the faith of a girl can bring about great miracles and that God is mindful of His daughters.
Melanie: Ruth May Fox's life was bookended on one end by a trek across the plains and on the other by a ride in a plane. As a girl Ruth left her native England and with her father, stepmother, and stepsister trekked across America to join the saints in Utah. While her work as a pioneer wife and mother to twelve children is impressive in its own right, this was just her first career. Ruth served for 24 years as a counselor in the Young Ladies' Mutual Improvement Association (YLMIA) and another 8 years (beginning at age 75) as president of the organization. She penned the hymn Carry On! and it was under her watch that the YLMIA's name was changed to Young Women's Mutual Improvement Association in order to bring it more closely in line with the name of the Young Men's Mutual Improvement Association. I have to believe that this small change was a significant one to Ruth, for she has long been sensitive to equality between men and women. As a teenager working in a factory, she was frustrated at being paid less for doing the same work that the men did. In her later years Ruth was one of Utah's major players in the fight for women's suffrage. I am inspired by the many early LDS women who were not only active within the church but active in their communities on a local, state, and national level. They truly put their faith into practice and are examples that we can engage with the world by using our faith.
Allison: One of my great-great grandmothers, Orlena Brown Ware—or Lena as she was called—was born in Kentucky in 1876. Her husband, John Thomas Adams, was a womanizer and a drunk. He rode around town in a white suit and hat on a large chestnut mount. At the time of this story, Lena and John Thomas had seven children and Lena was pregnant with the eighth. John Thomas's sister had taken a young woman into her home, and the young woman had caught my great-great-grandfather's wandering eye. One night, after being out drinking, John Thomas rode over to his sister's home, called out, dismounted and started to stumble his way towards her front door. His sister appeared from within the house, shotgun in hand. She warned him off, but he kept coming. She warned him again saying that if he took one more step she would shoot him. He looked at her, laughed and trudged forward. She shot. The story goes that as he bled out there in that dirt lot of a front yard that night in Kentucky, his last words were, "Dear Lord, what about Lena and the children…"
Lena was told of her husband's demise and spent the night walking their arbor with at least the oldest of their seven children there with her. Lena had no education and where she lived, women were not allowed to work. She had no means by which to provide for herself, let alone her soon to be eight children. Eventually, she made her way to Oklahoma and became a sharecropper. Two of the younger girls, my great grandmother, Mama Loy, and her sister, Auntie, were sent away to work as domestic help at the tender ages of 5 and 6. Both girls were abused in their respective employers' homes and eventually concocted a plan to escape, buy train tickets, and rejoin the rest of their family in the tiny shack they now called home. The older children worked in the fields to provide what they could while Lena raised the babies still at home.
So, that is part of my heritage. She is one of my pioneers. A poor, white, widowed sharecropper in Oklahoma. I think I could easily romanticize Lena's experience and the results of her experiences on her family, but the truth is Lena was not known as a happy person. At least one of her children, my great-grandmother Mama Loy suffered from undiagnosed clinical depression–surely some of which stemmed from her childhood trauma. What I admire in this story is not a romanticized ideal of a fictionalized strong woman leading her family with courage through difficult times. I do admire that she made it. That she stayed alive. That her children stayed alive and went on to have children who had children who had children. Lena's very mortal experience is part of what has made me who I am, and so I owe my respect and gratitude to her for coming and suffering when and how she did in my family line. And I owe her a portion of my experience, my education, and the relative ease with which I have navigated life so far. Here's to you, Lena.
What women have inspired you?