Stories and Advice for Sister Missionaries: An Interview with the Authors of Do Not Attempt in Heels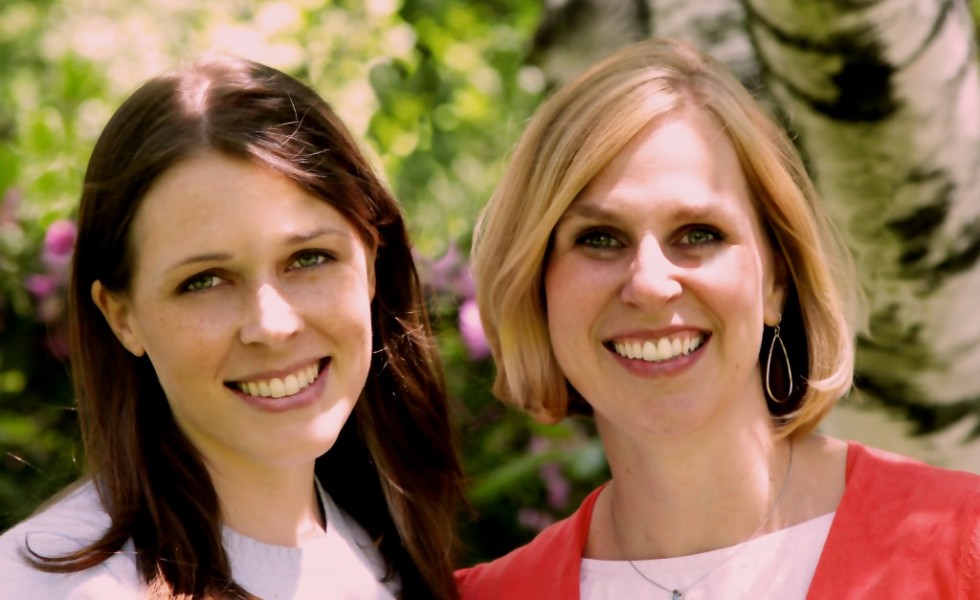 Elise Babbel Hall (L) and Jennifer Rockwood Knight (R).
by Naomi Watkins
We can all relate to sitting in Sunday school classes or attending dinner parties where individuals begin stories with "When I was on my mission…" or who proclaim that their missions were the best two years of their lives.  I admit that as one who did not serve a mission, my eyes usually glaze over and I tune these stories out. But Elise Babbel Hahl and Jennifer Rockwood Knight's new book, Do Not Attempt in Heels, includes mission stories written by returned sister missionaries, stories that I found to be thoughtful, inspiring, and motivating.
Since the change in missionary age in October 2012, tens of thousands of young women have answered the call to serve. Naturally, they seek advice and tips to prepare, to deal with their (understandable) insecure feelings and doubts, and to find continued motivation and support. This book of essays provides a diverse mix of sisters' stories—showcasing both the highs and lows of missionary service, but does so with honesty, optimism, and humor.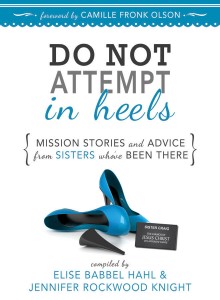 These sisters do not represent that stereotype of young women who with no marriage prospects decided to serve a mission as a default plan. These sisters displayed great power and had an earnest desire to serve God. Regardless of the stories' details, I was particularly struck by the knowledge that the Lord knew and loved each of these sister missionaries individually. Each personal story taught me again and again about the important role the Spirit plays in determining God's will for us and the unique method and approach that works best for us to help build His kingdom. This theme especially plays out in the chapter, "Was That Inspiration or Indigestion?" which chronicles several sisters' experiences trying to interpret spiritual promptings to reach and teach people in the Lord's way. Other stories, such as "Swallowing My Pride," show sisters struggling as they realize and try to change traits or characteristics about themselves that need some refining—never easy realizations to swallow, but an understandable narrative to us all.
Most of all, I am excited to see the stories of sister missionaries in print and available for all to read—narratives that have been mostly absent from the public stories of Mormon women. Additionally, I had the pleasure of interviewing the compilers of these stories, Elise and Jennifer, so they could provide more insight into their process of creating this collection.
Naomi: Tell us a bit about yourselves.
JENN: I am a relentless bucket-lister and love to accrue cool new experiences.  That passion has driven me to do so many cool things in my life from serving a mission in Taiwan to getting a master's degree in religion to studying and working in China, Mexico, and Bolivia.  I got to know Elise, who also has a similar penchant for cool new experiences, while we ran together in the early mornings around the Boston area.  I ran as fast as I could to keep up with her, most of the time failing miserably.  We used to talk about lots of neat things on our runs and I knew when she asked me to do this book with her that it was going to be an experience I HAD to have in my coffer: working with one of sharpest women I'd met AND writing about missions.  It was my siren song.
ELISE: I'm so glad a book like this was on Jenn's bucket list because this project definitely wouldn't have worked without her.  (Note: when taking on a huge, overwhelming project, enlist the most capable friend you have.) Writing a book wasn't always on my radar.  When I came back from my mission in Brazil, English felt so strange and awkward to me. I was an English major, too—very inconvenient. One of my professors kindly recommended a book to me about sentence structure after reading one of my papers. I read the book after graduation and it got me interested in writing itself. That led to a master's program in writing, a few projects, and then Do Not Attempt In Heels.
Naomi: What influenced you to compile this book of returned sister missionaries' stories? Why do you feel this book is necessary?
JENN: Before I made the decision to serve, I talked to so many returned missionaries about their own experiences and got loads of information.  I liked hearing the faith-promoting stories, but I also wanted to hear the discouraging ones, too.  I wanted to go into a mission with my eyes wide open so that I wouldn't get blindsided when discouragement inevitably came. I think this book will help people like me (including mykids, who I hope will use this in a few years when they are old enough to make the decision).
ELISE: I think it's especially important to share these experiences with the new generation of sisters, many of whom are younger, and who might be the first sister missionaries in their families. We want them all to stay and succeed on their missions. There's some amazing material about missions out there that's written by men, but I think future sisters also benefit from reading about the experiences who look, sound, and talk like them—stories by other women.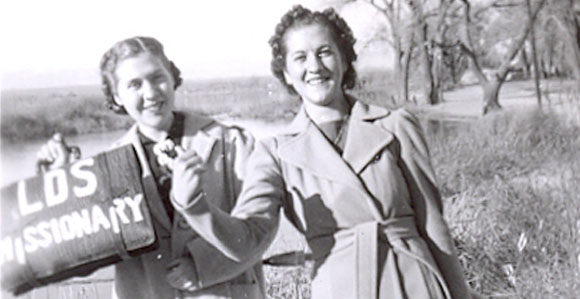 Naomi: The most obvious audience for this book is young women thinking about serving missions. But as I stated previously, even I, a woman in her mid 30s who is not a returned missionary, enjoyed reading these stories. So how would you describe your intended audience?
ELISE: The people who seem to enjoy this book the most are actually the recently returned missionaries. (Either that, or they're better at writing thank-you notes. Very possible!) I hope any woman reading this book can relate to the stories. Mothers of missionaries might find it especially helpful as a window into what their daughter or son is experiencing.
JENN: I definitely do not think the audience is only women considering a full-time mission, though we were targeting them while we compiled the book.  The point of this compilation is ultimately to help readers reflect on the many different paths that lead to the Savior. Being on a mission really just magnifies the feelings we all experience on a daily basis as we're struggling with mortality: joy, disappointment, pride, humility, humor, peace, disappointment, love, and so many other feelings that our authors bring out in the book.  I think this is why so many non-returned missionaries have liked this book.  The experiences really resonate with people who are trying their best to deal with hard things and stay focused on Christ, just like missionaries try to do every day.
Naomi: What spiritual guidance did you feel as you compiled these stories? 
JENN:  The fun thing about working on a project like this is how strongly the Spirit manifests in all the nuts and bolts.  One time, I strongly encouraged one of the authors to change the tone of her article because I worried her intent would be misunderstood.  The next morning I woke up and the thought came to my mind, "Trust her.  You are taking the life out of her experience.  It will help so many women as it is."  I immediately emailed her and apologized and told her to tell her story how she felt it needed to be told.  It turned out beautifully and I'm so glad I listened! Things like this happened daily during the whole process.  It was comforting to know that we had back-up!
ELISE: I agree. The work on this book was a huge spiritual highlight for me. During this process, Jenn and I would take on certain tasks that felt like trying to untangle a really large rope, and there'd only be a small amount of time to do it. The same work that, before this book, would have seemed terribly stressful—if not impossible—became do-able. I was able to work calmly and efficiently. Solutions came to me and ideas inspired me. Very little distracted me. I would look back at my work after my time was up and I couldn't believe what had just happened. It was my very best work. I know it wasn't just me.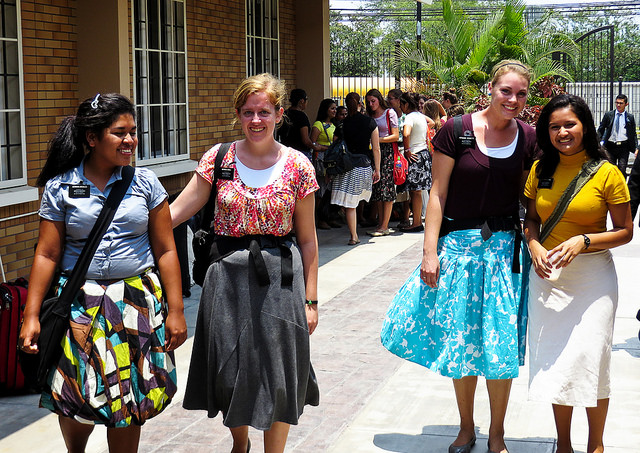 Naomi: What insights or lessons did you learn from these sisters' stories?
ELISE: Where to begin? I've learned so much. The story about using optimism as a shield comes to my mind a lot, especially on difficult days. I was also very inspired by the example of the convert who went on her mission not knowing the scriptures very well, but then memorized over 200 of them. We are memorizing scriptures in our family this summer because of her.
JENN: I learned how individual the Spirit is.  Two people can serve in the same mission at the same time as companions and still walk away having learned vastly different things.  I love the chapter on receiving inspiration from the Spirit because it really illustrates that.  We are taught what we need to learn in the way we'll be most receptive to learn.
Naomi: How do you feel sister missionaries' experiences differ from elders' experiences?
ELISE: For one, missions are more of a choice for women. Growth comes from that decision process, and it's good preparation for seeking inspiration on your actual mission. The choice thing can cut both ways, though. Sometimes the fact that a mission is one of many options for women makes women second-guess themselves once things get hard. That's one of the reasons we wanted to help.
JENN: Another difference is that we women can be hard on ourselves!  I was surprised at how that theme emerged in nearly every article.   Other than that, I think that our experiences are pretty similar.  That's one of the things I loved so much about a mission.
Naomi: Both of you have four children. What support did you receive and how did you manage your time in order to create this book?
JENN: My husband.  That's really the only way I could have managed this project.  He really picked up the slack with tidying up, childcare, and general household-running. The rest of my normal life that I couldn't cover, I had to either outsource or let go of for a few months (like cleaning bathrooms, entertaining babies, socializing, sleeping J).
ELISE: I got a lot of emails from Jenn written in the middle of the night, saying, "Hey, my baby's up, so I might as well update you on a few things now." This project was tricky for both of us, because we have such young families. I enlisted the help of some really great babysitters, and then once school started, my cousin came to live with us for a while to help out with the little kids. That was great while it lasted. Unfortunately, she had to go back to Texas before the book was finished, so things got really interesting! Three, four, five a.m. became very familiar to me—several nights in a row, weeks in a row. My husband was my lifeline during that time and my mom even drove across the state to help rake leaves and do dishes. For this book, that level of crazy was worth it, but it wasn't always pretty.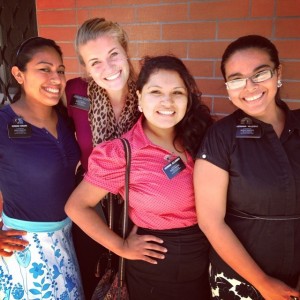 Naomi: At Aspiring Mormon Women, we are here to support educational and professional pursuits of LDS women. Both of you earned graduate degrees, how do you feel that serving a mission prepared you for your educational pursuits?
JENN: I learned that I can do hard things with the Lord's help.  The mission cracked open my self-centered adolescent world and forced me to see other people (and their problems) in enlightening and sometimes humiliating ways.  This prepared me for grad school because that was what I did most of the time: work hard and get excruciatingly humiliated. J Seriously though, I feel like it gave me a unique perspective in my research and data analysis when I was working on projects.
ELISE: In my case, my mission gave me something to write about. Some students in my writing program were turning in personal essays around the theme of "A Crazy Thing Happened to Me When I was In Such-and-Such-a Foreign Country." It would be the tale of some non-English speaking boyfriend and a shocking betrayal, usually. (My program was perhaps a little less traditionally academic than Jenn's J). After reading a couple of these, I said, "You want a crazy foreign story? I've got one." And then I wrote a story about the Brazilian companion I had who saved my life. It was a memoir based on my journal entries, and it was very well received. I learned that mission stories can be powerful narratives, even for audiences unfamiliar with missionary work. Sister missionary stories, in particular, can be refreshing because they are almost unchartered territory – a lot of fun for writers.
Naomi: Have you considered compiling a volume 2 featuring returned sister missionaries who serve after the age change and shift in leadership opportunities for sisters?
ELISE: Sounds like a great idea for a follow-up book. I am still trying to catch up on sleep after this past book, though. I've finally caught up on all the laundry! Hoping I can get to a place where I can consider new work.
JENN: Haha! Yes, I whole-heartedly agree with Elise (except I don't think I've caught up on my laundry yet J).   In a perfect world, I could take on fun projects like this with no impact on the people around me.  Unfortunately, that never happens.  I just have to make sure that the trade-offs are worth the net gain in the long-run.
Naomi: Any final thoughts or advice for our readers?
ELISE: When you feel the Lord's approval of you taking a certain path, it may not be an easy path (as was the case with a mission or with this book) but you can trust that He will support you.
JENN: Agreed!