Career Day: High School Teacher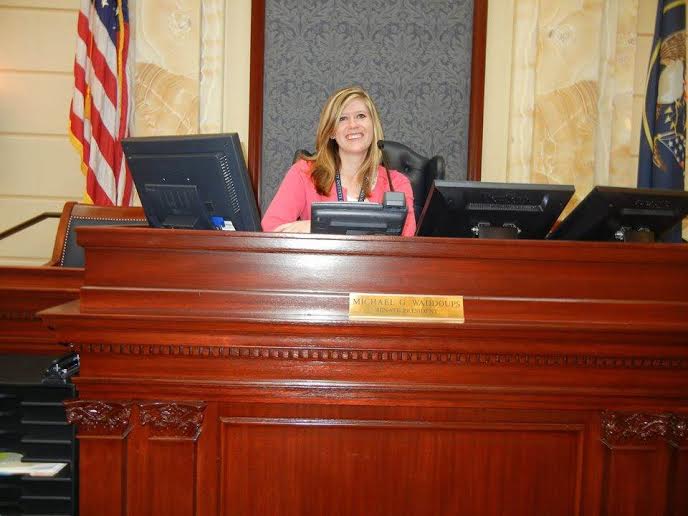 Tell us a little about yourself and about your job.
My name is Amber Rydalch, and I love my job as a high school history teacher.  I grew up in the small rural town of Oakley, Utah, and currently reside in Draper, Utah. I received my bachelor's degree from Utah Valley University in History Education, and am currently in the Teacher Leadership Graduate Program at the University of Utah.
What does your job entail?
There is never a dull moment as a teacher! I design curriculum, plan lessons, write assignments and assessments, attend numerous meetings and conferences, and that's just my summer break. Every day during the school year as a teacher you arrive about 30 minutes before the students, but more often than not there is a student with a question or just needs someone to talk to waiting at your classroom door when you arrive. You quickly check your email for announcements, and start teaching the lesson you planned in the summer, weekend, or maybe afterschool the day before, hoping the students will be engaged with the topic and will have come to class ready and prepared to learn.
History is a unique subject to teach because you can utilize so many different types of learning strategies and activities. I know that many kids and even some adults think history is boring, so I try very hard to make it come to life for them and they can tell by my enthusiasm that I love it. I get told I'm nerdy on a daily basis! In my career so far I have taught AP European History, AP World History, United States History, and World Civilizations. Most full time teachers teach between 4-5 class periods, if on a block schedule with a preparation period. The first few years are rough, but after you have taught a course a couple times it gets much easier. At about year six I finally felt like I knew what I was doing, so, to you new teachers out there, don't give up! It gets easier!
Teachers get 30 minutes for lunch, but that normally includes the passing time between classes when more students come in and ask questions to see what they missed when they were absent, so now you are down to 20 minutes for lunch. Use the faculty restroom and you are down to 12 minutes left to quickly eat before your next class. Teachers become superfast eaters!
Teacher contract time goes until 30 minutes after school which usually involves helping more students, meetings (faculty, department, professional learning communities, IEP meeting for special education students), or preparing lessons. Drive by any school at 4:00 PM and see how many cars are still in the parking lot because they could not get everything done during contract time. Teachers spend a lot of their own time trying to make their class the best possible experience for each of their students. We try to diversify each lesson and assignment for each child which is difficult to do in 5 classes of 35-38 students where make individual accommodations for all the English second language, and special education students, but we do it because we love it.
Why did you want to become a high school teacher?  When did you know it was what you wanted to do? What drew you to the profession?
I changed my major a lot in college. I just needed to find where I belonged. I took all sorts of classes, but was definitely drawn to my history courses. I loved seeing the cause and effect relationship of events in the past with what is happening now. Hearing the stories of all the people who have walked the earth, many of whom are not remembered but have contributed to where we are today.
I started taking lots of history courses thinking I wanted to be a history major, but I quickly found myself wanting to share all the amazing stuff I learned with anyone who would listen. I started driving my family and friends crazy, and it dawned on me that I could do this all day and get paid. Now I get to do what I love 185 days a year!
What kind of education/training is required? What skills/personal characteristics are important to have/develop?
To become a secondary school teacher in college you normally apply to 2 programs, your major and the education program. To get into the education program you take the Collegiate Assessment of Academic Proficiency (CAAP) essay exam, testing your writing skills. Once accepted you learn how to teach. Your last semester you take a content area exam called the Praxis I and after you pass the exam you student teach. You get assigned to a level II teacher who guides you in the real world experience for a semester. You start team teaching the classes and slowly they turn the class over to the student teacher, and the level II teacher is just there for guidance.
Having several college students in my classroom over the years, including student teachers, has made me want to become a stronger teacher leader. That is why I picked the graduate program I am in currently. Following your student teaching and graduation you begin the job hunt. Within your first 3 years as a teacher you take the Praxis II Practices of Teaching and Learning exam; you must pass it to continue your employment and to become a level II teacher. (Editor's Note: Requirements and tests for teacher certification vary by state.)
Most high school teachers when hired are also expected to do more than teach. Most are involved with extracurricular activities like coaching or clubs. I spent 5 years as the advisor to the girls association planning assemblies and the girls' choice dances.
What kind of job opportunities are there in your field?
Pay in public education is basic on a salary schedule with steps (years you have taught) and lanes (your education level) so most teachers are lifelong learners. Most start off in the classroom, but many attend graduate school to become administrators, school counselors, or instructional coaches. One can also work in private schools.
What types of jobs have you had within your profession?
In addition to teaching high school history courses, I have been a mentor teacher for college students and and new level I teachers. I have also served on numerous committees to help improve the school and instruction where I teach. I have also been the Education Association Representative for our building.
What is the best part of your job?
I love sharing my knowledge and passion about history with students. Every day is different. While I teach the topics from the state core and what the district has outlined, I get to be creative in the way the information is taught, which is always fun!
What is the worst part of your job?
Pushy parents and grading essays. By the time a student is in high school they need to develop the skills to go talk to their teachers and deal with situations and not have their parent email you 5 times about the 17 year old's missing assignment. Grading essays is just super time consuming. Do you want to read 200 essays on the same prompt? I usually have to bribe myself to get it done.
Teaching is also a career where it is hard to take a sick day.  Making lesson plans that a substitute can follow and be able to teach without your content knowledge is difficult. Think back to when you were in high school what did you do in class when you had a sub? You probably watched a movie.
What's the work/family/life balance like?
The first few years are hard, especially if you are involved with extracurricular activities. More and more high schools have daycares in their buildings, and many are offering the ability to teach part time so on a block schedule that would be teaching every other day. Usually it just takes a while to adjust, and being super organized helps. You get all the same breaks from school as children, and summer is pretty awesome.
What is the biggest misconception people have about your job?
That being a teacher is easy and that teachers are overpaid. Talk to any teacher and they will tell you it is one of the hardest jobs out there. Watch the news and you see the unknown danger they face every day. The last few years several politicians have villainized teachers and the public school system but really most teachers are working very hard to make public schools great from the ground up.
What opportunities have you had because of your education and profession, that you might not otherwise have had?
As a history teacher one of the best ways to really understand a historical event is to visit the site, so there are many travel grants history teachers can apply for. I have toured Revolutionary War and Civil War sites paid for by the Larry Miller Driven to Teach foundation. The Teaching American History Grant paid for me to travel to Ashland, Ohio to study Civil Rights at Ashland University. I also spent a week, all expenses paid, to study Slavery and the Underground Railroad at Yale University with the Gilder Lehrman Foundation. Each of those experiences have been a great blessing in my life, have made me a better teacher, and allowed me to network with teachers all over the US.
What stereotypes or criticisms have you faced as an educated Mormon woman with her own career?
As a single Mormon teacher in Utah, most people assume I went into teaching to prepare myself to one day be a mother and that I am just waiting patiently for a husband to come along. While that may or may not happen one day, I made sure I picked a career that I love and makes me happy. At my school I have had many wonderful examples of strong Mormon women, some with families and some without and they have shown me if you work hard, and love what you do you can accomplish all your career aspirations.
What spiritual guidance have you felt as you have pursued your education and developed your career?
The Lord has blessed me in countless ways, one which is my ease of public speaking. For many it is no easy task to get up in front of a room of 35 people and talk several times a day. Also, when applying for jobs after graduating as a female history teacher I often felt discouraged when in most interviews they were looking for a coach, but I know I am teaching where the Lord wants and needs me to be. I turned to the scriptures for comfort, and received it in D&C 78:18-19 "…Be of good cheer, for I will lead you along…" and he has. After the interview where I currently teach I felt very discouraged, so I went to the temple. After leaving the temple I had a voicemail offering me the job. It was an almost immediate answer to my prayer.
Any other thoughts, advice, or stories you'd like to share with other women?
Find your niche, and have fun looking! I took a wide variety of courses trying to find what I was passionate about, and although it took years it was well worth it!