So, You Want to be a Nurse?: Pros, Cons, & Strategies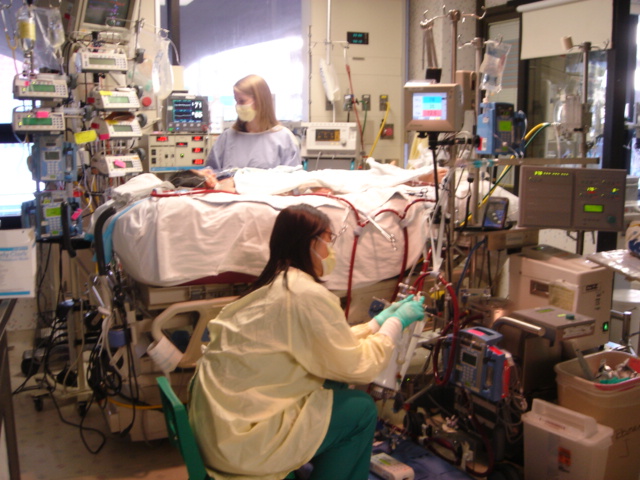 (A colleague and I taking care of a patient requiring ExtraCorporeal Membranous Oxygenation, in the pediatric intensive care unit. This photo is a few years old, as evidenced by the outdated equipment.)
by Dora
At a recent LDS feminist retreat, knowing that I would miss the session on "Leaning In," I took some time to have a private discussion with a woman who I knew was in nursing school. I reviewed the cons and pros of being a nurse, some issues that I see impacting newly graduated nurses, and some things to thoughtfully consider doing now. I share these insights with you in the hopes that they will help you in your professional endeavors.
Gone are the days when nurses wore white caps and dresses, and followed doctor's orders like minions on a ship. Nurses are often the end-providers of care, and must question or challenge therapies that are potentially inadvisable for patients in general, or for certain patients specifically. Nurses need to be strong, educated, and current on recent research and best practices, as they provide care, education, and advocacy for their patients. Nurses work collaboratively with the entire healthcare team; which includes physicians, pharmacists, therapists (examples include respiratory, physical, occupational, speech, play, music, art, and counselors), medical laboratory scientists, nutritionists, social workers, chaplains, and many different types of technicians; and often coordinate many of the patient interactions with various team members.
Nursing is a wonderful, expansive field. There are a plethora of niches, and many opportunities for advancement. From providing bedside care in an acute care setting, to working in a clinic, to being an administrator or manager, being a nurse attorney or consultant, being an educator, being a researcher, or going on to advanced practice in the form of nurse practitioner/anesthetist/first assistant. The work can be extremely flexible (depending on the facility), and once a new nurse gets those first few years of experience in the field, she or he can find work almost anywhere. Because hospitals operate 24/7, there is a constant demand for nurses that can only increase, which is a great source of stability in times of economic uncertainty. Although the nursing profession is still dominated by women, more and more men are discovering the perks of nursing, and joining the ranks.
The discouraging news is that new graduates are having difficulty finding that first job. As noted in
this CNN Money article
, the recession had a strong effect on the nursing field. Women who had stopped working, or who had cut back their hours during times of plenty, started working (more) when their family finances took a hit. Hospitals, knowing that training new graduate nurses is an expensive endeavor, often prefer to hire experienced nurses, who may or may not have prior experience at the facility in question.
The two encouraging pieces of news are that the nursing workforce is aging, and that the Affordable Care Act will enable more people to have access to healthcare, increasing demand for nurses.
Another aspect to consider, is that new graduate nurses *are* getting hired. Just not all of them. According to a survey conducted by the American Association of Colleges of Nursing, 57% of baccalaureate prepared new graduates have a job offer.
This rate rises to 88% at 4-6 months after graduation
. This means that the field is competitive. With so many nursing students applying for each new graduate nurse residency position, HR personnel and managers can afford to be very picky. Some markers of a competitive candidate are:
Baccalaureate prepared (Institute of Medicine goal is 80% baccalaureate-prepared workforce by 2020)
Completed an externship, especially at the facility in question (Yes, it's unpaid, but it's a good investment of time, as well as a way to dive in to a specific patient population, and make connections)
Has good references or letters of recommendation (good connections, especially good respectful/respected connections, will always be an asset)
Participation in research projects (a good way to develop a connection with your professors, and get your name on a paper, especially if you are considering taking your education beyond the baccalaureate stage)
Leadership experience
Demonstrates confidence, humility, emotional resilience, and intellectual curiosity (it's hard to demonstrate these on a resume, but these will help enormously in the interview process)
Other concepts that nursing students should keep in mind are:
Thinking critically about what type of nursing is the best fit for your talents, and really taking advantage of your clinical assignments in that rotation. Will you be required to start off in medical-surgical nursing, or will you be able to start in the specialized unit of your dreams?
Thoughtfully assessing the hospitals where you plan to apply. Does the hospital have a nurse residency program? Is it comprehensive, and does it provide adequate support to the new graduate nurses? If the facility does not have a nurse residency program, do they have didactic and hands-on training program? Does the facility have a Magnet designation?
What is the hospital and unit culture? Are nurses involved in leadership throughout the facility? Are the unit managers and nursing administrators supportive and responsive?
What are the scheduling practices of the facility? Will you be required to work nights? This is not necessarily a bad thing, as nights allow new graduates to focus on their organizational skills and sort out the complexity of providing care without the complications inherent in working during the day when more demands outside of routine nursing care are placed on the staff. Some facilities hire onto the night shift exclusively for this very reason. Above, I mentioned the demand for nursing 24/7. This means that there is a high likelihood that you will be required to work a significant number of weekends, which include Sundays. If you feel bad about this, it might help to remember that as a thoracic surgeon, Elder Nelson worked his fair share of Sabbaths.
Lastly, I refer you to Atul Gawande's Five Rules for finding meaning. These rules are simple, yet require substantial effort. They are: 1) Ask an unscripted question, 2) Don't whine, 3) Count something, 4) Write something, and 5) Change. I first read his five rules in the form of an essay, at the end of his book, Better: A Surgeon's Notes on Performance, but can also be read here. Yes, he's a surgeon, not a nurse. But substitute the word nurse (or whatever it is you want to become) for surgeon/doctor, and you learn strategies that will help you throughout your life. And in the midst of doing these five things, take time to share what you've learned. Share it with your colleagues. Share it with those trying to become your colleagues. Share it, and grow.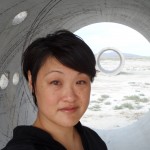 Dora works full-time as a registered nurse in pediatric critical care, works part-time on an MSN degree, and spends her non-existent free-time speaking uncomfortable truths during branch council, going on laughable first dates, listening to and discussing TED talks, partner dancing, playing strategic board games, and throwing stupendous dinner parties.