Returning to School with Young Children: You Can Do This (if you want to)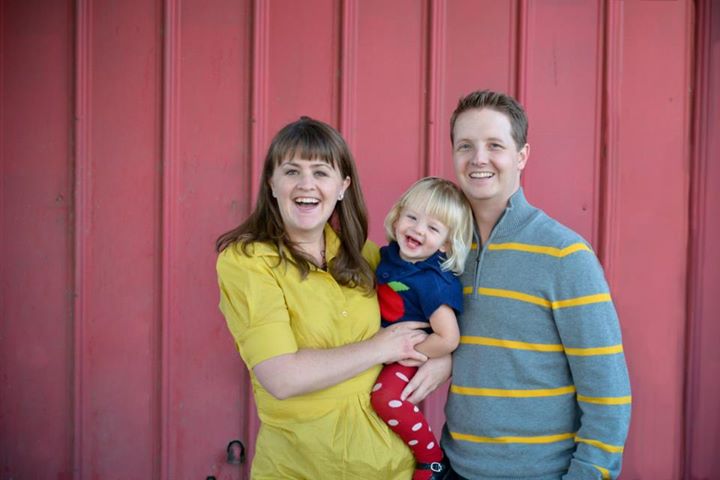 by Anna Bergevin
I finished my undergraduate work before I was married and had children. It was a wonderful experience – hard work, but simpler than my graduate work in that I was not trying to balance the demands of school with the needs of a spouse and child. I thought, like many of my peers, that I would wait to pursue graduate work until my children were all in school full time. And then, I changed my mind, and returned to school when my daughter was 2 years old. And it was a wild, crazy, and rewarding ride. I graduated just a few weeks ago.
Many friends have commented, "I don't know how you do it," or remark that they wish they could go back to school, but feel it is impossible with small children. Returning to school while in the throes of young motherhood isn't for everyone, but it's more doable than you might think. You can do it.
Going back to school, at this time in my life, was one of the best decisions I've ever made. Here are some components that I found essential that I'd advise any young mother to consider when returning to school.
1. Be organized.
Organization will go a long way to help you make the most of your time – and your time is strapped as a mother in school (who may also potentially be working). Organization was crucial for me and in order to communicate with my husband about tasks needed to keep the household running and caring for our daughter. For me, organization means using Google calendar religiously, utilizing a favorite to-do app that syncs between my desktop and phone (this one), and regularly planning out my days and weeks on my own and in concert with my husband. Organization also lessened the the potential negative impact of a busy schedule on my daughter – she did best when things were regular, scheduled, and predictable.
2. Schedule child-free time.
Child-free time can mean a lot of things depending on your circumstances. For me, it meant utilizing on-campus part- time child care in addition to relying on my spouse to be an involved parent.
Your circumstances may dictate very different arrangements, but I think the key is having structured, scheduled time that you will not actively be on call as a mother so you can focus on your school work – not relying solely on nap times, late nights, or frantic last minute calls to friends/family to cover so you can get things done. I studied during all those times, but they weren't my only source of child-free productive time.
3. Accept help.
If you are reading this website, you are an "Aspiring Mormon Woman." Self-sufficient, hard-working, determined women sometimes have a hard time asking for or even accepting offered help. As mothers, we often want to babysit trade–hey, can you watch my child for 2 hours and I'll watch yours tomorrow? But as a student with compressed time, this type of arrangement can be harder to do. So sometimes, all you can give in return is a "Thank you, it means so much." While I was in school, sweet visiting teachers sometimes offered to bring meals during stressful times, and friends would offer to watch my daughter for a few hours so I could get things done. It is tempting to say, "Oh no, I'm okay." But there were times when I was not okay, and I gratefully accepted the offers. Let your friends and family serve you. And pay it forward when you can, even if it isn't for a few months or years.
4. Know your resources and utilize them.
Do your research at your school – what kind of resources do they have to support you as a student, but also as a parent? My university, for example, offered free child care during finals. FREE. I took advantage every semester. I know that students with lower incomes also qualify for subsidized or free childcare through federal grants. And the counseling center has individual and group counseling for added support. During a challenging time, I saw a counselor for just 2 visits and it really helped me get through a rough patch to just talk out some issues.
5. Practice saying no.
This is good advice for anyone, but particularly when you are busy in school. I missed many mothers' group play dates, fun ward activities, and other opportunities because I had class or needed to focus on my homework. There are many good things in this world we want to be a part of, but choosing to attend school when you have a family means you have already filled a large portion of your time. Say no graciously, and realize there will come a time again when you have time to attend Enrichment regularly and join the other moms on a zoo outing.
6. Communicate.
People can be more understanding and generous than you think. At one point in my first semester my daughter had an unexpected surgery, and I was in the hospital for a week caring for a recovering 2 year old. Professors at my school understood and I was able to finish out the semester with good grades. I communicated and avoided letting the chaos in my family life turn into a crisis in my school life.
Additionally, I went to an internship interview and they said, "Oh you don't work, so your schedule is wide open." And I confessed, "Actually I have a young child. I can find child care to come in one day a week. Maybe I could also do some work remotely." They gave that internship position to another student and then called me and said they'd like me to do some research for them that I could do on my own time from home or the library. It was a fantastic opportunity – I was happy to gain the experience, they were happy with my quality of work, and it was really flexible, making it easier to arrange the child-free time to complete the work. This opportunity never would have come my way if I had not been open about my situation.
7. You can do this.
You really can. If you want it, if you pray about it and feel like Heavenly Father supports your decision, there is a way to make it work. For the first two years of my daughter's life, I felt so sad about postponing graduate school, but felt guilty about the prospect of putting her in child care so I could pursue my dreams. I felt scared to pray about going back to graduate school, afraid my Heavenly Father would say no, but I did it anyway. I applied, prayed about it, and went back and I feel great peace that this was the right path for my family and me. It was hard, exhausting, and difficult – for all three of us in my family –but at the end of the road I have a master's degree, a great job I love, and a happy four year old who loves her school and comes running with a big smile on her face when I come to pick her up.
Anna is a researcher and self-proclaimed policy geek. She recently completed her Master of Public Policy from the University of Utah with a certificate in Demography and received her BA in Political Science from Brigham Young University. She currently works as a Research Associate at the Center for Public Policy and Administration. When not reading, talking or writing about policy, she enjoys cooking, spending time with her family, and reading the latest pick for her book club. You can also find her geeking out over crazy talented acapella groups, well-written television, and really impressive data visualizations. Anna is married to her software engineer husband, Joe, and they are raising their beautiful and hilarious daughter, Everly.