On This Good Friday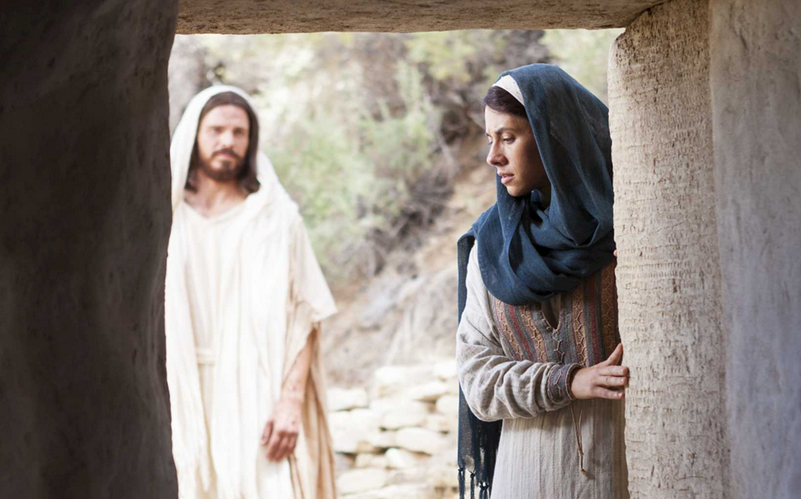 We're sure that most people have seen the excellent videos, #BecauseOfHim and #StartingToday, by now, but we wanted to share our thoughts and feelings as we watched and invite you to do the same.
Celeste:  My faith is something I fight for almost daily. I am not among those who can say, "I've always known the gospel is true" or even pinpoint a moment I felt that myself. Instead, my faith is a regular act of sifting through the things I know, the things I question and the things I believe.
The reason I keep fighting to define my beliefs is that, since I was a girl, I have felt hopeful because of the gospel. I feel in me a power to change and improve, love better and understand people more clearly. I believe these feelings of hope and inspiration are based on my faith in the atonement of Jesus Christ — #becauseofhim if you will.
Dianne: On Saturday night I had the chance to attend a Passover Seder. This beautiful ritual feast serves to remind participants of the liberation and deliverance of the Israelites from slavery in ancient Egypt. There are several foods that are eaten at the meal including maror and chazeret, bitter herbs (and very bitter they were!), symbolic of the bitterness and harshness of Hebrew slavery in ancient Egypt. We were also reminded of the bitterness and pain of the bondage of sin we are each under. That observation really hit me powerfully and has been running through my mind since.  Sunday morning my husband and I read the scriptural accounts related to Palm Sunday.  As we read about the Lord's anointing in Bethany and his journey down from the Mount of Olives, I was unusually moved. As I pictured the great crowds that gathered around Him, laying their clothes and palm fronds on the path before Him as He triumphantly entered Jerusalem, I felt a desire to be there, with the crowds, to carpet His path with palms and shout hosannas. #BecauseofHim we are delivered, not only from the bonds of physical death, but of the equally bitter bonds of our sins. He is my Savior and King and He will deliver me.
Hadley: 
#BecauseofHim, perfectionism is wholly unnecessary.
#BecauseofHim, a whole lot of practice and a whole lot of grace makes perfect.
#BecauseofHim, we have the luxury of trying. And failing. And trying. And failing. And still being good enough.
#BecauseofHim, each of us is always worthwhile and valuable.
#BecauseofHim, we're never without a true friend.
#BecauseofHim, there is always hope.
#BecauseofHim, love always wins.
Bryn: I love the Easter season for the chance we get to re-humble ourselves and refocus our lives.  In fact I always feel really privileged by the patience God illustrates in keeping our holidays yearly and regular. Reminders that we can start today, because of Him, are crucial and so powerful, even if they're truths we've been taught our whole lives.  Those reminders always embolden my gratitude to the Savior as well, because it's always in reflecting on the Atonement that I feel very fiercely and intimately my unprofitability as a servant of His kingdom on earth.  Easter, and these videos, motivate me to rededicate my efforts to draw nearer to heaven more regularly and start today everyday.  Even as my distraction and focus on my relationship with the Savior in my life waxes and wanes, I hope that this Easter season I can really move myself onward and upward in a lasting way.  I love the last verse in Come Thou Fount of Every Blessing: "O to Grace how great a debtor/ daily I'm constrained to be/ Let thy goodness like a fetter/ bind my wandering heart to thee/ Prone to wander, Lord, I feel it/ prone to leave the God I love/Here's my heart, O take and seal it/ seal it for thy courts above."  That's my prayer this Easter season.  I love the Lord so much and can't imagine anything greater.