Mission Possible: Financial Preparation for Sisters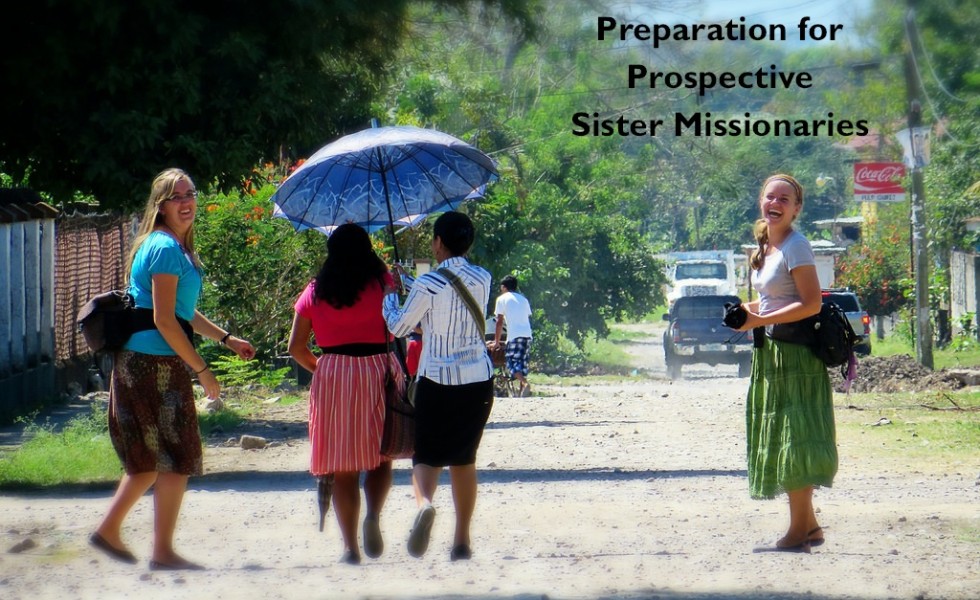 Image credit: Kristen Klein
by Kelli Sauvé
With the fairly recent announcement lowering the missionary age to 19 for sisters, there has been a sharp increase in the number of young women signing up to serve missions.  This is wonderful and exciting!  If you are one of those young women considering serving a mission I can tell you from experience that it's hard work and also one of the most rewarding experiences you'll ever have.
With all of the excitement that comes along with serving a mission, there is also the responsibility to fund your mission.  As Mormon women we are taught and encouraged to be self-reliant.
"Church leaders have long counseled prospective missionaries to prepare to pay for as much of their missionary service as possible. You and your family should consider your financial circumstances carefully. Counsel with your bishop or branch president if you have questions. While financial challenges outside of your control don't automatically disqualify you from service, Heavenly Father expects you to do what is within your control." [1]
So, where do you begin when you realize your desire to serve a mission?  I suggest beginning by talking with your parents and others who have served a mission and prayerfully consider your decision.  I remember specifically turning to the scriptures and to my patriarchal blessing for guidance and though I hadn't seriously considered serving a mission, it became clear to me that this was an experience the Lord had in store for me.   As I watched friends leave on their missions, it seemed that a fire for missionary work started within my heart and I knew it was the right decision for me.
Once you know a mission is right for you, the preparation starts.  This is where the practical information comes in.  Here are some financial questions to ponder as you prepare to serve your mission.
How much does a mission cost?
Fortunately, the cost of serving a mission has been equalized among most missions, which is approximately $400 per month per missionary.  You'll also need another $1000 or so for clothing, luggage, scriptures, and other materials, etc. depending on what you already have.  I challenge you to beat that number and see if you can do it for less.  Overall, you're looking at a nearly $9000 investment for 18 months of some of the greatest and most challenging experiences of your life.  It's worth it.
Do I have any debt and how long will it take to pay it off?
Missionaries are required to "have an eye single to the glory of God."  Your daily decisions will help you prepare to leave the world behind as you serve the Lord – this includes financial obligations. Once you turn 18, you may decide you want your own credit card.  This can help you build credit, which is important.  However, if you have a credit card balance, make it a priority to pay it off.  The interest you're paying on the balance could instead be set aside in a savings account for your mission.
How much time do I have to save money before I can turn in my papers?
Depending on how much time you have between making the decision to serve a mission and actually turning in your papers will be a factor in the amount of money you'll be able to accumulate.  Don't let this discourage you from making your best effort to save what you can.  Anything is better than nothing.  Be realistic with the time frame you have to work with and set a specific dollar amount for your goal.
How can I improve my spending habits now to save money for my mission?
With your upcoming mission in mind, question your daily purchases and ask yourself whether they are worth buying instead of saving towards your goal.  Acting on these reflections will take some sacrifice for sure but will be good preparation for missionary life as you'll be living on a limited budget.  By practicing now, you'll form habits that will help with this adjustment.
How can I earn money to fund my mission?
There are a number of ways you can earn money to fund your mission.  Think outside the box and be creative! (I worked at a green bean canning factory the summer before I left to help earn money for my mission.  Not real glamorous but I have such great memories!) Here are a few ideas to get you thinking:
Start your own business (photography, web design and development, math or reading tutoring, musical instruction (i.e. piano, guitar, voice, etc.) pet-sitting/dog walking, house-sitting, make and sell jewelry/art/crafts online or at craft fairs and farmer's markets, lawn care, residential or commercial cleaning, auto care, personal shopping/organizing, child care)

Apply for work-study programs while attending college

Apply for holiday/seasonal jobs when available such as a summer camp counselor or holiday retail staff

Work as a lifeguard or swimming instructor at your local pool or fitness instructor at your local gym

Work in retail or at a restaurant

If you're really adventurous, head to Alaska or another tourist destination for a summer to earn money.

Coordinate a yard sale. Invite ward members to join your efforts and donate to the cause.
Am I a Full Tithe Payer?
As a missionary, you'll be teaching the importance of paying a full tithe and the blessings that come from obeying this gospel principle.  It's almost guaranteed that you'll come across someone who is struggling with this principle.  Again, I can tell you from experience that if you have a testimony of paying a full tithe and are able to share an experience where this principle has blessed your life, it will benefit those you are teaching and in turn strengthen your own commitment.  And yes, I have a story…in a nutshell, I was a poor college student trying to make enough to pay for tuition and found it hard to make ends meet at times.  One day I had no money for gas and was running on fumes as they say.  I was a full tithe payer.  It just so happened that I received a random check in the mail that very day.  It was a credit from my auto insurance agency for having automatic seatbelts.  Yep.  The amount was minimal (under $15) but enough for me to put gas in my car.  Tithing:  Pay it in full.  You will see it work in your life as you prepare to serve the Lord as a full-time missionary.
What specific items will I need?
Bonus!  You get to go SHOPPING!  Of course, you'll want to wait for your mission call to purchase the appropriate clothing but that doesn't mean you can't start browsing now to get a sense of what certain items cost.  In fact, it's a good idea to set a clothing budget.  Believe me, after being transferred 7 times, I ended up giving things away and learned to pack light.  So, my advice?  Purchase basic, interchangeable items that are durable and comfortable and do your best to keep your wardrobe from getting out of hand (both space wise and money wise).  See general guidelines here.
I encourage you to be a full tithe payer, improve your spending habits, and start saving for your mission now. Talk to friends and family about your exciting decision and be creative in finding ways to earn money.  By doing these things, you will be more financially prepared to serve the Lord and will become more self-reliant.  You go girl!
[1] https://www.lds.org/youth/article/preparing-to-serve-suggestions-for-young-women?lang=eng
This OP is the first in a series of posts on personal finance and financial literacy for Aspiring Mormon Women. Read Kelli's Financial Coach Career Day profile.