Career Day: Librarian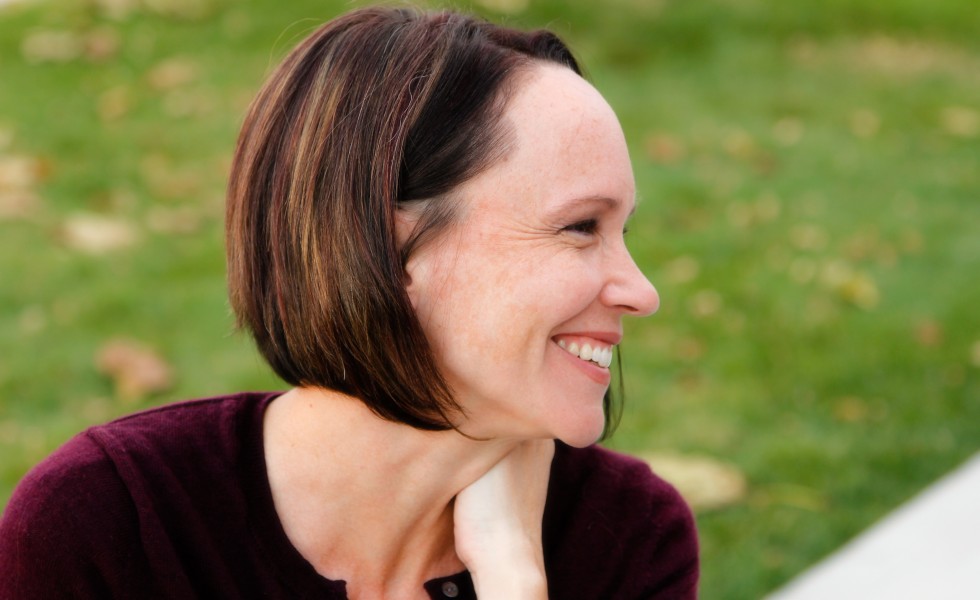 Tell us a little about yourself and about your job.
My name is Amy Sorensen. I'm a Utah County native—I grew up in Springville, Utah, and now I live ten miles north (in Orem). I have four kids: my daughter Haley is at her first year of college, and I've got my three boys, Jake, Nathan, and Kaleb still at home with me for a while. I have an English degree from Brigham Young University and a Secondary Education degree from Utah Valley University. I'm a librarian at the Orem Public Library, but I used to be an English teacher.
Why did you want to become a librarian? What drew you to the profession?
I became a librarian mostly by accident. When I started working on my degree at BYU (as a young mom with one baby at home; by the time I finished, I was pregnant with our third), I never had any hesitation over being an English major. For me, that was what school was about: reading books and then talking about them, writing essays, learning how to think in different ways. I wanted to be a writer (I am still working on that goal, in fact), but I also knew the realities and difficulties, so I left my career options open. English degrees really are flexible!
I taught high school English for a few years. I loved teaching. I loved getting to know the students, having my classroom, and being immersed in books and writing and even grammar all the time. But it was very difficult for me to be the kind of teacher I wanted to be and to simultaneously be the kind of parent I wanted to be. Impossible, in fact. Plus (due to a bout of unemployment in my husband's career), I had to start working before I was ready to give up being a full-time, stay-at-home mom.
I took a break from teaching after I had my fourth child. When he was almost three, I stumbled across the job opening at the library, and even though I felt like the interview was the worst one I'd ever had (What potential librarian draws a blank when asked "Who's your favorite essayist?" Me!), I didn't hesitate when they offered me the job. It felt like I was going to work on my own terms and that it was a good time for my family for me to start working again.
For me, becoming a librarian was the idea of luck being the meeting of preparation and opportunity. I didn't go to school with the plan of being a librarian, but my education prepared me for the chance when it came up. It is the perfect fit for me.
What kind of education/training is required? What skills/personal characteristics are important to have/develop?
Most career librarians have a master's degree of some sort. There aren't many universities that have a master's in library science anymore, but that is still the best degree to get. Many of my colleagues have completed their MLS degrees online. My degree in secondary education, as well as my experience as a teacher, took the place of an MLS although I'd still like to go back to school.
Not all librarians work with the public. Those who work in cataloging and processing interact mostly with books, but the majority of librarians need to have the ability to talk to people. Customer service skills are most definitely required. But, aside from the education, the most necessary thing is a passionate commitment. It doesn't have to necessarily be about literature—the librarians in the Media department astound me with their knowledge about movies and music. But you can't be a successful librarian and just be average in your dedication to your subject. You have to love and adore and be destitute without it. For me, reading is like breathing, a necessary part of being alive. And I definitely couldn't do my job well if that wasn't a part of my personality.
What kind of job opportunities are there in your field?
People assume that being a librarian means that you check out books, but there are many different roles within a library. From pages (who check in and shelve books)—to book repairers to cataloguers, all the way up to the library director. There are jobs for writers or others of an artistic bent, like movie aficionados and music experts. Some librarians work with the public and others are in the back room working just with books. The possibilities within a library are multifaceted.
That being said, there is a decrease in public library use. The internet has become most students' go-to way of researching. Funding is also a problem. Especially during years of economic downturn, public libraries are not places with large budgets or enormous amounts of hiring. You have to be willing to start on the lower end of responsibilities and then be patient while you wait for an opening in a different department.
What types of jobs have you had within your profession?
When I first started, I worked at the circulation desk (checking books out) and at the general reference desk (not the children's desk). I don't do circulation anymore, but I'm still at the reference desk. I coordinate the scheduling and collection development of our book group sets. I also write the book group discussion booklets, some book reviews, and other posts for the library blog, and booklists. Lots of booklists! I assist with teen summer reading as well.
What is the best part of your job (or profession)?
I get to help people find books. Sometimes I still get giddy over this fact. My favorite questions at the library are those that come from teenage patrons:
"What book should I read from the AP list?"
"I hate to read but I have to read something for my history class. Can you help me?"
"I'm writing a paper and my teacher is making me find a book instead of just googling, but I don't know what these numbers mean."
"I just finished [insert this month's popular YA book here]. What's something that's just like it?"
Or my absolute favorite: "I have to read poetry for English. Where are the poems?"
In other words, the best part of being a librarian is helping people interact with books. Plus, my colleagues are awesome!
What is the worst part of your job (or profession)?
I sometimes joke that the most stressful part of my job are those times when it's impossible to avoid taking our unreliable elevator. But there are negatives, of course. I get frustrated sometimes at the narrow definition of "good book" that is found in my community. I encourage patrons to read books that help them explore other ways of living and thinking about life, and maybe even push them outside of their comfort zone. To me, a "good book" is one that changes me; for many here, a "good book" is one that has no sex, no swearing, no violence, and no scary ideas.
Mostly, though, I suffer from pervasive discouragement over the general population's ideas about libraries. For example, I was at a medical appointment recently, and the doctor asked me what my job was. "Librarian?" he said. "Do people still use libraries? I thought everyone just reads books on Kindle."
People still use libraries. Communities still need libraries. Yet funding for public libraries continues to decrease. It weighs on me to know this, because I believe that libraries are the physical manifestations of the public's soul. It is a poor, uneducated society that thinks libraries are unimportant.
(And in case you're wondering: yes, you can check out some library books on your Kindle. But not all of them. And real printed books, with the binding, the cover, the font, and the paper are much more satisfying—in this librarian's opinion.)
What's the work/family/life balance like?
During the first six weeks or so of working as a librarian, I was antsy. I was so used to the overwhelming amount of work that I brought home as a teacher, it simply felt wrong to just go to work, then come home and leave work at the library. In that sense, the work/family balance continues to be perfect for me. Of course, being well-read is a requirement for any librarian, but I would read no matter what, so that hardly qualifies as work.
One of the downsides, though, is that most librarians have to work at least one evening shift and a Saturday every other week. My kids often tell me they wish I could just work while they were at school, and I confess, it's hard to be gone for entire Saturdays.
And sometimes, no matter how much you love your job, life gets crazy. I feel especially frazzled from about the middle of November until the beginning of January. Those seven or eight weeks I am often thinking if I didn't have a job I could get so many other things done. You have to sacrifice some of the things you want to do for the things you have to do though. My house is very rarely perfectly clean, my kids have been known to wear the same socks two days in a row, my flowers get neglected, and I don't even try to grow vegetables. To keep the craziness manageable, I try to focus on the very most important things—my family, of course— but also the things that I need. If I don't get some real solitude nearly every day, for example, I start getting cranky and easily annoyed, which influences everyone around me. For me, the key to balancing things (as well as I manage to balance!) is to let go of the unimportant stuff: I haven't mopped my kitchen floor since October. And the world is still spinning.
What is the biggest misconception people have about your job?
In addition to the "we don't need libraries anymore" idea, it's that being a librarian is an always-peaceful career that involves going to the library and reading. First off, there is very little reading that librarians do at work. We need to be well-read, of course, but reading is done on our own time, not at the library. We flip through books at work or have them on our desks while we are writing about them, but generally we're not actively reading them.
As for the "peaceful" bit, sometimes that's true. But it can get crazy at the library. I've had patrons say highly inappropriate things to me. One yelled at me once and called me stupid. Sometimes all three lines on the phone are ringing while one patron needs a book about cat herding and another wants the WiFi password and someone else wants to complain about the statue. All at once! Just like any job that involves working with actual people, your customer service skills are constantly in use and quite often strained to the limit.
What opportunities have you had because of your education and professional development?
Definitely the interaction with literary types! I once had dinner with Laurie Halse Anderson Sure, there were 75 other people in the room too, but that doesn't change the fact that I was eating at the same time in the same room with a writer I highly admire. Brian Doyle, Ally Condie, Brandon Sanderson, and Dan Wells have all walked past my desk. And then there was one of the highlights of my life: I got to hang out with Marilynne Robinson while a coworker and I took her to the airport.
What stereotypes or criticisms have you faced as an educated Mormon woman with her own career?
Honestly, I haven't encountered this much. Partly this is because I tend to neither notice nor care very much if people are critical of my life.
What spiritual guidance have you felt as you have pursued your education and developed your career?
When I was offered my position as a high school English teacher, I was really struggling with my life. I didn't want to be where I was—a mom to three kids about to start working full-time so that our floundering financial situation didn't sink us. Instead I wanted to continue to stay at home, take care of my kids, and have one more.
When the principal called to offer me the position, I told him I had to think about it and then I went for a nice, long run to think about what I should do. In those six miles, I turned everything over in my head until I had figured out how I could do it—manage everything that my children needed me for while I also worked full-time. But I just didn't know if I should. Then, just as I was running on the long block where the city buildings are (including the library!), I had one of those very rare God-is-speaking-to-me moments. His message was that not only could I do it, I should, and that it would be very hard but one day I would understand why.
That was one of my life's truest moments of spiritual guidance. He was right: it was hard. But the financial waves stopped knocking us around eventually, and we got back on our feet. I loved my years of teaching, despite the strain they put on me. And even though there is an enormous gap, I got to have that fourth baby I wanted so desperately.
As for the understanding why? Well. If I hadn't been a teacher, I never would have found my career as a librarian. More important, I understand something deeply true about myself that I couldn't learn any other way. We are taught that as women we should be mothers and that our goal should be to stay at home with our children. I wanted that desperately. But what I had to learn about myself is that I am truly happiest if I have both—my family and my career. My life had to teach me that because I couldn't hear it over the clatter of what I thought I should be. Not everyone fits inside the ideal, and for me, I need more than motherhood in my life.
Any other thoughts, advice, or stories you'd like to share with other women?
I am learning that the way to find happiness in life is to be thoroughly honest with yourself. I think we often do things—big, important, life changing things—because they are what we're supposed to do. But not all of the should-dos fit in everyone's life. I have found that if I examine my motivations for a choice and try to be honest with myself about why I want to choose something, I am usually much happier with that decision than the ones I've made because they were the choices other people or society expected.