Deliverance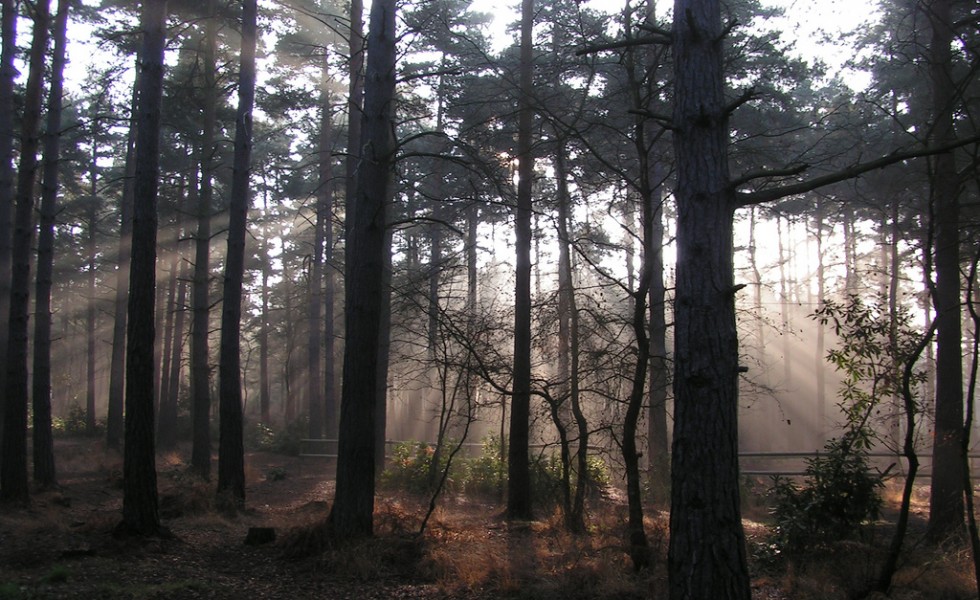 Image credit: Dave Stokes
by Hadley Duncan Howard
While all of civilization rang in Y2k wondering what global calamities and end-of-days stories the new year would thrust upon us, I faced 2000 with far more prosaic concerns: I wondered how I'd pay the rent. Just a few days before Christmas, my colleagues and I were told that our ad agency's new management had bankrupted the company, and we all lost our jobs. No severance. No Unemployment. Happy Holidays.
I'd gone home that evening shocked, angry, appalled, terrified – and determined. I'd spent the last several years working in environments of cloak-and-dagger intrigue, where every day felt like the lyrics from a Sarah McLachlan song, with "vultures and thieves at my back." I had accumulated countless stories of repugnant human behavior, and worked myself half to death. I was exhausted, and I was desperate for respite and cosseting.
I got on my knees. I was marketable and didn't expect much trouble finding another job, but I told the Lord I wanted – needed, badly – the right job, the job that would respect my spirit, the one where people behaved ethically, where I could do great work without threat of coffee cups being hurled across the conference room table. It would take time, I knew. I would wait. Like the Israelites, I asked God to deliver me. He said Yes.
But deliverance doesn't come easy or cheap, and God's methods of care and transport prioritize safe arrival over comfort.
It was a very long six months. I packed up my car and passed the time in the company of my darling grandmother, four hours south. I worked part-time in a sleepy local boutique, which was such a departure from my recent norm that I remember it as being totally silent, both physically and emotionally. It was a rest that was utterly indispensable to my mental health.
And it was professionally and financially frightening, every single day. Anxiety and time seemed to unfold before me, as if in the inexplicable vastness of the universe.
During this time, I was offered a Great Job, working for a pleasant man at an agency with a fun vibe. It was everything I wanted it to be – except it was managing the Kraft account. And although the Kraft account would have certainly been beneficial to my career, God's answer – that had been Yes to deliverance – was No to this job. Kraft Foods is owned by Philip Morris. God said No, and so did I.
Passing up that job hurt. It hurt a lot.
The short version of this story is, of course, that I did eventually find a job – the right job. Which is not to say that it was an environment of cozy morality; it added much to my coffer of unbelievable stories. But it was through this job that God was able to speak to me in a way that profoundly altered the rest of my life; it was through this job that He provided me with the rest of my life as I now know it. It was the right job because it gave Him some good material to work with. It was the right job for me because it allowed Him to do His job – to deliver me, not simply from the bondage of unemployment, but, through His extravagant grace, from the bondage of the human experience.
That job was right not because of what I learned on the job, but because of what I learned – spiritually – through it. It transformed me in a way that absolutely nothing else could have. God's promise of deliverance was fulfilled. It was in no sense cheap, easy or comfortable; in fact, it seemed to be one frustrating complication or frightening set-back after another. But God had said Yes, and He meant it. The Great Recycler, He was really just using the raw materials of my life's professional circumstances to deliver me more fully to Him.
I've understood only recently that the basic story arc here is analogous to the Israelites' (professional) enslavement, Passover and eventual exodus out of Egypt. They asked the Lord to deliver them, and He said Yes. And then they endured plagues and maladies and hardships; things went from bad to worse. Finally, through painful obedience, God spared them and delivered them… into another, different hardship, which would eventually, at long last, be for their good, profoundly changing them and all of history after them.
He used their lives' professional circumstances to deliver them – their hearts, their wills, their very souls – more fully to Him.
The details change with the times; each name brings nuance. But it's a never-ending story:
God's deliverance is less from something than to something – to Him.