Taking the Young Women on a College Campus Tour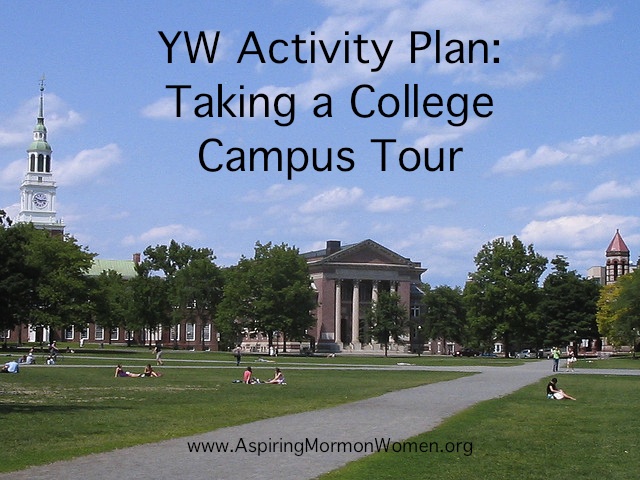 by Holly
Ties to Personal Progress:
Divine Nature: Part of developing your divine nature is "adding knowledge."  We can choose to add knowledge in a myriad of ways, but a formal college education is one of the most straightforward and best ways to do so.
Individual Worth: "You are preparing now to fulfill a unique mission on the earth. Read Doctrine and Covenants 88:119. In your journal make a list of your hopes and dreams for your future home, family, and education and some important things you would like to accomplish in your life…"
Knowledge: "Learn about an area of work or service that interests you. Talk to someone who works in that field and find out what that person's job responsibilities are, what training or education the person obtained to do the job, and what contributions this person's job makes to society."
Ties to Youth Curriculum
To Prepare the Young Women for a College Visit:
Talk to young women first about the value of education. Why do we get an education? What is the value of a college degree (or post-secondary education of any sort)? President Hinckley spoke directly about women gaining as much education as they

can,

 and we know from the scriptures that the "glory of God is intelligence."
Remind the young women that regardless of whether or not they plan on a mission, or expect to get married young, there is value in gaining an education. The Utah Women & Education Initiative outlines many benefits gained from higher-education. 
Ask the young women to make a list of career options they would consider (i.e. "What would you like to be when you grow up?"). It might also be good to ask what the young women love to do, or what interests them most. Connect their list to potential college majors or jobs that would suit their interests and abilities (read about how this list can also lead to a Young Women's Career Night).
Talk about the benefits of college, i.e. not just having a degree, but learning how to study, how to organize time, how to make priorities, how to live with roommates, how to manage money, gaining new perspectives and outlooks, interacting with a variety of people, living away from home (where applicable), gaining skills and knowledge that can support them in the futures.
You may also discuss the benefits of a degree when seeking a job—on average, those with college degrees earn considerably more than those without.
If any of YW leaders attended college, have them talk about the benefits of school, what they loved, what they wished they'd known, etc.
Organizing/Scheduling the College Visit
Most colleges have campus tours available for individuals and groups. If you have multiple colleges nearby, talk with your young women about which one is interesting to them. If you have just one campus nearby, the decision is easier. Check the website of the college (it will usually be under "prospective students" or "future students" or "Admissions") to see if tours are offered, or contact the Office of Admissions by phone. Depending on the size of the school, tours may be offered weekly, daily, or twice daily. Some schools will also have weekend hours.
It is best to contact the school ahead of time either through their online form or via phone if you're bringing in a group of young women, instead of just showing up. You may even be able to arrange a special tour for just your young women instead of being lumped in with a group.
Often the school will want to know what the potential interests of the young women are so they can have materials about those majors available. If you've already talked to the young women about their interests, have that list in hand.
Due to school or time constraints, it might be easier to arrange a tour on the weekend or during spring break or the summer. Keep in mind, however, that your young women might not get a real look at what campus is like if they attend in "off hours" (fewer students and no classes going on make for a much emptier campus).
If you have former members of your Young Women's group who are now attending college, invite them back to talk to the younger girls about their experience. If possible, it might be great to take them along on the tour of campus (if that's the school they're attending). While it may be tempting to have that student give the tour instead of contacting the Office of Admissions, remember that the Admissions Counselors know more about the school and can answer questions better than a first-year student can.
Most campus tours last about an hour. Feel free to venture out on your own on campus after the formal tour is over. Most schools have a student union building with ice cream or games or other fun things.
If your girls have a harder time focusing or need extra engagement, it might be fun to play college bingo. Go to the tour with a list in hand and see who can spot or do the most items on the list (find a college student studying and eating pizza; ask a college student what his/her favorite part of college is; etc).
Thoughts/Experiences After the College Visit:
It might be helpful to have a follow up activity after the college visit. Chances are the girls will be pretty unfocused after the tour, and directly afterwards might not be the best time to "debrief". Schedule a time to talk about their impressions and thoughts; what they learned; if any of them have set goals to reach college; etc.
Discuss things your young women can be doing now to better prepare for school. Check out sites like www.knowhow2go.org, http://www.stepuputah.com/stay-on-track/ccrs/, http://www.stepuputah.com/set-your-course/preparing-for-college/, and https://www.mappingyourfuture.org/CollegePrep/ for recommendations on preparing. You can also google for tips to help students prepare.
A major obstacle to higher education is money. Talk to your young women about what they can be doing now (saving money, working, focusing on school in order to earn scholarships, etc).
Try setting some concrete goals with the young women—whether that be opening a savings account; achieving a certain grade point average; researching potential schools; figuring out career options; doing an online search of scholarship databases; etc.
Most of the young women, if attending a public high school, will have access to a college counselor. Encourage them to meet with their counselor or attend the "college fairs" sponsored at their school. Often, admissions counselors from colleges will make visits to larger high schools, and your young women can make use of that time to talk with counselors about questions or concerns.
If appropriate, reach out to parents as well. For those of your young women who come from college educated or middle-class homes, the idea of higher education may be more typical. For those who don't have any other members in their family who have attended post-secondary school, the thought of college can be very daunting. There are plenty of programs in place to help first-generation or less privileged students prepare for and attend college. If there are concerns amongst the parents, many communities have programs to help them as well. If you have students or parents who don't speak English as their first language, schools will often have materials translated into other languages that are predominant in that area. Sometimes tours can even be offered in multiple languages. Fear, uncertainly, misunderstanding, or myths should never be the deciding factor in college attendance.
Many communities and colleges have outreach programs to assist first generation or less privileged students as well. If appropriate, contact a representative from your local school or community program and invite them to come and speak to your young women (and their parents) about resources and options.
If You Can't Get to a College Campus
If you're unable to actually attend a campus tour in person, check out virtual tours online. Some colleges have virtual tours on their websites—you can check specific schools. Or you can search through some sites like the following:
You can all view virtual tours together. Or have each of your young women select a school to research and take the tour on their own time. Then, gather for an activity and have each of the young women present on their chosen school to the group. If you plan out far enough, it would be easy for each young woman to contact their school of choice (everyone has an online form for students who are interested), and receive material in the mail. Colleges will often send out brochures, etc to high school seniors (and often juniors).
Have you visited a college campus with your young women? What were your experiences? Have an idea for a Young Women's activity applicable to education and work, feel free to submit it to us. 
Access our YW Career Night Activity here.