A Few Tips When Seeking a Childcare Provider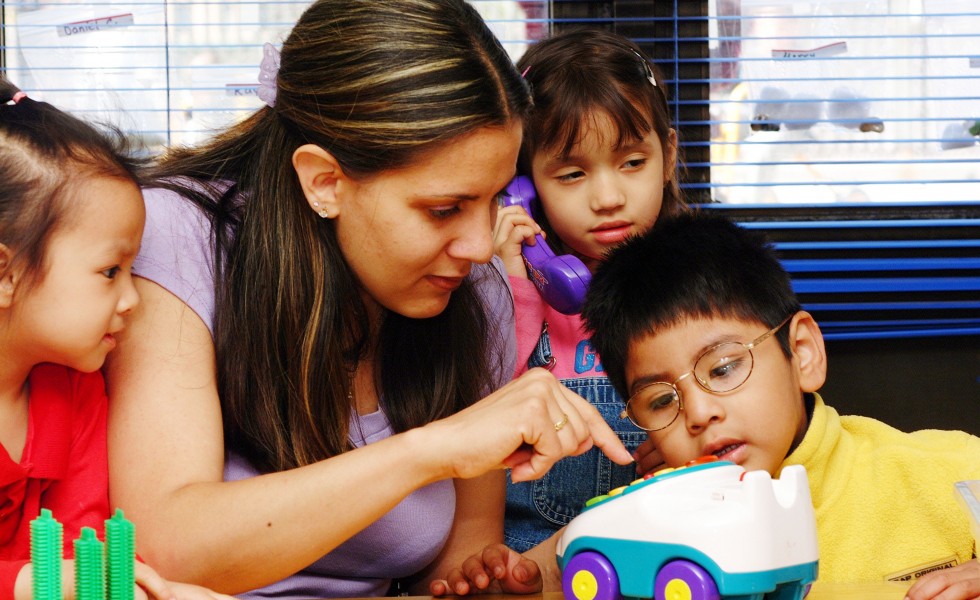 by Kris Tina Carlston
Working outside the home, I sometimes feel like my second shift starts at 5:30 pm and sometimes . . . I'm just not up for it. I love reading articles and anecdotes by others that talk about how it is possible and fulfilling to work outside the home and raise a family, and from my own experience I know this to be true. However, I also think that those articles and anecdotes do a disservice if they don't also acknowledge that it is difficult.  Let's be clear, working in the home is also a very difficult job, especially since it is often unrecognized. At least I get to have praises from my boss, coworkers, and clients. Unfortunately, my diaper wearing two-year-old does not yet know the art of appreciation.
For instance, last night's second shift was not my night. My husband was gone and I found myself "parenting" (I'm using the term very loosely) by lying on the couch trying to find a children's program that would keep my son, Henry, occupied. My effort was in vain. However, it was only when he started asking to go back to the babysitter's house that I knew I had to do better. We played trucks, danced to the hit single "No More Monkeys Jumping on the Bed," and read all about dinosaurs and trains (twice!).
This isn't the first time that my son has asked to go back to the babysitter's house—but really who can blame him? Our babysitter loves my son and includes him in the mix like he is one of her own seven children. There is always another playmate available and something going on. Oftentimes we'll pick him up and he'll talk about how tired he is from his day of playing. When we first started this arrangement (this is his third child-care provider) we picked up Henry and my sweet babysitter said, "Thank you for letting me watch him."  Now granted, I like to believe it is because my son is a perfect angel at her house, but in all reality, our babysitter has a talent.
I don't tell you this to brag or boast, and in fact, all of Henry's childcare providers have been gifts from Heaven at the time. And although that may be the case, you can take five huge projects at work, all due on the same day, and that still wouldn't be anywhere near as stressful as finding the right childcare provider. How do you find the right person?  Below are a few things that I have learned:
Be Loud. When looking for a childcare provider let everyone know. Post it on Facebook, tell your friends, talk to your neighbors. Oftentimes, the best recommendations are from people that you know and trust. This is really like looking for a job—you have to let people know you are in the market. I was surprised by all the friends that had suggestions and insight when I did this. It was very beneficial to feel like everyone was "helping."
Care.com. This website can be really great but also can be really overwhelming. If you sign up you can review profiles of potential caregivers, request background checks, post your own job, and make and track payments, which can be very helpful for tax purposes. I haven't had much luck with this website (see that overwhelming comment above), but I know a lot of parents that swear by this service.
Talk to other moms working outside the home. Finding other moms and determining what they do for childcare can be enlightening. You can learn the background on some places you may be considering, find out about openings you may not have known, and discuss options that are not always publicized but available. One mother and I discussed the possibility of doing some nanny sharing. It didn't work out for a myriad of reasons, but I love the idea of this and maybe it will happen in the future.
Start Looking! Because finding childcare can be difficult, it's always best to start looking as soon as possible. When one of our childcare providers told us that she may be moving in less than two weeks' time, the alarms went off. The longer you have to find someone the more sure you will be of your choice. This is something that shouldn't be rushed. I went into my maternity leave without any childcare plans made. This made my maternity leave more stressful and difficult than I could have imagined. Have a plan. Have a backup plan. And work to make sure you know what your options are before you need them.
Recognize the partnership. Because you are entrusting someone with your most prized possession(s), it is important to make sure that you hire someone that you can work with. If you are uncomfortable about something, can you tell them? How do you respond when your childcare provider tells you something uncomfortable? I found it helpful to think through some of these things as I was looking around. Difficult conversations are always difficult. Knowing that you trust this person and can discuss what is best for your child is something that is imperative to have a successful relationship.
Do it legally. There are significant tax differences depending on whether or not the childcare provider comes to your home or if you take your child somewhere. You should be aware of this as you consider the pros and cons of different potential arrangements. For example, if you have a nanny coming to your house, I encourage you to consult an attorney and/or a CPA to make sure you understand your tax responsibility.
This certainly is not an all-inclusive list, nor am I the resident expert on finding a childcare provider. But I do know that these tips have been very helpful for me and are something that I wish I would have known in the beginning. But now I would love to hear—what tips would you add? What do you wish you would have done when seeking a childcare provider? What are you glad you did?