Career Day: International Development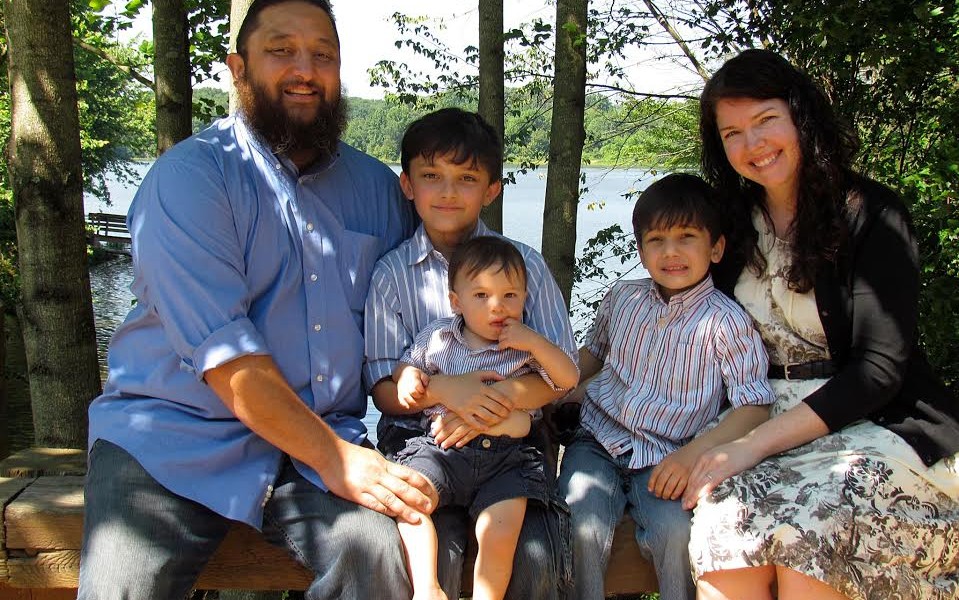 Tell us a little about yourself and about your job?
I'm Jana Prins Kala, originally from Southern California. I now live in the distant suburbs of Washington, DC. I met my husband about a year after moving to DC. He's from Virginia, and at the time we met, he worked with his father as a furniture restorer. We've been married for nearly 12 years, and we have three sons, ages 9, 6, and 1. My boys and I spend lots of time hiking and exploring. We founded a local nature club in our area so we have fun meeting other families who like to do the same thing.
Why did you want to work in international development? What drew you to the profession?
It began when I was 15 as a one-year assignment for my family in Bulgaria, where my stepfather established the US Peace Corps, and developed into a lifelong passion for international relations. Following that experience, I did a study abroad in France and lived as a dependent in Switzerland, Mozambique, and Uzbekistan, where my stepfather was employed by the United Nations.
My passion for development specifically began while in Mozambique. I was shocked by the poverty and pain of the street children we volunteered with who had lost their families to the recently ended civil war. In reading about King Benjamin in Mosiah 4, I knew I wanted to serve Christ by serving others in developing countries.
As a result of my family's UN association, I spent the school year studying International Relations at BYU and my holidays in various countries volunteering with street children, teaching English, and working as a camp counselor to expatriate children. I sought every opportunity to engage internationally at BYU by joining the Students for International Development and International Relations Honor Society, as well as completing a field study at a maternal and child health center in the townships of Cape Town, South Africa. I also served a mission in Singapore and Malaysia.
During my last semester at BYU, I interned in Washington, DC, with a non-governmental Organization (NGO) through the Washington Seminar program (NGOs are non-profit organizations—ones that might be familiar are Save the Children or CARE). I was hired on full-time after my internship and worked in food aid for a project in Bosnia for about a year and a half. I then went on to another NGO working in grants management for HIV/AIDS. Following that position, I worked for three years for the LDS Church in their International and Government Affairs office in Washington where we worked with all of the embassies to develop friendshipping relations for the Church. It involved mainly event planning. It was a lot of fun and gave me the skills to manage large meetings, which has been very useful to my career in general.
I left that fabulous job when my husband decided to return to school to become a furniture designer and maker. We combined my passion for international relations with his educational goals and, after quitting our jobs and selling our home, moved with our 20-month-old son to the Island of Tasmania in Australia, where he attended the Australian School of Fine Furniture. We loved our adventure there—and I loved being a stay-at-home mom during that time. I had my second son a couple of months before returning to the States. Once back, I started working as a consultant with an NGO I'd previously worked for and eventually came back full-time in 2009. While we anticipated it being short-term, it has turned into such a good job that it has become permanent. My husband has started his own business from home and takes care of the kids during the day. We switch off when I come home at night. It's a balancing act which results in sometimes only getting the basics covered (and a perfect house is not one of the basics!) but all that matters is that the kids are getting the attention, support, and care they need.
What does your job entail?
When I first returned to work for my current organization, I was a Program Officer that supported several country offices in Africa. It required extensive travel, which took its toll on my husband and children—and thus on me. Seeing my 18-month-old cry for me over Skype was just too much for me. When the Executive Assistant position in my organization came open, I realized it was an opportunity to keep my foot in international while gaining a perspective of the leadership of the organization and the flexibility I need to be present in my children's lives. I do get to travel periodically and make use of my meeting-planning skills, which I personally enjoy.
Currently, I support two high-energy executives—the CEO and COO—at the headquarters of a nonprofit which has offices in over 20 countries in Asia, Eastern Europe, Africa, and Latin America. I handle their schedules and travel arrangements, as well as plan our leadership meetings both in DC and internationally. I also serve as liaison to the Board of Directors. It does entail a lot of office work but allows me the flexibility I need as a mom with young children and allows me to travel once or twice a year, keeping my passion for international development alive.
What kind of education/training is required? What skills/personal characteristics are important to have/develop?
I have a BA in International Relations from BYU with a focus on health and development. Technical experts and program managers do benefit from advanced degrees. If I choose to transition back to the program management side of the field, I will most likely go back to school first. But I'm not ready to do that at this time, and I am not sure what exactly I'd focus on if I did.
In addition to education, certainly international experience is important! That can be gained through missions, personal travel, Peace Corps, internships, field studies, or even working with international populations or language study in the United States.
What kind of job opportunities are there in your field?
In the US, most jobs in International Development are in Washington, DC, although there are NGOs all over the country. While people take many different paths, I do think it's good to start in a headquarters office to progress and learn from different positions and then look for opportunities to go overseas, if desired.
If you want to work overseas, there are jobs with NGOs in their local offices but you need to have specific skills and experience such as Peace Corps service, a master's in Project Management, or subject matter expertise (e.g. health). It's also possible to go overseas as a government employee through the US Agency of International Development. I've had several colleagues transfer from the NGO side to the government donor side, or vice versa, so there's room to go back and forth.
There are also numerous ways to work in international development in many different degrees. For instance, in my office, we have lawyers, accountants, human resource specialists, grant managers, and fundraisers in addition to the technical experts who have a master's or a PhD.
What is the best part of your job?
Working with other countries and cultures is always interesting. We have about 20 field offices, so I enjoy working with colleagues all over the world. I also support our Board of Directors so I have a perspective of the organization from many different angles. I also enjoy traveling periodically. Some years I don't travel at all, but this year I already have 2–3 trips planned to support international meetings. In the five years since I've returned to work full-time, I've worked in Swaziland, Thailand, Tanzania, South Africa, Nigeria, and Burma/Myanmar. This year, I'll travel for work to Colombia and Turkey.
What is the worst part of your job?
The family balance can be difficult if you want to live overseas or need to travel extensively. When work is very busy, it can be hard to keep my focus on home when I am home (and vice versa when home is very busy!).
What's the work/family/life balance like?
In my current position, it's a good balance. I work from home once a week and have fantastic bosses who allow me flexibility to attend school events or take care of other obligations. While sometimes I want a change of pace, I remember to count my blessings as this is the best place I can be while my kids are young. When I travel, I try to find ways to include the kids, such as sending them postcards for their memory boxes and always bringing home souvenirs, of course. With my upcoming trips, we decided to try out corresponding ethnic restaurants to give the kids a taste of what I'll be eating and to have FHE cultural nights. In other positions where extensive travel is required, it can be difficult. But it's such a vast field that you can find the kind of job you want.
One struggle I have is that my husband and I do not exactly have jobs that coincide with each other. We found a great balance with our passions when we moved to Australia, but it's not easy to find a balance now. For instance, we live over 50 miles from DC and I commute about four hours each day. This is to allow us to live in a rural enough area for my husband to have a workshop on our property so he can work while being home with the kids. We both make sacrifices, but do our best to be committed to it together to make things work for our family.
What is the biggest misconception people have about your job?
That you have to live overseas or that you have to work in a technical field. 
What opportunities have you had because of your education and profession?
The top thing has been to travel and be exposed to other cultures, but also working with diplomats and organizational leadership has been a highlight. I'm grateful for the personal perspective I have of global affairs, as well as the memories and adventures I've had. Whenever I travel for work, I try to get in a bit of sightseeing as well. For instance, when I went to Burma/Myanmar about 14 months ago, I took my husband and 7-month old son with me as I was still nursing. After the Board of Directors meeting I was managing, we spent a week exploring the country and relaxing on the Bay of Bengal. We made it our 10th anniversary celebration. For my upcoming travel to Colombia (next week!), I'm already checking out paragliding companies. There has to be some compensation for being away from my family!
What stereotypes or criticisms have you faced as an educated Mormon woman with her own career?
Honestly, I do struggle with this which is why I felt the need to reach out to the AMW network, as I needed to correspond with others who understand what it's like to be a working mom in a culture where that's frowned upon. I work because I have to support my family. My husband and I have found a balance that works for us, but it's not typical of LDS families. It's been difficult for me to bond with many others in my ward since all the women who have kids the same age as mine are stay-at-home moms—I sometimes feel I have more in common with the dads who I can commiserate with on the woes of commuting. I've had people express that they "feel sorry for me," which I find frustrating as I feel incredibly blessed with a great job that allows me to support a wonderful husband and adorable children. I guess it just depends on your perspective. However, I'm not one to really care for the opinions of others as long as it's right for us.
Luckily, I happen to have a bishop whose wife is a retired marine and a very strong, outspoken woman, someone I consider a bit of a mentor in finding the right balance. I look for working moms that I can learn from in the Church—there are several other wonderful working moms of teenagers in our ward. But I also look for colleagues who may have a family balance I can learn from, though there aren't many women in leadership positions who also have children, so it can be difficult to find those to learn from.
What spiritual guidance have you felt as you have pursued your education and developed your career?
As I mentioned, I first felt inspired to focus on international development because of the scriptures instructing me to serve Christ by serving others. While there are numerous ways to do that, of course, I felt that my path to doing so was through international development. While I loved being a stay-at-home mom and would be one again if I could, I have felt prompted that I will always work and that I should be prepared for that.
For several years, I was a Relief Society teacher. I absolutely loved having the opportunity to search and ponder the words of the general authorities shared in general conference. My final lesson before being released just last month was on covenants. I felt especially touched by these words of Sister Reeves: "As members of the Church, we may sometimes feel that we need to be part of a "perfect LDS family" in order to be accepted by the Lord. We often feel "less-than" or like misfits in the kingdom if we feel we do not fit that picture. Dear sisters, when all is said and done, what will matter to our Father in Heaven will be how well we have kept our covenants and how much we have tried to follow the example of our Savior, Jesus Christ." Those words were a reminder that it doesn't matter what I imagine the perfect family situation to be or what I feel others may think of my family situation. All that matters is that we are true to our covenants, that it works for me and my husband, and that it has the blessing of the Lord.
Any other thoughts, advice, or stories you'd like to share with other women?
While some choose to work, I do work because I have to financially. I did struggle with that for some time as I so wanted to be home with my kids. While I loved international development, I was more than willing to let go of that side of my life in order to be with my children. Once I finally came to terms with needing to work, I went through a time when I felt that working should just be a way to support my family. I felt that I was supposed to hate it because I'm supposed to be a stay-at-home mom and felt a bit guilty that I liked my job. I finally realized that I was being ridiculous. I'm allowed to want to be good at my job and to enjoy what I do.
What I still struggle with is knowing how far to pursue my career. I don't want to take anything away from my family, but I do want to be successful. I haven't figured out that balance yet exactly on how to pursue my career verses my husband's. He is supportive of whatever I choose to do, which is a blessing, but I want to ensure we'll both be happy in whatever direction we take.