(And So Do I)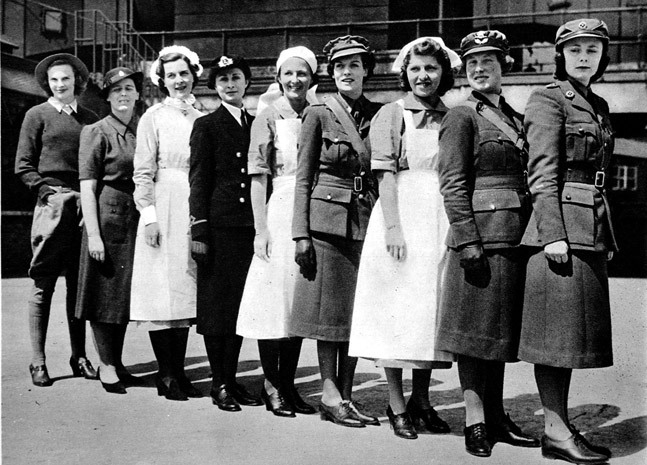 A row of Harrods employees, each wearing the uniform of a different women's service during World War II.
by Hadley Duncan Howard
Here we go again. We come home from church, and try to undo the damage done when some very sincere speaker has again furthered the idea that women's work is only valuable – no, noble, ordained – when it's in pursuit of raising children in our own image, that the only education and work necessary (and approved!) for a woman's life in Christ is to be found within church service.
I fervently beg to differ. And, importantly, so does my husband, the father of daughters.
He opens the subject as he makes the soup. (He makes the soup.) "I wanted to stand up and explain that one person's experience does not translate into universal, gospel truth." My daughter is listening as he makes the sandwiches. (He makes the sandwiches.) "It's important to teach young women that they can – no, must – go into the world and make a contribution," he says as he sets the table. (He sets the table.) "What, the world doesn't need teachers and doctors and writers and researchers? Doesn't need women to do these and other jobs? The world cannot, in fact, survive without women who leave their homes to contribute. To think otherwise is faulty logic and false doctrine!"
So much to love and admire about this man.
And so we gather as a family and eat the meal my husband had made – that he and I have both worked to provide – and discuss gender roles and "women's work" and other manmade ideas. We teach the gospel to our children – the real gospel, the actual gospel, the one that tells us "go ye into all the world," to be a "light," to seek learning "even by study and also by faith," and that "by their works you shall know them; for if their works be good, then they are good also." The gospel that is no respecter of persons, the gospel that is both inclusive and expansive.
It's the gospel itself that's ennobling, not any particular line of work within it – including mothering, the lay sainthood of the post-modern era. Anything a woman does with full purpose of heart, with an eye to the glory of God, as an expression of her dedication to doing what the Lord asks of her individual talents and abilities for the betterment of people and thereby society, is worthwhile and valuable work – is ordained of God. Our sisters in Christ who are not mothers, and those like myself who I cheekily refer to as "working mothers in Christ," should not be made to feel that their contribution is B Grade. The truth is, we cannot do without that vitally important contribution, whatever it is.
If we're hearing that women's broader contributions are misguided or second best endeavors – even if we hear this at church – we're hearing the philosophies of men mingled with scripture. The Lord has never made any such claim, or in any way imposed sanctions on our willingness to serve the human family. In fact, He will swing doors wide open to allow us to more readily and effectively do that.
My friend, a talented and successful interior designer, often receives what she calls "the well-meaning head tilt" from women who persist in asking why she can't make it to some lovely-but-optional, loosely church-sponsored, daytime activity. She again explains that she works during the day to bring livable beauty to homes where children are being raised, because the Spirit is more discernable in environments of order and beauty. Her work is her ministry. The church ladies seem to understand this in theory, but somehow fail to appreciate that, in practice, her contribution to their lives and their children requires her to work outside the walls of her home.
They're grateful for her contribution. So why do they judge her for making it?
My spirit and my conscience cannot be convinced that women are valuable in only one sphere. We need female swim coaches, female pediatricians, female senators, female psychologists, female artists, female editors-in-chief. We need them not instead of, but in addition to, those who contribute primarily at home through mothering. We need women everywhere, doing everything good there is to do.
There's so very much good to be done in the world. And the Lord needs women to do it.
"Your potential and ability to do good, to make a difference, is unlimited and eternal," my husband tells the girls over lunch. "God wants you to live large. He's given you intellect and energy to help you, covenants to keep to direct you, and the Holy Spirit to guide and comfort you."
"You can be anything and do anything you want to be and do," he says as he clears the table. (He clears the table.) "The challenge is listening to God's word for you, and choosing wisely and well what those endeavors will be."
"Your Heavenly Father can't wait to see what marvelous work you do, the ways in which you magnify the calling to be yourself for the glory of God and the benefit of others, and the magnificent woman you'll become in the process," he tells his daughters as he does the washing up. (He does the washing up.)
(And so do I.)