Career Day: Internal Medicine Physician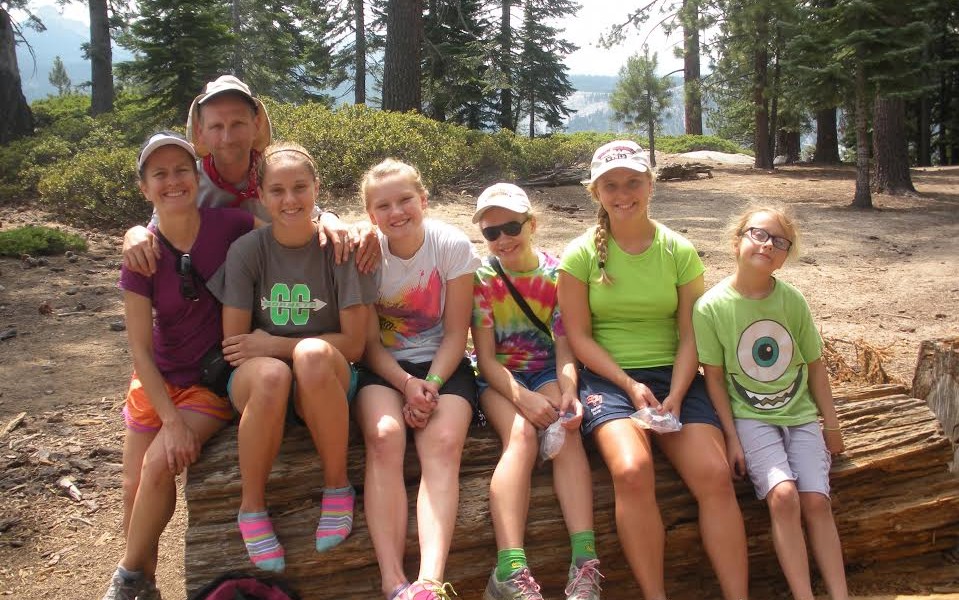 Tell us a little about yourself and about your job?
I am a 44-year-old mother of five daughters living in East Texas, where I also grew up. I am an internal medicine physician (basically a doctor for adults). I see elderly patients in nursing homes and also terminally ill patients in their homes for a hospice. I have a BA in Spanish from BYU and an MD from Baylor College of Medicine in Houston, Texas. I am board certified in internal medicine and in hospice and palliative medicine.
What does your job entail?
I see patients in nursing homes and in their homes. I do not have an office—besides the front seat of my car! My job is extremely flexible and different every day. I plan my visits around my other responsibilities and activities. One day per week, I attend and participate in a multidisciplinary team meeting where we discuss our hospice patients' needs together (doctor, nurses, social worker, chaplain).
Why did you want to become a doctor? When did you know it was what you wanted to do? What drew you to the profession?
When I was a young girl, I wanted to become a doctor, maybe because I liked our kindly pediatrician. During my adolescent years, I turned to psychology and that initially was my major in college. I took a human anatomy class at BYU in which we had the opportunity to study human cadavers and I absolutely loved it. When I came home from school after that semester I shared my love for the class with my dad, who told me I should go to medical school. I was intimidated at the prospect. I don't know where that intimidation came from because I had always been an excellent and very committed student. My dad encouraged me to take biology, physics, and chemistry and give it a shot. I took his advice and never looked back after that.
I was drawn to medicine over psychology because I found the physiology fascinating. I am also a "feeler"" by nature with an intense desire to help people. Even now, when I hear that someone is looking for a job or a new house, I find myself trying to solve these problems. Crazy.
What kind of education/training is required? Any post-graduation requirements? What skills/personal characteristics are important to have/develop?
To enter medical school, you must have a bachelor's degree in any field with pre-medicine requirements (i.e., biology, inorganic chemistry, physics, and organic chemistry). You have to take the MCAT, which requires preparation. Now there are a certain amount of hours of "shadowing" physicians to apply to medical schools. There is also an interview process which requires travelling to the schools where you get interviews. Medical school is four years long. After medical school, you have to take a licensing exam and complete a residency in your chosen field. Residencies are three years or more, depending on your field. There are also fellowships (usually two years) in specialty fields. After residency you can take board certification exams in your field. For internal medicine, the initial exam was eight hours long for two days. After ten years, you have to recertify to remain board certified. The recertification exam is an eight-hour exam.
What kind of job opportunities are there in your field?
So many! Internal medicine is very flexible. You can work in outpatient clinics, hospital-based practices (seeing only hospitalized patients and working shifts), emergency rooms, nursing homes, etc. I can do administrative work for lawyers, hospices, insurance companies.  I can work for myself or join a group.  I can work minimal hours to full-time.
What types of jobs have you had within your profession?
I worked in an emergency room, hospital-based practice, indigent care clinic, outpatient clinic, and now as a nursing home and hospice physician. As a home and hospice physician, I work for myself seeing patients in nursing homes and in their homes for a hospice company.
What is the best part of your job?
I enjoy people, so for me, interacting with people and hoping to help make their later years more pleasant or dying moments less painful is very gratifying.
What's the work/family/life balance like?
For me, it is totally up to me. I have not worked full-time since I had kids. I have complete flexibility over my schedule which is a great blessing since the balancing act can be a struggle.
What opportunities have you had because of your education and profession?
Endless opportunities. I have had so many job possibilities with a worthwhile earning potential, doing a job that I absolutely love and would do for free if I didn't have to save and help our kids pay for college. I am also on the school board in our community. Being a physician is certainly not a requirement for that, but I think being an educated professional opens up opportunities like that.
What stereotypes or criticisms have you faced as an educated Mormon woman with her own career?
I endured endless questions when I was pregnant the first time about what I was going to do which was very irritating since I didn't know either. I have noticed at church that when someone introduces me to new people, they often say, "She is a doctor with five kids." which is a hard way to strike up new friendships because I think people can feel intimidated right off the bat. Fortunately I live in an area/ward where people respect each other and mind their own business. In my ward, at least the "natives" are generally not judgmental of women or people in this way. Usually it's the "transplants" that cause rifts.
What spiritual guidance have you felt as you have pursued your education and developed your career?
As a college student, I prayed for Heavenly Father's guidance as I chose to pursue a medical career. I felt a calm assurance that my path was acceptable to my Heavenly Father. I remember well that my grandparents came to visit me and my sister at BYU before my sister left for her mission. My grandfather expressed the desire to give us both blessings, which he had never done before. I felt like a second sister afterthought because I knew their visit was mostly to see my sister before she left for her mission to Taiwan. But in their hotel room in South Provo—I can still picture this moment—my grandfather laid his hands on my head and gave me a beautiful blessing in which he told me that Heavenly Father was pleased with my decision to go to medical school and become a physician, that I would help many people and find joy. The words in that blessing stuck with me. My husband also experienced a spiritual confirmation for himself that my path was right for me/us and has always supported and never questioned me.
This has been an absolutely essential piece of this working for us. I used to think that maybe this was right for me because my husband was going to die suddenly and leave me widowed or something and I would be ready. Now he is 48, our children are ages 10 to19, and we are both healthy. Over time and through regular experiences in my work, I have learned that my job gives me joy and blesses the lives of others and that these fulfilled purposes are enough because my job is part of who I am at my very core.
Any other thoughts, advice, or stories you'd like to share with other women?
My education and ability to work in a fulfilling career that suits me perfectly has been a great source of joy and self-reliant comfort for many years. I did choose to work less when my children were very young. I have always been grateful for choices because at any time that I felt frustration, I knew that I could choose differently because I already had the completed education and training to work in the world. I believe this prepared me best for being a mother because it gave me a sense of contentment with my children, my work, and the balance I chose at different times in my life.