Hosting a Young Women's Career Night Activity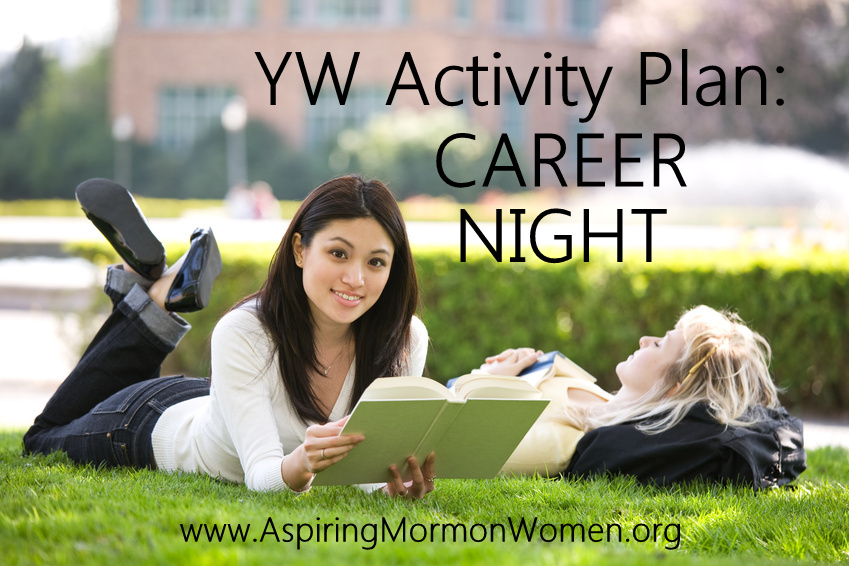 Karin Williams, a physician, marathon runner, and mother of 5, is also the Young Women's president of her ward. For the second year, she has planned and organized a weeknight Young Women's activity focused on careers. She shares her steps and tips for planning this activity below.
Ties to Personal Progress:
Knowledge: "Learn about an area of work or service that interests you. Talk to someone who works in that field and find out what that person's job responsibilities are, what training or education the person obtained to do the job, and what contributions this person's job makes to society. Record your findings in your journal."
Individual Worth: "You are preparing now to fulfill a unique mission on the earth. Read Doctrine and Covenants 88:119. In your journal make a list of your hopes and dreams for your future home, family, and education and some important things you would like to accomplish in your life, including becoming a wife and mother. Then write a plan that will help you achieve your goals. Share this plan with a family member, leader, or friend.
Ties to Youth Curriculum:
 To Prepare for the Career Night:
I asked my YW if they would be interested in finding out more about careers from women who actually do the things that interest them. I passed around a piece of paper for them to write down careers that interested them (Answers: dentist, dental hygienist, actress, singer, doctor, firefighter, lawyer, interior decorator, psychologist, and forensic psychologist).
I contacted women in our community in these careers and was able to get a dentist, lawyer, dental hygienist, firefighter, & cosmetologist to come to our career night. Only the cosmetologist was a member of the church. I am a doctor, but the YW know me well enough so I stayed off the panel.

How I found the panelists: The dentist was a former neighbor. The cosmetologist was a member of our ward. I called the fire station and inquired about female firefighters and was fortunate that a female firefighter answered the phone and was willing to come! The lawyer I contacted works with my husband. The dental hygienist is the girlfriend of the brother of a counselor in our YW presidency. I sent a letter out to an interior decorator also, had a psychologist lined up that had to back out at the last minute, and also sent a letter to 3 female physicians (who did not respond). I thought a panel of 5 was a good number, though, and it speaks to the power of networking and the willingness of others to share their time and knowledge.
I asked the panelists to prepare to discuss how they chose their profession, what training/$ was required, what they liked about their careers, flexibility, etc.
During the Career Night:
I began the night with an introduction about the importance of having a plan for our lives and that depending upon someone else to sustain us is NOT a plan and does not meet the definition of "self reliance." I told them that finding a career that interests them and where they can make a contribution to the world they live in will bring much joy to them and their families. I never discuss education or work in the context of "just in case you need it" because that is a poor rationale for going to such effort, in my opinion. The real reason is to be self-reliant and have joy.
I started the panel talking on some of the questions I had asked the panelists to prepare for and then the YW began asking their own questions as well.
I also made a booklet with scriptures and quotes about knowledge, education and work—quotes from For the Strength of Youth, True to the Faith, and mostly from President Hinckley. (YW Career Night Booklet).
Thoughts/Experiences After the Career Night:
The next Sunday, one 13 year old gave a spiritual thought in our opening exercises saying how much she had enjoyed the career night. She had read through the quotes and scriptures in the booklet and how much it meant to her to meet those women and read those things. She chose one to share with the group. Worth it just for ONE!
I think it was a great activity, whether the women on the panel were LDS or not. We need to reach out to people in our community to make ourselves known and learn from them. So I thought that was an asset. They spoke to the YW about flexibility, cooperative spouses, etc. But I do think it would be nice to have more LDS women to hear from because we have some different issues to deal with.
Ways to Use AMW in Career Night:
Have you hosted a YW career night in your ward or stake? What were your experiences?