Love in the Time of Strep: Sharing Household Tasks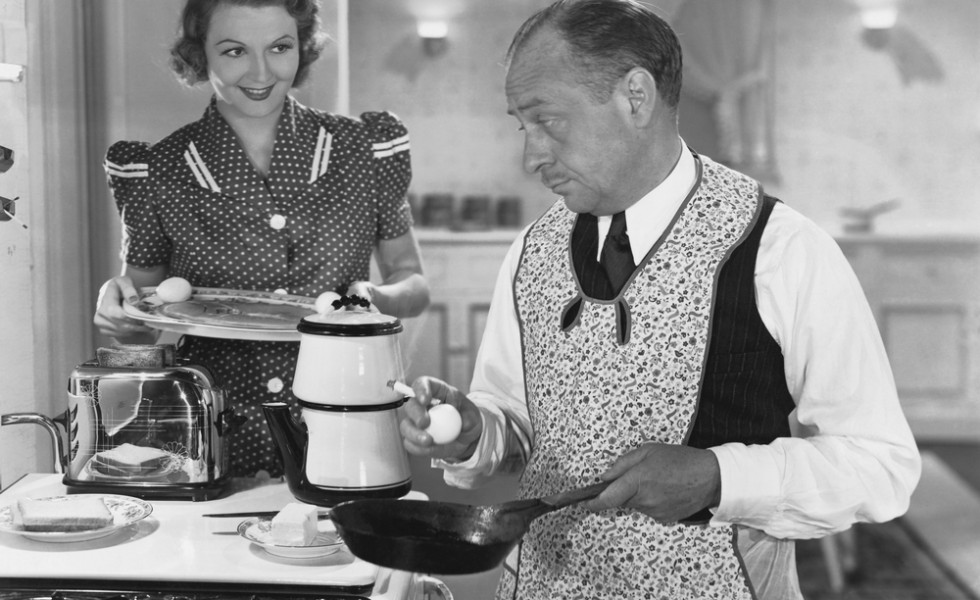 by Nan
Within a few months of marriage, I began working full time as a teacher while my husband was in school. It was my first time at a middle school and I was creating most of my curriculum from scratch. I worked many hours and came home very late each afternoon exhausted and overwhelmed. On one such day I arrived to a husband who told me he had spent the afternoon napping, and he looked at me expectantly regarding the question of dinner.
I snapped. In the course of this emotional come-apart, my sweet spouse told me that he was willing to do anything I wanted, he just didn't know what to do. I exploded about the laundry that was overfilling the basket and making its way down the hallway. I reminded him that he had lived on his own for many years and always managed to do laundry just fine before I entered the picture.
Fifteen years later, this great outburst (the first, but, I'm sorry to say, not the last) garners a fair amount of laughter when it is retold. However, it should also be pointed out, that even if our lives are on the brink of falling apart, my laundry is nearly always caught up thanks to a husband who throws in a load before he dares ask what needs doing.
While my communication style as a new bride left much to be desired, we did stumble on something very important early in our marriage: when both spouses work, traditional ideas about roles men and women "should" assume are not very helpful.
Since August, these lessons have come forcefully into play in our family as I've gone back to work full-time. Laundry and dinner are only two tasks on a very long to-do list that now throws three kids and their schedules into the mix on top of Church callings too.  And that is just a normal week.
But not every week is normal. A short 48 hours after my six year old went to a birthday party at the incubator that is Chuck E. Cheese, he came down with a terrible sore throat that was eventually diagnosed as strep. And boom, just like that, he was out of school for an entire week.
Because my husband has accrued more sick leave, and his job is easier to miss than mine (no sub required), he took most of the week off to stay with our son.  The first day it was so wonderful to come home to a clean house, laundry finished and dinner on the stove. How delightful to have a "wife!" But as the week wore on and we juggled our days off and even had to hire a sitter one afternoon, we had to find new stores of patience and calm to keep moving forward.
The writer Collette once penned, "She did realize, with some dismay, that far from conquering all, love lazily sidestepped practical problems." Though Collette, no doubt, was writing about romantic love, I use her quote generally to talk about all the many things we love. Our passions, which seem so agreeably grandiose at the outset, can become easily bogged down in the monotony of every day living.
My passion for teaching and our wish to better plan for the future—a more comfortable home, missions, education, retirement, etc.—have led me back to work.  But if I am not careful, my thirst for wanting to work will only become a burden because of all the practical problems still waiting for me at home.
As my husband and I sit to plan each week, organize budgets, calendar who is picking up whom on which day, and try to figure out how to have a reasonably nutritious meal on the table each night, I sometimes feel that melt down coming on again. It is in those times that I must remind myself to take a deep breath and remember that my husband and I aren't sitting down to create a task list divided by what men and women are each "supposed" to do, but rather to look at all these tasks as the work of running our family together. We can then determine who is best suited to each job, whose week gives them a little extra time to attack chores that have been put off, and which necessary assignments make us both miserable and should be taken in turns.
In this work-of-the-family paradigm, our children have found a place too. It is a good thing. As my children are all boys, I imagine a terrible world where the "male" tasks at our house are divided by four and all the "female" tasks are left to me!
As the world changes, our attitudes toward traditional gender roles should likewise evolve. So while it is true that I grocery shopped yesterday morning while my husband went in to work for a few hours, he later spent the afternoon baking bread while I did the taxes. I'm happy to report that there were exactly zero meltdowns.