Zina Young Card: Creating a Tradition of Education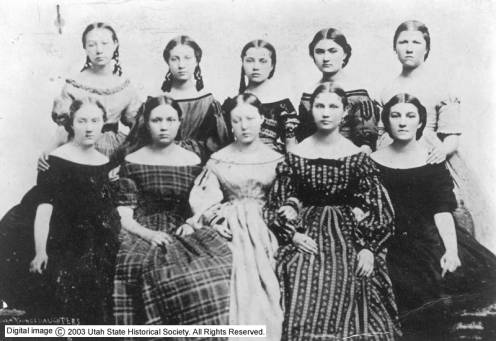 Image shows the ten oldest daughters of Brigham Young and his plural wives: Card, Zina Young; Davis, Evelyn Louise Young; Easton, Jeannette Richards Young; Croxall, Maime Young; Dougall, Maria Young; Conrad, Marinda Hyde Young; Cannon, Carlie Young; Empey, Ella Elizabeth Young; Clawson, Emily Young; Thatcher, Fanny Decker Young
by Celeste Tholen Rosenlof
Disclaimer: I am not a mother. For a lot of reasons, I have not yet entered the realm of motherhood.
But I regularly think about the day I will have children. Wondering whom they will look like, what they will be interested in, what their voices and laughter will sound like. Will they be early risers? Will they be as serious as I was as a kid? Please, kids, don't want to play football (I have no idea how to talk about sports things).
I think about the kind of life I want to give them. I want them to be smart, spiritual, adventurous, kind and driven. I hope they set goals and experience the pleasure of accomplishing them.
Which brings me to the question I could spend hours worrying about: How am I supposed to do that? How will I encourage in children a healthy curiosity and love of learning, a desire for achievement?
For that, I look backward, past my own life and to that of women who had such qualities and who accomplished such things. What might their parents have done to give them what I hope for my children? How did they establish a tradition of education?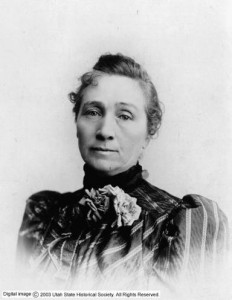 Zina Young Williams Card, born April 3, 1850, was such a woman. The only child of Brigham Young and Zina Diantha Huntington Young, she was born into privilege on the Utah territory. Throughout her 81 years, the younger Zina acted with the Salt Lake Theatre, served as the secretary of the Young Ladies' Mutual Improvement Association, was a single mother after the death of her first husband, represented Utah in Washington, D.C. as a women's rights ambassador, attended Brigham Young Academy (now Brigham Young University) and later became a matron there, and helped settle a portion of the Alberta, Canada province, bringing culture and education along with her.1
As one of "the big ten" – a nickname Brigham Young had for his ten eldest daughters – Zina was raised in an environment that offered her refined learning opportunities.2  Her father encouraged her theatrical interests, appointed her to the position with the MIA, and studied each night with his children and wives. And, unusually for the time, he encouraged his daughters' education.
Of this evening study and her father's philosophy on education, Zina wrote:
"The time for instruction and association with him was found when evening came and he would ring the old prayer bell that would bring the whole family together for prayers in the spacious parlor. Oh, those prayers! It seemed as if he talked face to face with God. They have been a tie that bound the family with sacredness and devotion that is rarely found. … He used to have his children sing and dance for him. They had a music teacher, dancing master, and a governess, for he appreciated an education and did all in his power to give everyone in his family an opportunity for knowledge and improvement and culture."3
This father did not come from a background of high-brow pursuits and intellectualism,4 but valued knowledge, improvement, and culture enough to establish a daily routine that encouraged their pursuits.
A carpenter by trade, Brigham Young attended the School of the Prophets under Joseph Smith Jr. and in Utah, he worked to establish educational institutions throughout the territory.5 During his tenure as president of the LDS Church, he called Utah women to attend medical school in the more established Eastern U.S. His emphasis on education made his daughter's education at BYA possible.
Brigham Young's enthusiasm for education teaches that we can regularly study with children, pray with them (about education, perhaps), encourage their interests and talents and provide them with opportunities to grow.
In addition to that, we can show our children the value of education by obtaining one. Brigham Young attended the School of the Prophets, and his wife, Zina D. H. Young, studied obstetrics, becoming a midwife and teacher in Utah.6
Zina was close to her mother and namesake. She would have been nearby as the elder woman administered medical care, served in the first Relief Society presidency in Utah, helped establish Deseret hospital and acted as its vice president, organized a nursing school, and worked as an activist in the women's suffrage movement. Zina's accomplishments, especially as a women's rights activist, allude to the influence of the mother's education and pursuits on the girl's life.
When I do become a mother, I hope that my children will see the value of an education and personal goals – especially any daughters – as they watch me learn, accomplish goals and build something for their future. I hope that my encouragement, loving words and a frequently uttered prayer for them will help buoy them throughout their education and careers. But mostly, I hope my kids see in my life what one person can do and build something good of their own, then do it for themselves.
1 Brigham Young University, "Education in Zion: Zina Young Williams Card." Accessed January 22, 2014. http://educationinzion.byu.edu/highlight/zina-young-williams-card/.
2 Godfrey, Donald G. Arizona State University, Walter Cronkite School of Journalism and Telecommunication, "Zina Young Williams Card "No Ordinary Frontier Woman"." Last modified July 1995. Accessed January 22, 2014. http://www.public.asu.edu/~chrisdon/research/cardzina.html.
3 The Church of Jesus Christ of Latter-day Saints, "Aunt Zina: The Life of Zina Young Williams Card." Last modified May 25, 2012. Accessed January 22, 2014. http://history.lds.org/article/zina-young-card-biography?lang=eng.
4 The Church of Jesus Christ of Latter-day Saints, "Brigham Young: Significant Events." Last modified 2004. Accessed January 22, 2014. http://www.lds.org/churchhistory/presidents/controllers/potcController.jsp?leader=2&topic=events.
5 Ison, Yvette D. Utah Division of State History, "The Beginnings of the University of Utah." Last modified January 1995. Accessed January 22, 2014. http://historytogo.utah.gov/utah_chapters/pioneers_and_cowboys/thebeginningsoftheuniversityofutah.html.
6 Woodward, Mary Firmage. "Zina D. H. Young."Encyclopedia of Mormonism. (1992): 1611-13. http://contentdm.lib.byu.edu/cdm/compoundobject/collection/EoM/id/4391/show/4364 (accessed January 22, 2014).