Career Day: Horticulturist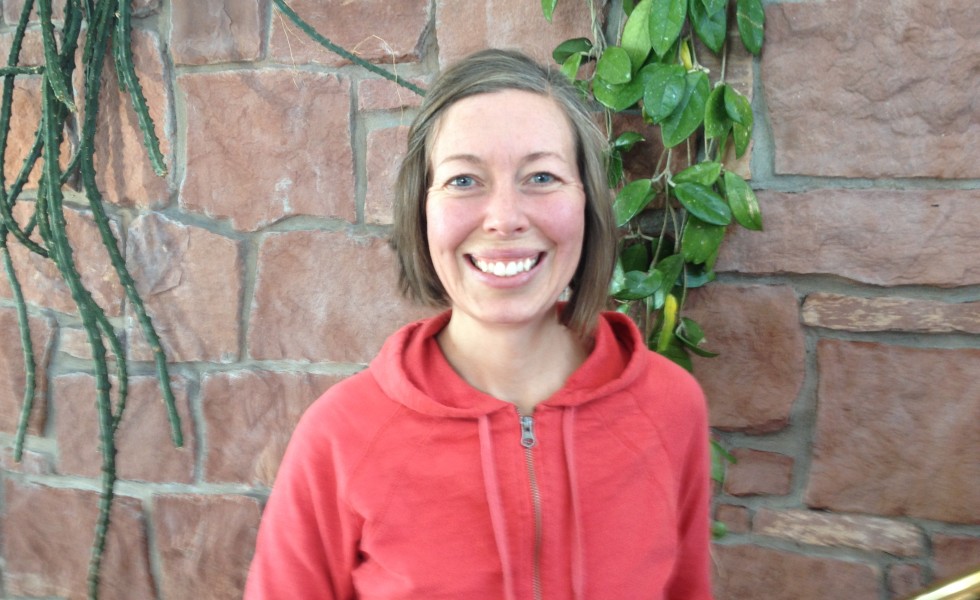 Tell us a little about yourself and about your job.
My name is Crystal, and I'm a horticulturist.  I've lived most of my life in Salt Lake City, but went to Oregon State University where I received a B.S. in Horticulture.  I currently live in Salt Lake City and work at Red Butte Garden and Arboretum, a botanical garden associated with the University of Utah.
I am responsible for the maintenance and care of certain garden spaces within Red Butte Garden.  I supervise a small crew consisting of another full-time horticulturist and a few seasonal gardeners.  My day-to-day responsibilities vary depending on the season, but can include planting, pruning, weeding, soil work and watering, among other gardening tasks.  I am involved in small-scale designs, including seasonal flower displays.  I spend most of my time in the garden when I'm not in meetings.  During the winter, I study up on plants, work on new designs, and make plans for the next year.  I teach some gardening workshops and classes each year.  I also get to interact with garden visitors and many wonderful garden volunteers.
Why did you want to become a horticulturist? When did you know it was what you wanted to do? What drew you to the profession?
I knew since 9th grade that I wanted to be a biologist, so it was disconcerting that after a couple of years of college, I wasn't sure about it anymore.  I served a mission and spent a few years working different jobs before deciding I really wanted to go back to school and finish a degree.  I had been drawn to plants more than anything else while studying biology, and I thought I might like to actually grow and care for them rather than just study them.  So I took a chance that horticulture might be the career for me, and it turned out to be the right fit.  Figuring out which specific horticulture career to pursue took more thought, but I liked the idea of working in a public garden, so I tried it out.  I did two internships on my own after graduation, to gain practical experience and get a feel for public gardening.  I spent the summer working in one of the Smithsonian gardens in Washington, D.C. (who knew there were gardens and not just museums!) where a really amazing horticulturist mentored me.  I then spent the fall and early winter at Royal Botanic Gardens, Kew, in London—another wonderful experience.   Not only did I gain good practical skills and more plant knowledge from both experiences, but I also found out that a public garden was where I wanted to be.  I loved the idea of creating and maintaining beautiful garden spaces that would provide learning opportunities for others.
What kind of education/training is required? Any post-graduation requirements? What skills/personal characteristics are important to have/develop?
A Bachelor of Science degree is required for many horticulture jobs.  A graduate degree is necessary for some careers, such horticultural research and education.  My position, as a horticulturist at a botanical garden, requires a Bachelor's degree.  Also, since horticulture is a hands-on job, practical training in the form of work experience or internships is as important as the academics.
What kind of job opportunities are there in your field?
Horticulture careers are diverse and include public horticulture (what I do), greenhouse and nursery plant production, landscape design and construction, therapeutic horticulture, turf management, vegetable and fruit production, research, county extension, plant breeding and genetics.
What types of jobs have you had within your profession?
As an undergraduate, I worked in a horticulture lab at Oregon State assisting with plant propagation research.  Since graduation, I have spent my time in botanical gardens, as an intern and then a seasonal gardener before getting hired as a full-time horticulturist.
What is the best part of your job?
This is a tough question, because there are so many things I enjoy about my job.  I enjoy the blend of science and art.  I love working outside and being surrounded by such beauty each day.  I love that there will always be something new to learn; new plants, new gardening techniques, etc.  The experience of seeing plants develop over time—throughout the year and from one year to another—is pretty amazing.  And I get to work with creative, passionate, and friendly people who are willing to work hard for not-great wages because they believe in this labor of love.  This is a highly rewarding job.
What is the worst part of your job?
Because much of the work I do is physical and outdoors (think heat or cold), it can be tough and exhausting.  Some gardening tasks are mundane or unpleasant.  It can also be difficult to find a full-time job, since so much of the work is seasonal.
What's the work/family/life balance like?
I find that I can balance work and the rest of my life well, since I work mostly regular hours and don't have to take my work home with me.  It might be tougher to find a good balance in some other horticulture jobs, such as growing plants for production or running your own business.
What is the biggest misconception people have about your job?
Sometimes people underestimate the skill and knowledge necessary to really take care of a garden well.  Yes, it's a lot of physical labor, but it also requires a lot of plant knowledge–how they grow, how they respond to what we do or don't do for them, and ultimately how to help them reach their potential.
What opportunities have you had because of your education and profession?
The opportunity to live in different places around the country, as well as another country (England), was great, not just for the horticulture aspect, but also the excitement of experiencing new places.  I also never take for granted what a blessing it is to make a living doing something I love.  After working for many years at jobs that were good but not great, I realize that not everyone gets this chance—to really love their work.
What stereotypes or criticisms have you faced as an educated Mormon woman with her own career?
I feel fortunate that I haven't had to face too many stereotypes or criticisms.  Maybe being single minimizes the criticism somewhat.
What spiritual guidance have you felt as you have pursued your education and developed your career?
Changing my major to something I knew little about was a leap of faith.  And moving hundreds of miles from everyone and everything I knew to study it was a little scary.  I never felt a strong confirmation of my decision before I moved to Oregon, but instead felt that the Lord trusted me with making this decision on my own.  I prayed a lot that if I was making the wrong choice, He would let me know.  So I went for it, and over time, the experiences I had at school and afterwards as an intern, became the confirmation that I was on the right path.  And I continue to feel that.
Any other thoughts, advice, or stories you'd like to share with other women?
Don't be afraid of changing direction to find what you really love to do, and don't ever worry about being "too old."  As a 26-year-old, I felt old going back to school.  Looking back, I realize how young I really was, even though I was older than the average undergraduate.  But there were others in my program who were older than me, and I admired the courage and passion it took to make a mid-life change.