Voices From the Past: Praying Over & For One's Work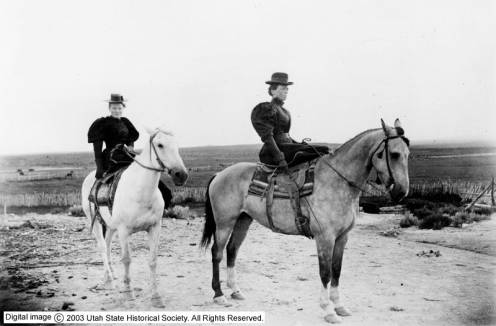 Hilda Anderson Erickson, who was a midwife in Tooele County, with Maud Winberg, riding horses.
by Celeste Tholen Rosenlof
Like many other women before me, when I began my college studies and looked toward a future career, I turned to my Heavenly Father in prayer. Since finishing school, I have prayed again and again as I have faced new opportunities, come to crossroads and reshaped my goals.
I have prayed when I'm faced with a task I'm unsure of, when I've made a mistake that needs correction and when I have had to make decisions after weighing them back and forth until my brain has gotten heavy and slow.
Personal revelation in answer to my prayers has never been too specific, much less a direct calling from a prophet. Mostly, I think, Heavenly Father has let me figure out my own path. When I asked in prayer what I should study before college, I just got the feeling to choose something and pursue it; my patriarchal blessing only told me to take my studies seriously, without a hint of what they may be. I felt peace when I chose journalism after my first choice left me with a 6-month-long sinking feeling. And I went forward.
This prayerful consideration of the use of one's time and energies is a pattern woven throughout the history of the LDS Church. Since its beginnings, individuals have received personal revelation through prayer and asked for prayers in their behalf as they pursue their goals.
Prayer in the workplace
Joseph Smith Jr. called the first three LDS women1 ­­– Ann Carling, Vienna Jacques and Patty Bartlett Sessions2 ­– to study and eventually practice midwifery. In Salt Lake City, Brigham Young called sisters throughout Utah to study and practice medicine, and later, prophets called female-ran auxiliaries to establish hospitals. Men were involved, but women played a significant role in the medical practices of Utah.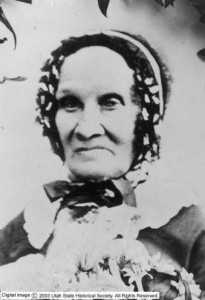 These women who acted as midwives prayed for guidance and for the health of their patients.
According to Brigham Young University, "Because midwives were called by priesthood authority, they were accorded trust and respect similar to that given ecclesiastical leaders. They often dispensed herb treatments, passed on by experimentation and word of mouth, and sometimes administered health blessings."
One sister was Emma Liljenquist, who studied obstetrics and nursing and was set apart by church leaders as a midwife in 1887.2
Liljenquist frequently prayed for her patients, according to a Deseret News article. In her journal, she wrote, "Many times when one of my patients was seriously ill, I would ask my Heavenly Father for assistance, and every time it was given to me."
Though my job doesn't require me to save the lives of mothers and children, it does affect people's lives in very real ways. There have been many times when I am writing an article about a sensitive topic and prayed that I can write it accurately and well (and not get the company sued, a real concern in the back of every journalist's mind). These articles I worried over turned out to be some of my best. I believe that when we seek the Lord's help in our work, He blesses us with a clear mind, understanding of the task and guides us to success.
Praying for the success of others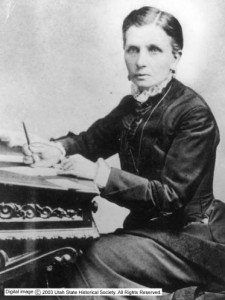 Emmeline B. Wells – a founder and editor for the Woman's Exponent, a Relief Society president, wife and mother – who advanced the status of LDS women nationally3 and was "fearless" in her advocacy of women had a difficult life. She outlived three husbands, the same number of children and fought an uphill battle for women's rights.
Still, this powerful and influential woman asked for help. In a letter to her friend Lillie Freeze, another female leader in the church, 58-year-old Wells asked for prayer as she carried on with her duties and ambitions following the death of her daughter.
"It may seem strange that I can go on my regular routine with the overwhelming trial through which I am passing," she wrote, "but I must not sink under it, and if I gave way I should. … Pray for me that I may not fall short."
Networking and mentoring has been discussed at-length on Aspiring Mormon Women. Indeed, it is a necessary task (says the introvert) to a successful career. While I have frequently asked my own mentors for guidance or the occasional recommendation, I have never asked them to pray for me. And why not? Several share my faith, almost all are religious and every one of them cares for my success and me.
In turn, I can pray for the success of women in my ward, friends and family members who are seeking employment, renegotiating contracts, studying for a test or making a decision about their future.
I think as we pray for ourselves and especially one another, we will be made stronger, filled with more love and make smarter decisions. I'm confident opportunities will open up for us if we include Heavenly Father in our personal lives and careers.
Elder David A. Bednar's October 2008 conference message reaffirmed that when we counsel with the Lord in everything and follow the Spirit's revelation, we're blessed with guidance and blessings in the every day things like work and the blessings of eternity.
"Morning and evening prayers—and all of the prayers in between—are not unrelated, discrete events; rather, they are linked together each day and across days, weeks, months, and even years," Elder David A. Bednar said4. "This is in part how we fulfill the scriptural admonition to 'pray always' (Luke 21:36; 3 Nephi 18:15, 18; D&C 31:12). Such meaningful prayers are instrumental in obtaining the highest blessings God holds in store for His faithful children."
Sources
[1] Christine Croft, Walters. Brigham Young University, "Maternity and Child Health Care." Accessed December 14, 2013. http://eom.byu.edu/index.php/Maternity_and_Child_Health_Care.
[2] Jenne, Erigero Alderks. "Rediscovering the Legacy of Mormon Midwives." Sunstone, April 2012. https://www.sunstonemagazine.com/rediscovering-the-legacy-of-mormon-midwives/ (accessed December 15, 2013).
[3] Emily W. Jensen. Deseret News, "Lesser-known but influential Mormon women in church history." Last modified 11 6, 2013. Accessed December 14, 2013. http://www.deseretnews.com/article/865581454/Lesser-known-but-influential-Mormon-women-in-church-history.html?pg=all.
[4] Susan Evans, McCloud. Deseret News, "In Our Lovely Deseret: Emmeline B. Wells' story is truth more glorious than fiction." Last modified 28 2, 2012. Accessed December 14, 2013. http://www.deseretnews.com/article/865551019/Emmeline-B-Wells-story-is-truth-more-glorious-than-fiction.html?pg=all.
[5] Carol Cornwall, Madsen. The Church of Jesus Christ of Latter-day Saints, "Emmeline B. Wells: A Fine Soul Who Served." Last modified July 2003. Accessed December 14, 2013. https://www.lds.org/ensign/2003/07/emmeline-b-wells-a-fine-soul-who-served
[6] David A., Bednar. The Church of Jesus Christ of Latter-day Saints, "Pray Always." Last modified 10 2008. Accessed December 14, 2013. http://www.lds.org/general-conference/2008/10/pray-always?lang=eng&query=pray always