Finding Encouragement & Inspiration from Madeleine Albright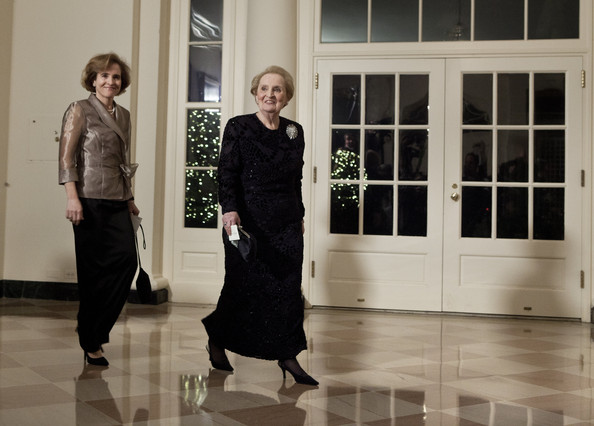 Former Secretary of State Madeleine Albright and one of her daughters, Alice Albright, at the White House for a state dinner in 2011. Image source: Brendan Smialowski
by Heidi Doxey
A few weeks ago former United States Secretary of State Madeleine Albright spoke to a standing-room only audience and I had the opportunity to crowd into the back of the room and stand for 3 hours listening to her. She was well spoken, warm, funny, and did not shy away from difficult or politically-charged questions but provided thoughtful and straight-forward answers. Albright covered a wide variety of topics: investigative journalism, peace negotiations, diplomacy, her family, the importance of education, and a hilarious recount of her famous visit with Kim Jong-il in North Korea. "He was short in stature with impressive poufed up hair. I wore heels to appear taller. So did he."
Prior to her appointment by President Clinton to serve as the United States Secretary of State (1997-2001), Albright served as the U.S. Ambassador to the United Nations. Currently, she is a Professor of International Relations at Georgetown University in Washington, D.C.
During her speech and the following Q&A, I took pages and pages of notes, however, I really would like to write about the handful of comments and stories Albright shared about the role of motherhood in her life, education, and serving as Secretary of State. Albright started her Ph.D program with young daughters at home and it took her 13 years to finish her dissertation, not completing it until the youngest was in junior high. During that time she was not working, but was at home raising her children and chipping away at her dissertation. Albright said, "There is nothing more fulfilling than being a mother." After her daughters were grown, Albright pursued her career in earnest, starting in entry-level positions, getting coffee and copies for diplomats who were the husbands of her friends. She said it was sometimes awkward, but she kept working and eventually joined the Woodrow Wilson International Center for Scholars, a think tank at the Smithsonian Institute.
As Albright's career moved forward she said that she never aspired to be the Secretary of State. "I didn't lack ambition; I'd just never seen a Secretary of State in a skirt." Prior to her appointment, there were a lot of people saying that Albright—or any woman—shouldn't be considered for the job because Arab countries would refuse to interact with a female Secretary of State. Albright stated that she never had any problems with foreign governments. "I arrived in a very large plane that said THE UNITED STATES OF AMERICA on the side. They had to deal with me." She did, however, encounter issues with men in her own government. "Not that they were chauvinist pigs—but I'd been around for a long time, carpools with their kids, getting the coffee, dinners with their wives. I'm sure they thought, 'Why is she there and not me?'"
It is interesting to note that since Albright's appointment in 1997, both Condoleezza Rice and Hillary Clinton have served in that position. One of Albright's grandchildren has said, "What's the big deal about Grandma Maddy being Secretary of State? Only girls are Secretary of State!" Albright wryly added, "John Kerry must be an inspiration to little boys everywhere." The audience, comprised mostly of women, laughed for several minutes.
Madeleine Albright is a champion for the importance of education. She talked at length about how essential it is to gain a broad base on which to draw from when forming opinions. She spoke about how a working knowledge of history, political science, religion, hard science, English, geography and technology were the basics of understanding diplomacy and of understanding other people. The ability to put yourself in the shoes of another person, to see their culture, history, and religion as they see it is key to understanding how they think and make decisions. "Democracy," Albright said, "is all about respecting other people's views." This statement really struck me. A few days prior to this event I had watched the new film Ender's Game and Ender says, "In the moment when I truly understand my enemy, understand him well enough to defeat him, then in that very moment I also love him. I think it's impossible to really understand somebody, what they want, what they believe, and not love them."
Albright was involved in a number of peace negotiations—some successful, some not—and when asked how she trained for diplomacy she promptly responded with, "Motherhood. Once you know how to learn the rules of the playground and subdue tantrums, dealing with the Middle East doesn't seem nearly so daunting." I watch my friends who have children, watch them teach and guide these young kids, and yes, sometimes enter into high-stakes peace negotiations—some successful, some not—and I can't help but think that the skills we gain from parenthood could so easily be transferred into other spheres.
After her appointment as Secretary of State, the President of Poland, who Albright had interviewed years earlier, told her, "If I had known how important you would be I would have paid more attention to you." What an interesting statement. I don't presume that every woman I ever meet will become the Secretary of State, but the fact is they could, and why not encourage that kind of ambition and advancement instead of assuming everyone you meet will be, at best, slightly above average? That young mother at the grocery store calmly dealing with her tantrum-throwing child has gained the skills to keep her cool in emotionally charged, high-stakes, potentially embarrassing situations. The woman who balances a crammed schedule of appointments, after-school clubs, soccer practice and mutual activities for two or three teenagers wouldn't blink an eye at organizing a conference or symposium. The teenage girl who spends hours sketching could become a brilliant engineer. The twenty-something who listens to all her friends' problems and offers positive, stable, helpful solutions could learn how to broker major business mergers or even work towards world peace.
I think we as aspiring women have a responsibility to encourage and mentor other women. I think as humans we have the responsibility to show love, kindness and understanding to other humans. I was so inspired by Madeleine Albright, her career, her views, her priorities and the value she places on education; on my notes I have written, "She is fearless. I want to be her when I grow up." I felt encouraged and motivated to do more and to think bigger, to pursue a Master's degree, to work towards a promotion at the office, to show more understanding towards those in my life.
Madeleine Albright was a guest speaker for the McCarthy Family Foundation Lecture Series, November 2, 2013, Rowland Hall, Salt Lake City, Utah.
View an interview of Albright discussing some women's tendency to be even less sympathetic to their ambitious peers than men and other tidbits during her time as the first female Secretary of State.