Run, Girl, Run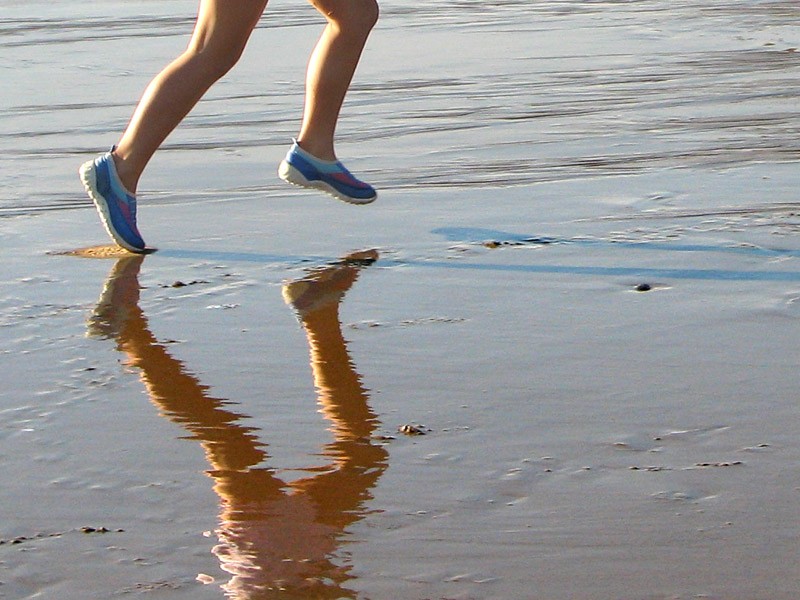 Image credit: Automania
by Hadley Duncan Howard
Longer than I've known him, my husband has harbored a goal of running a marathon before his fiftieth birthday. He's a gentle soul, an academic and an arts-lover – not someone for whom Herculean athletic feats would normally be an attractive pastime. Although he does possess an innate ability that I'll never understand or duplicate, his motivations were purely emotional: he wanted the satisfaction of knowing he was able.
He had only one remaining year to meet his goal. And so, he ran. And he ran. And he ran. He surprised himself with how naturally it came to him – and how difficult it was, regardless. He struggled, enduring self-imposed hardship, and yet found that he enjoyed the process. He talked animatedly about the differences between one run and the next, strategies that succeeded or failed, the determination required to power through. He ran without headphones, just him and the road and the breeze, plenty of time and mental space to converse with the Lord and hear His reply.
After much preparation, he ran his marathon. And as the children and I waited on a street corner to cheer for him and total strangers, I cried. The vision of self-mastery for its own sake, for competing not with others but with oneself: the beauty of perseverance and triumph was too great.
Why was this goal so important to my husband? Why wasn't a thrice-weekly maintenance jog sufficient for his needs? Turns out, his needs were more than heart-healthy, they were deeply reflective, as well. As a young man in Australia, he'd been fast – aspiring to the national team. But the sacrifices of that dream were too great. He loved running, and he gave it up voluntarily for practicality's sake.
He had chosen well, then. But the time had come for this man to wear a medal.
During the marathon, he tore his Achilles tendon in mile four. But he finished the race and made good time. He prayed a lot. He found that roads were closed off, not to him, but for him – guiding him to succeed. And he cried in gratitude for all the strangers cheering on street corners, helping to make an otherwise arduous task a community effort, adding to the beauty of tenacity and grit, assisting others on their journeys simply because it's inspiring to do so.
Oh, a race! The convergence of human triumph over odds, and the loving-kindness toward all people! Such a very, very joyful occasion.
Afterward, I thought of my mother-in-law who, at age 50, decided it was time for her to attend university. A child of Depression and war, she'd left school and home at 14, not so unusual in Australia then, and become a secretary to support herself. She married and, without a formal education, raised five accomplished children. In middle age, she didn't "need" a degree. But her need wasn't merely for a diploma, it was more reflective than that – she wanted an education, to pursue knowledge for its own sake. She wanted to know she was able.
Hers is a mind of great activity and energy, a woman of piercing intellect and discernment. She had the time of her life at university, studying history for the pure pleasure of knowing it.
She worked. And she worked. And she worked. She prayed a lot. She found that roads were closed off, not to her, but for her – guiding her to succeed. And she cried at the kindnesses of others, grateful for the willingness of professors and colleagues to cheer her on in her desire to achieve, to her family for giving her the space and encouragement, to her husband, my dear father-in-law, for understanding that she was competing not with him, but with herself.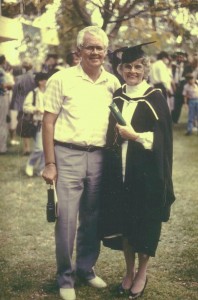 It was an academic journey of many years duration. Mum surprised herself with how naturally it came to her – and how difficult it was, regardless. She struggled, enduring self-imposed hardship, and yet found that she enjoyed the process. She spoke animatedly about what she was learning, how it all fit together in context and narrative, how wonderful it was to reason and understand. She learned without distractions of youth, just her and her books and her old manual typewriter, plenty of time and mental space to converse with the Lord and hear His reply.
"I believe God made me for a purpose," said Olympian Eric Liddell in the beloved film Chariots of Fire. "But He also made me fast. And when I run, I feel His pleasure."
Mum looks so happy in her graduation photo, in 1988, a grandmother with a Master's Degree. The time had come for this woman to wear a cap and gown, and feel God's pleasure.
Run, girl. Run.