Voices from the Past: How Family History Taught Me Involvement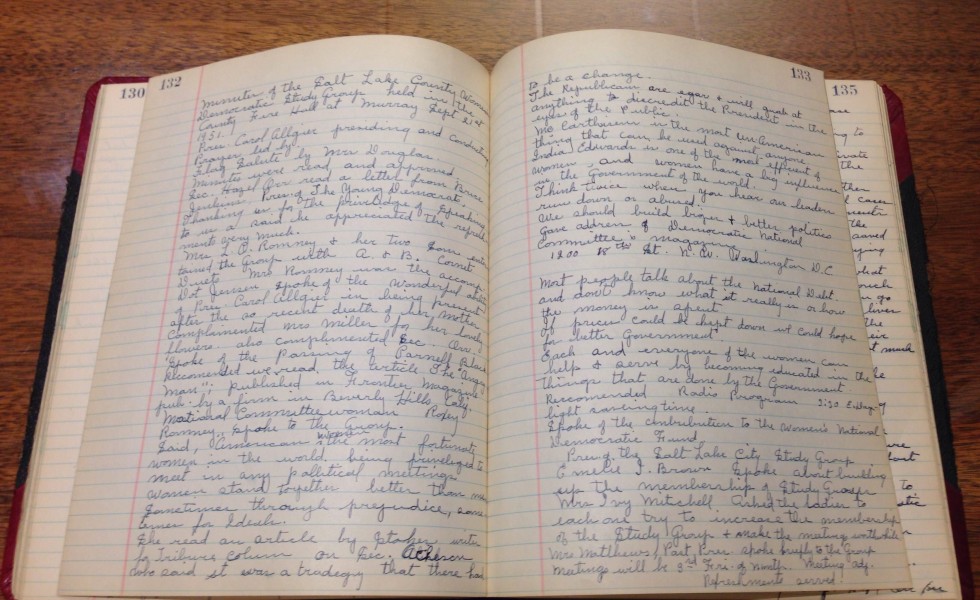 by Celeste Tholen Rosenlof
Sitting on my Great-Aunt Sandra's mantle is a small, wooden gavel, about 8-inches long. The gavel belonged to my great-great grandmother, and she used it during her presidency of the Women's Democratic Club of Utah (WDC).
Emilie Cora Lewis Brown – the mother of my maternal grandmother's father – served on the board of the club and study group for years, using the gavel at its meetings. More importantly, she used her time for good. She invested her passion in family, church, politics and service. And, as I've learned more about her, I have seen how she passed those traditions onto her children, grandchildren, and in my case, great-great grandchildren, regardless of political party.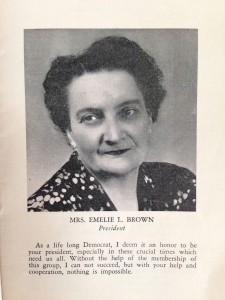 Born on Feb. 27, 1898 in Salt Lake City, Emilie was raised to be a lady, and she grew up to be involved. A stay-at-home mother officially, she headed the WDC and study group, was the Relief Society president of her ward, and was a member of the Patriotic Council, Daughters of Utah Pioneers and the Wasatch Literary Club. Up until her death in 1956, she was president of the Service Star Legion.
Reading from minutes of the WDC during her membership, I developed a better understanding of what my great-great grandmother spent her time doing and what she believed in.
WDC women were encouraged to read about the national debt, visit recent government acquisitions that they might understand them, read about the atomic bomb and study government procedures. From the pages of the minutes, I felt this group's urging that women become informed and educated about the political process that they might influence it.
An entry from Sept. 21, 1951 read, "Women have a big influence in the government of the world. …We should build bridges and better politics." [1]
Then, a quick sentence about the duty these women felt to their families that they be involved in WDC:
"It is woman's job to instruct our children in government that they might become better citizens," the Oct. 24, 1952 minutes read. [2]
Emilie was the mother of five sons, a daughter and a foster daughter she raised from youth. She taught them by example and instruction. My Great-Grandpa Brown was a lifelong democrat and active politically. His two daughters, my grandmother and great aunt, have been involved in meaningful community programs for decades. My grandmother acts as a curator for the Girl Scouts of Utah museum, and my great aunt has acted on local committees, using her grandmother's gavel at meetings. My mother felt so strongly about parent's rights, that in 2003, she took me to a rally on Utah's capitol hill.
The examples of family members passionate about their communities inspired me to become a journalist. I have determined that whether my involvement is with church, politics, service, book clubs, hobby groups, art exchanges, education, work – I want a voice in how my community is run and shaped. If I am going to "instruct [my] children in government" then I need to understand the current policies and problems. I have to do more than vote every couple of years or attend an occasional lecture; I need to understand my community. That comes only through involvement and education.
The Church of Jesus Christ of Latter-day Saints has long encouraged members to be politically active, involved with their communities and to pursue education. Relief Society sisters were told by Brigham Young to advocate women's suffrage, and Utah elected the first female state senator in the country's history. Our history as Latter-day Saint women is one of expanding our minds and influence through the study and pursuit of politics.
"Women can be proud of their work in public life. Women should build a world [that] is better [for] living and put worthwhile people in office." [3]
Sources
[1] Women's Democratic Club of Utah Minute Book, 1938-1959, 132.
[2] Women's Democratic Club of Utah Minute Book, 1938-1959, 147.
[3] Women's Democratic Club of Utah Minute Book, 1938-1959, 147.
Are you interested in learning and writing about a historical LDS woman? Whether they were sisters with church-wide or community influence or an ancestor who influenced your own faith, we welcome submissions on the subject. Essays should include your personal narrative on the woman's life and how she inspires you, as well as a brief history of her life. Click here for more information.