Voices from the Past: Martha Hughes Cannon: A Case for Mentoring
Martha Hughes Cannon with her daughter Mattie, 1899. Photo courtesy of Utah State Historical Society.
by Celeste Tholen Rosenlof
I was walking to my work at ksl.com one day when I stopped and looked at a granite boulder atop a slab of concrete. I had walked by this spot countless times on my commute to work, but never stopped to read the marker in a city where historical markers are a dime a dozen.
Waiting for the light to change from an orange hand to a white walking figure, I read through the patina on the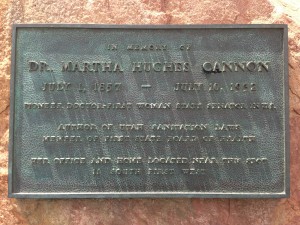 plaque: "IN MEMORY OF DR. MARTHA HUGHES CANNON July 1, 1857 – July 10, 1932 Pioneer doctor – First woman State Senator in U.S. | Author of Utah Sanitation Laws | Member of first State Board of Health | Her office and home located near this spot 11 South First West." [1]
Inspired, but realizing I had a distracting day of work ahead, I snapped a picture on my phone. Over several months, I occasionally read about her. I thought of her as an inspiring woman who accomplished a lot of good and a lot of firsts, but I couldn't relate to the woman who was a pioneer of her faith, her profession and politics. She set the mark too high, I thought.
Then I read about her relationship with her stepfather, James Patten Paul. Her own father died three days after arriving in Salt Lake City in 1861, and her mother married the widower, James, a year and a half later. From pieced-together accounts, it appears the Martha and he were quite close. While attending medical school, Martha went by her stepfather's last name. It has also been suggested that Martha's decision to name her first son "James" may have been influenced by this relationship. [2]
I recognized the relationship she had with her stepfather, and later, the relationship she had with her husband, as similar to those relationships I have with my father and husband. Since I was a girl, my dad has pushed me to set my sights high and improve my talents. He has rallied my spirits following rejection or a failed attempt. He has celebrated my triumphs. Similarly, my husband supported me financially when I took unpaid or underpaid opportunities that eventually led to a career milestone. He shares my excitement over new opportunities, my despair over disappointments. These relationships with loving men have not just buoyed me, but empowered me. I see a similar pattern in Martha's extraordinary life.
James encouraged Martha to pursue her dream of becoming a medical doctor. In 1873, President Brigham Young called for women to receive medical training as doctors, nurses and midwives. Martha studied chemistry at the University of Deseret – which later became the University of Utah – earning a chemistry degree in 1875. On Aug. 13, 1878, Martha was set apart to study medicine. James offered to help pay for Martha's education that would qualify her to become a doctor. In 1881, she earned her Bachelor of Science in medicine, as well as a diploma in oratory.
After obtaining the proper education, Martha began practicing in Salt Lake. Again, her stepfather reached out to support the 24-year-old doctor. He constructed an additional wing on the old family home from which she could practice. The wing housed her medical practice for a year before she took a position at Deseret Hospital. [3]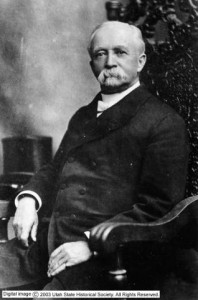 Once at the hospital, Martha met Angus Munn Cannon, a member of the Deseret Hospital's board of directors and the business director of the Deseret News. The two married in 1884, making Martha the fourth of Angus' six wives. Shortly after the birth of their daughter, about a year after their marriage, Martha went into exile while the LDS Church endured the Edmund-Tuckers Act's effects.
Martha continued her medical work while in exile abroad. Her letters to Angus show a frailer side of the giant, who identified herself using pseudonyms in her work, travels and letters to conceal herself and her daughter's identities. At one especially low and depressed point, Martha wrote her husband that her life was "a failure." [4]
How I could relate to that. The circumstances of my "failure" were not as grim as Martha's, but I have experienced the feelings of inadequacy, unfulfillment and insignificance due to rejection. I can sympathize with a situation that limits one from obtaining goals or draws attention to my shortcomings. But Martha overcame her position upon her arrival back in the Salt Lake Valley in June 1888.
Outfitted with a horse and carriage by her husband, Martha continued her medical practice and established a school for nurses in Utah at the same time her second son was born. Between her years of exile, including an additional two years of exile to San Francisco in 1890, Martha constantly practiced medicine. I imagine Angus encouraged her to fulfill what she was set apart to do by church leaders and what had been a childhood dream. In turn, Martha shared her knowledge with a school of young people.
When Martha ran for a Utah State Senate seat as a democrat, she famously beat republican Angus, as well as Emmeline B. Wells. Though some claim the defeat caused a rift in the couple's relationship, a letter from Martha states that Angus wished her well and was not jealous of her success. [5]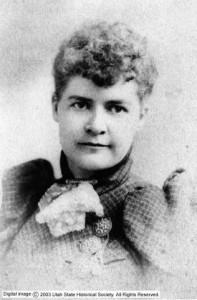 Martha's legislative work for community and women's health issues was significant. She fought for school health and equal opportunity for working women experiencing "female problems." She was a driven and important individual, but offered emotional and physical support along the way.
I cannot separate my accomplishments from my network of support. I cannot separate Martha's accomplishments from her support network. I believe proponents, allies, advocates, supporters, mentors are crucial to any individual's success. I believe Martha's story teaches us men and women need to work together to form these relationships, women and men need to back each other in their aspirations. 
In a talk about mentoring and loving one another, Neal A. Maxwell said these acts are part of a discipleship of Jesus Christ.
"I bear my witness not only that Jesus lives but, in my feeble way, of how He lives! I remind you of the great encouragement which is also a directive: 'What manner of men [and women] ought ye to be? Verily I say unto you, even as I am' (3 Ne. 27:27). In that discipleship there is joy unbounded that lies ahead; therefore, we can and should tolerate such mentoring and tutoring as may be necessary to get us where we can and should go. This is the generation that can roll forth the borders of this kingdom and have influence for good in the world such as has never been before." [6]
Join the AMW community for mentoring and networking opportunities here. 

[1] "Markers and Monuments Database: Martha Hughes Cannon," Utah Division of State History, accessed Sept. 16, 2013, http://heritage.utah.gov/apps/history/markers/detailed_results.php?markerid=3081.
[2] Janath Cannon, Heroines of the Restoration, (Salt Lake City: Bookcraft, 1997), 224.
[3] Blanche E. Rose, "Early Utah Medical Practice." Utah Historical Quarterly, 10 (1942). http://utahhistory.sdlhost.com/
[4] Constance L. Lieber, and John Sillito, Letters from Exile: The Correspondence of Martha Hughes Cannon and Angus M. Cannon, 1886-1888, (Salt Lake City: Signature Books, 1989), 213.
[5] Janath Cannon, Heroines of the Restoration, (Salt Lake City: Bookcraft, 1997), 254.
[6] Maxwell, Neal A. LDS Church, "The Church of Jesus Christ of Latter-day Saints." Last modified 02, 2001. Accessed September 17, 2013. http://www.lds.org/ensign/2001/02/jesus-the-perfect-mentor?lang=eng.