Drawing on the History of LDS Women for Inspiration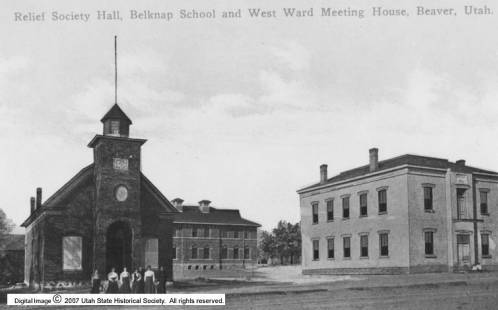 by Celeste Tholen Rosenlof
Why do we look to the past of our church and its people when it is riddled with confusion over doctrine, policy, violence or discrimination? Should we bury it, sugar coat it or separate ourselves from it instead?
For each of us, the answer may be different. I only attempt to answer the question for myself, and as I have worked toward doing so, I have found some forgiveness toward and peace with the controversial past of our young culture, strength in my heritage, and a testimony of my divine nature.
Though the past is muddled with human error, I feel pride in the history of the Relief Society sisters, whose faith is a reliable crutch on which I lean while I work through various controversies. This is not a one-size-fits-all answer, but I feel grateful to be part of an organization of which strong, independent, faithful and selfless women helped found twice. They championed causes for those whose stories had gone unheard or overlooked. They settled homes in swamps and deserts. Mothers left children in Utah while they learned critical skills as nurses and midwives in the east2 that they might save the lives of strangers' loved ones. They believed so strongly in the gospel that they were willing to do so.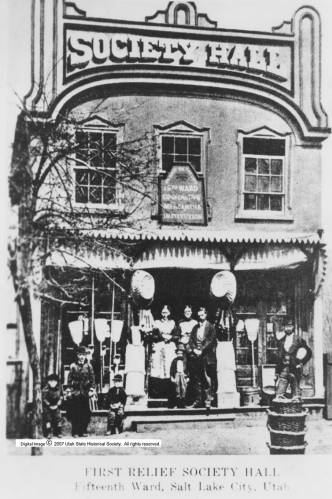 I find, like Marshall P. Duke and his colleagues in their study, "Knowledge of family history as a clinically useful index of psychological well-being and prognosis," that by having a working knowledge of my family history – in this case my church family's history – I can more easily handle challenges that come my way. That I come from a stock of Relief Society sisters who were accomplished and faithful helps me act with more conviction on the personal revelation I've received for myself and my family.
Perhaps a testimony of our heritage – divine and temporal, familial and gospel – gives us the tools to face adversity. In the preface of the 2011 church manual, Daughters in My Kingdom, church leaders suggest1 learning the history of the church can help women realize their divine identities as daughters of God.
The history of Relief Society teaches the divine identity and infinite worth of daughters of God. It is a Spirit-filled story of strong, faithful, purposeful women who have served with little public recognition. Through a study of this history, Latter-day Saints can see that our Heavenly Father knows His daughters, that He loves them, that He trusts them with sacred responsibilities, and that He guides them as they fulfill those responsibilities. In their efforts, the women of the Church have united with men to build God's kingdom on the earth and strengthen the homes of Zion.
Things always seem clearer in retrospect. Blessings, guidance and previously unrecognized moments of strength are made obvious. It makes sense to me, then, that I would also see the presence of a Heavenly Father in my life and struggles after the fact. I love the suggestion that gaining a basic knowledge of my "divine identity" can come from looking at history. Yes, church members, both modern and ancient, faced terrible, awful things. But we are blessed with a reaffirmation of God's love for us eventually. Sometimes, it takes me some distance to see that.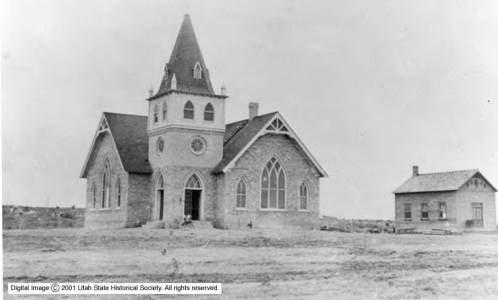 The church at Leamington, Utah with the Relief Society hall to the west (right). The Relief Society Hall burned down in 1928. Leamington was established in 1871 and named after a city in England.
As I learn about church history, my own family's history and my personal history, I become strong on the shoulders of others and my past experiences. Suddenly, the looming questions of "When should we have children?", "Will I continue to work full time?" and "When I go back to school, what should I study?" seem less daunting, knowing other women have been faithful to the church, served their families, had careers and obtained higher education.
Perhaps that was the greatest revelation to me: That other women had felt the same desire to continue learning and growing secularly as they learn spiritual lessons. There is precedent. The context of history can serve as a guiding hand and those women can serve as role models. They show me that Heavenly Father wants me to form and express opinions, have passions and champion causes, get an education and work. I can be a mother and pursue my interests. As a woman of the LDS faith, I have a unique perspective to offer the world, and I have a distinct passion burning within me. I am joining a host of other women who felt the same way – I'm not alone!
1 Daughters of My Kingdom, (Salt Lake City, Utah: The Church of Jesus Christ of Latter-day Saints, 2011), xii.
2Daughters of My Kingdom, (Salt Lake City, Utah: The Church of Jesus Christ of Latter-day Saints, 2011), 54.
3 Duke, Marshall P. "Knowledge of family history as a clinically useful index of psychological well-being and prognosis: A brief report.," Psychotherapy , 45, no. 2 (2008): 268-72, http://www.ncbi.nlm.nih.gov/pubmed/22122420 (accessed August 13, 2013).
Are you interested in learning and writing about a historical LDS woman? Whether they were sisters with church-wide or community influence or a pioneer ancestor who influenced your own faith, we welcome submissions on the subject. Essays should include your personal narrative on the woman's life and how she inspires you
educationally and/or professionally
.
Please see our submission policy for more information.