Out of the House and Back to School: Tips on Finishing (or Furthering) Your Education, Part 2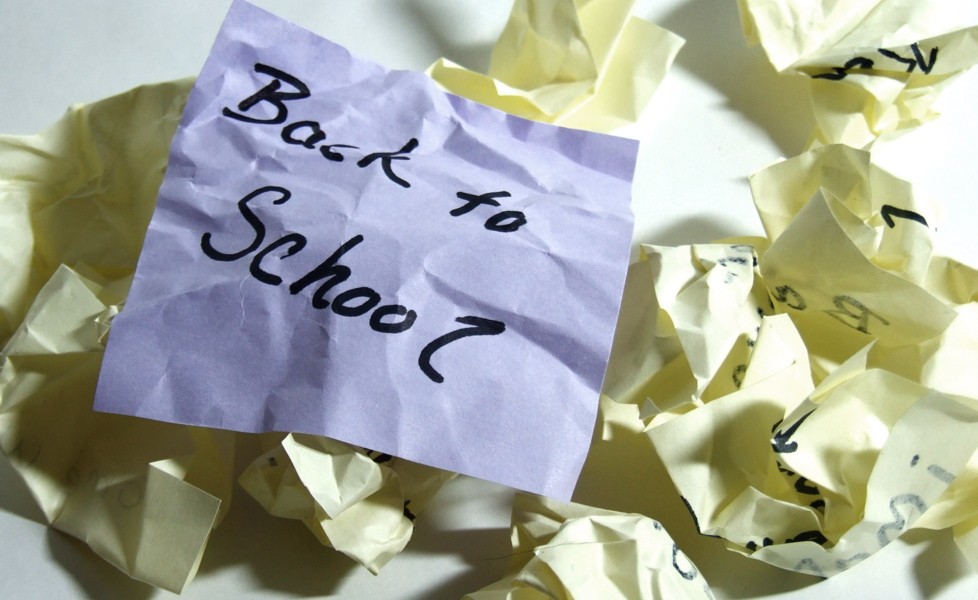 Image credit: Avolore
by Holly
Part I covered some of the basic questions about returning to school. Now it's time to figure out some of the toughest questions including, how on earth will you pay for this education and what are the logistics of becoming a student again?
How will you pay for it all?
A college education can be pricey, but most sources agree that a higher salary is commensurate with a higher degree. Don't get your degree because you expect it will land you a big salary—times are still tough. But remember that your education is an investment, not just an expense.
Check out your chosen school—colleges and universities, as well as departments and campus offices, often sponsor scholarships. Is there a women's center, veteran's center, or office of diversity at your school? Remember, as a woman returning to school at an "older age" (i.e. you're no longer 18), you may qualify for a surprising number of scholarships.
Your college's financial aid website will likely have links to third-party scholarships. You can also google or research online and find any number of third-party scholarships for which you may qualify. Beware of deadlines, as they will vary widely and you want to prepare well ahead of time to have money in hand when you begin school.
Consider other financial aid options, like government grants and loans. If you're interested, be sure to meet the deadline for the FAFSA (Free Application for Financial Student Aid). Just be aware that loans—even unsubsidized ones—can add up quickly and will be a burden moving forward, so borrow wisely.
Do you have savings or other sources of income you can tap? It may involve some real belt-tightening around the house, but if you can fund your education without taking a loan, it will be worth it in the end.
If you feel like it's something you could handle, consider getting an on-campus job (I would recommend this only for those who don't have children at home). Work study or regular campus employment can be a great way to put yourself through college. If you're in grad school, it may also allow you to work in your given field or collaborate with professors on research or writing.
Remember that taking classes for fun, graduating without a plan, or just hanging out at college for the joy of it will seriously ding your wallet. Come up with a cogent plan before you enroll.
Where will you attend school?
If you live in a populated area, there are probably an abundance of choices. Much will depend on your locale and finances. Here are some things to keep in mind.
If you want the more traditional, classroom experience, check out colleges and schools in your area. You'll most likely want something nearby, but be sure to evaluate the validity of their programs as well. A degree from a recognized, four-year state flagship college might cost more than a certificate from a two-year private college, but it also might serve you much better. Remember that there is more to consider here than just cost or location.
Don't be afraid to shop around for your school. Visit campus if you can. Most schools have a campus tour available for prospective students, and a visit is one of the best ways to know if the fit is right. Don't be afraid to talk to current or past students about their experiences. Chat with an admissions counselor, or make an appointment with an advisor in your chosen field.
Beware of scams and hoaxes at schools. Some smaller, private schools may offer courses or degrees that are not certifiable or transferable (i.e. they are unacceptable at credited, larger schools). Some private schools also charge notoriously high rates of tuition—don't let yourself get sucked into something you might regret later.
Check out online ratings (by students!) for your school on sites like CollegeProwler.com.
If you don't have a school or college nearby that suits your needs, consider attending an online program. This is also convenient for mothers whose schedules don't allow for a regular daytime, or even night, program.

Some "traditional" colleges offer their degrees in an online format. Do some research online and check out the options.
If you're looking to finish up your degree, check out the options like the BYU Pathway Program. This new program allows adults to finish their degrees online at their own pace for a very reasonable cost.
If you're less interested in a degree but want to expand your mind, check out options like Coursera, a massive open online course (or MOOC).
How will it all work out?
Make an action plan. Answer the big questions, like do you have kids at home? Who will care for them? When will you find time for classes, and how will you work in time for homework? Does your chosen school have a daycare program on campus? What about an online class option? Or will night classes work so your spouse can watch the kids? What about a commute? How long will it take and how will you get there? Where will you study?
Sit down and have a candid conversation with your spouse/significant other/support system. Life as a student is different, and you need them to know there will be some changes. Having their support up front will make a huge difference.
Evaluate your own regular schedule, needs, and health. You likely won't be able to pull all-nighters on a six-pack of Mountain Dew like you did when you were 18, so don't plan on it!
Establish your homework area—somewhere safe, private, and off-limits to the world, where you'll be able to really focus.
How do you apply?
Just like any job you've ever interviewed for, or any date you've ever gone on, applying for school means putting your best foot confidently forward:
Most college applications consist of several portions, including an essay section. Read those essay questions closely and make sure you understand what they're asking. Answer clearly. If it helps, draft out the main points you want to hit before you write it.
Make sure your grammar, punctuation, etc. is

spot on

.
Ask for help! Have someone you trust read the question and then read and comment on your essay. They should proof not just for mechanical issues, but to make sure your essays answer the questions and are intelligent.
As you apply to schools, don't be afraid to emphasize your own personal strong points and the value you bring to a school. Colleges are looking for students who bring diversity and enrich their student body—as a "non-traditional" student, you have unique experiences to offer!