Voices from the Past: Mormon Women's Fight for Suffrage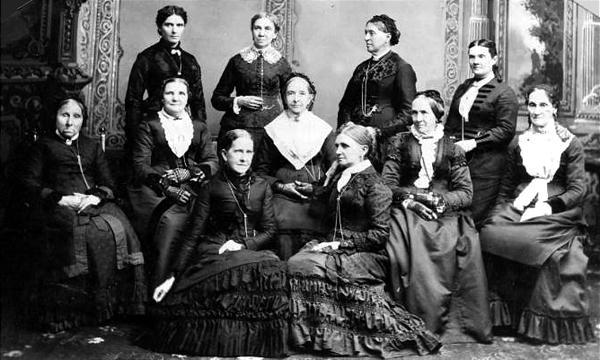 Front row: Jane S. Richards, left, Emmeline Wells. Middle row: Phoebe Woodruff, Isabelle Horne, Eliza R. Snow, Zina Young, Marinda Hyde. Back row: Dr. Ellis R. Shipp, Bathsheba W. Smith, Elizabeth Howard, Dr. Romania Pratt Penrose. (Utah State Historical Society)
by Celeste Tholen Rosenlof
During the infancy of the LDS Church, female members advocated for themselves and other American women with vigor. They were proponents of women's education, equal pay, and women's right to vote.
Emmeline Wells, Eliza R. Snow, Emily S. Richards, the staff of the The Women's Exponent, along with many other women, declared their right to vote again and again, making great strides for the state as well as for the Church and its members. Politically, their fervent involvement began the process of gaining equal rights for women. Women's suffrage gave the general Church membership a much needed increase in political power. Perhaps its most significant contribution was giving its female members a political voice and providing an example for future generations of women to follow.
In 1870, in an effort led by Mormon women and supported by President Brigham Young,2 Utah became the second state (though it was a territory at the time) to recognize women's right to vote, making them among the first women to vote in a national election.1 How I wish I could have been alive for the first vote cast by a woman in Utah!
That right was tragically revoked by the United States Congress in 1887 as a provision of the Edmunds-Tucker anti-polygamy act, which defined polygamy as a crime punishable by a maximum sentence of five years in prison or a $500 fine.3
Seven years passed before women were allowed to vote in Utah again. During that time, Utahans continued fighting to restore that right. Utah delegates voted for the inclusion of women's suffrage in the Utah Constitution,4 effectively granting suffrage. Almost 25 years later, the United States would ratify the 19th Amendment, giving women across the nation the right to vote in all elections. I imagine women in Utah experienced the greatest elation that women across the nation would now join them in voting locally, in addition to being able to vote in the national elections.
I am inspired by the editorials women (and happily, men) of the time wrote advocating women's rights. The suffrage movement, like many other movements, was not just about the outcome. Hearing or reading the discourse fostered by these movements gave society and each individual within it a chance to consider new views and grow.
Eliza R. Snow, in the July 15, 1872 issue of The Women's Exponent wrote an article entitled "Women's Status" regarding the necessity for the government to extend the right to vote to women. She began her argument stating, "The status of women is one of the questions of the day. Socially and politically it forces itself upon the attention of the world." I would argue that the finer points of the status of women remain among the questions of 2013.
She continued:
"[A woman] must be preserved from the slightest blast of trouble, petted, carressed [sic], dressed to attract attention, taught accomplishments that minister to man's gratification; in other words, she must be treated as a glittering and fragile toy, a thing without brains or soul, placed on a tinselled and unsubstantial pedestal by man, as her worshipper. This elevation of status is by courtesy, not by right. Let one of those idols choose to step beyond the bounds which society prescribes, and she is hurled from her position, and flung in the mire of social degradation. What legal rights can she fall back upon? What power has she to work her own restoration? In some of the States of the Union she can acquire and control property, and this is a great step in advance. Yet she is far from possessing the power to rise above untoward circumstances that she would possess, if she enjoyed political rights and influences.5"
Though she was addressing issues of her time – like a woman's right to own land – her argument for treating women as people, equal under the law, and in the view of the Church, with Celestial potential and a divine inheritance, is still needed, even today. We have certainly made great strides, but there are many who still treat women like "a glittering and fragile toy," including members of our own sex. But the right to vote and equality before the law gives us a voice and a catalyst for change.
One question naturally arises out of this discussion about women's suffrage and rights: What am I doing with my vote and my voice?
I hope I am advocating for women and their right to choose a life for themselves that reflects their own ideals, and is full of equal opportunity. I hope I am encouraging women to become educated, so that they can navigate their way through the rhetoric of elections and choose a leader they think will best represent their values. I hope that I am looking for opportunities to challenge my view – even if the alternative makes me sad or angry – and looking for solutions for myself and other women. But most of all, I hope I recognize women's basic right that was denied before suffrage: To be treated as people with a divine inheritance, who have a right to challenge authority (including whatever authority I feel I have) when it refuses to acknowledge their needs. Because if I can do that, I can make a difference.
Timeline of Utah Women's Suffrage:
1870: The Utah territory extends women the right to vote
1880's: Utah's industrialization. In 1880, Utah's census stood at 143,963
December 11, 1883: Congressional Representative John T. Caine presents a bill that would make Utah a state. It fails to pass committee.
March 3, 1887: The Edmunds-Tucker anti-polygamy act becomes law, abolishing Utah's women's right to vote, among other blows to the territory.
Jan. 10, 1889: Utah chapter of the  National Woman Suffrage Association created
October 6, 1890: The church, bankrupt, its lands seized and many members jailed, signs a manifesto written by Wilford Woodruff that ends the practice of polygamy.
May 13, 1895: A three-day conference of the NWSA ends with Susan B. Anthony presiding
1895: Utah's constitutional convention questioning the inclusion of women's right to vote leads to a petition of 24,801 for it.
April 18, 1895: Delegates vote for the inclusion of women's suffrage in the Utah constitution, allowing them to vote in local and state elections.
Jan. 4, 1896: Utah declares its statehood.
August 26, 1920: The 19th Amendment to the U.S. Constitution is ratified, granting women the right to vote.
References
1Haddock, Marc. "Utah women voted earlier than most in U.S.." Deseret News, February 8, 2010. Accessed July 1, 2013. http://www.deseretnews.com/article/700008024/Utah-women-voted-earlier-than-most-in-US.html?pg=all
2Women of the West Museum, "Utah: Women in Church, Marriage, and Politics." Accessed July 1, 2013.
http://theautry.org/explore/exhibits/suffrage/suffrage_ut.html
3Schindler, Harold. "Federal Vengeance Finally Wears Down Mormon Doctrine Polygamy: Feds Attack LDS Doctrine." Salt Lake Tribune, October 15, 1995. Accessed July 1, 2013.
http://historytogo.utah.gov/salt_lake_tribune/centennial_celebration/101595.html
4Utah Division of Archives and Records Service. "Utah Constitution." Accessed July 1, 2013. http://images.archives.utah.gov/cdm/singleitem/collection/3214/id/9
5Snow, Eliza R. "Woman's Status." The Women's Exponent, July 15, 1872. Accessed July 1, 2013.
http://contentdm.lib.byu.edu/cdm/compoundobject/collection/WomansExp/id/2010/rec/2
There's a lot of pioneering left to do, ladies. So happy Pioneer Day to us all!