Career Day: Flight-Rescue Nursing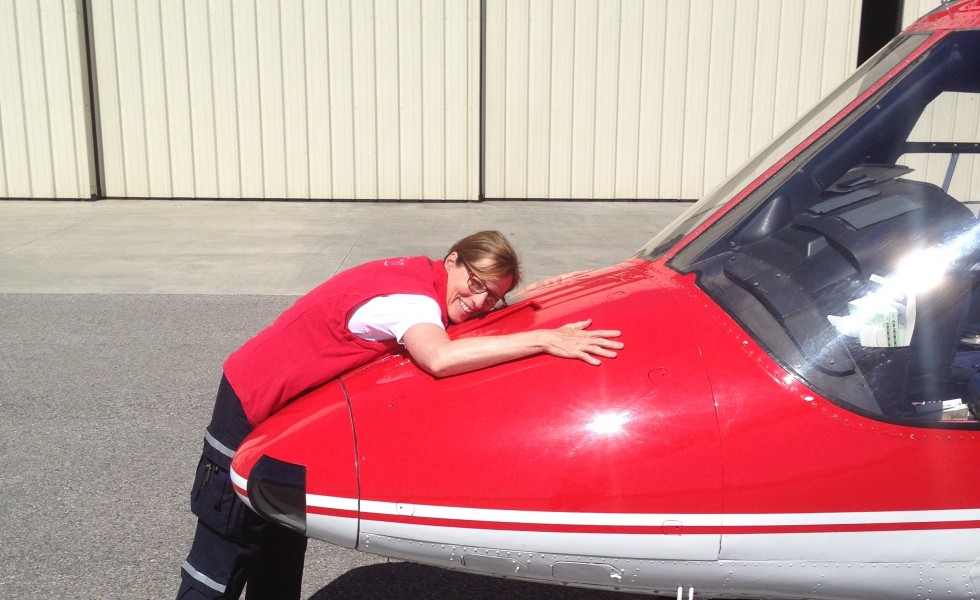 Tell us a little about yourself and about your job.
My name is Denise Evans Ward, DNP, ACNP, FNP.  I am a mother, wife, and flight nurse.  I have been a nurse for twenty-seven years and a flight nurse for eighteen years.  I am too old to give my age, but you can guess by my years of experience that I am definitely not at the beginning of my career.
When I started college, I first considered majoring in music, then history and eventually health science.  I never considered a career in the medical field until I was married.  At that time, I thought it would be a good "part-time" job to have while I was raising my family.  This was over thirty years ago and Mormon women were pressured to be full-time, stay-at-home mothers.  My son was born while I was in my first year of nursing school.  When my son was five months old, my husband was killed in an industrial accident.   I was suddenly a widow and a single a mom.  My "choice" to go to school now became a necessity.  I took the small amount of money I received from my husband's insurance policy and invested the money into my education.  This was the best investment I ever made because it not only gave me a career, but also guaranteed a stable future for my son.
As a flight nurse, I provide medical care for the critical patient during transport.  Basically, the helicopter becomes a portable ICU.
Why did you want to become a critical care nurse? When did you know it was what you wanted to do? What drew you to the profession? 
While attending BYU, a nurse came and talked about her career as a flight nurse.  Since I always loved adventure, I thought that it could be a perfect fit.  Adventure while working.
What kind of education is required?
The first question every nursing student asks is "what does it take to become a flight nurse?"  Flight nursing is not a job you take when you first graduate from school.  There is a lot of autonomy in this job.  With this autonomy comes great responsibility.  Every critical decision I make will always go through a review process with my colleagues.  This is why it is important to gain experience in both emergency and critical care nursing.  Experience, not just book learning gets you through the crucial times.
When I graduated with my Bachelor of Science in Nursing (BSN), I started my career with the goal of eventually becoming a flight nurse.  My first job was working in a small emergency department.   After a year, I transferred to a larger hospital to gain more experience working with trauma patients in a Level One hospital. While I was working in the Emergency Department (ED), I decided to take a critical care class to improve my critical thinking skills.  This helped me obtain a full-time job in an ICU that managed both trauma and medical patients.  This was a valuable experience because I had the opportunity to learn from the best nurses and physicians.
What kind of job opportunities are there in your field? 
Flight nursing is a very competitive field.  Jobs are usually few and far between.  If a person really wants to become a flight nurse, they need to go the extra mile in their career to make sure they standout from everyone else.  This includes joining committees, become an expert in a particular area of nursing, mentoring new nurses or becoming a leader in their profession. I would also recommend pursuing a graduate degree, it is usually not required, but it helps.
What types of jobs have you had within your profession?
The one great thing nursing offers is flexibility and variety.  I am not forced to stay in one particular area of nursing for my entire career.  I have been an ED nurse, ICU nurse, Flight nurse, Family Nurse Practitioner, Acute Care Nurse practitioner and now a Nursing Educator.
What is the best part of your profession?
I work with some of the best pilots, physicians, and paramedics.  I also find satisfaction when the medical care I render makes a significant difference in a patient's outcome.
What is the worst part of your job?
Telling a family member that even though the flight team provided the best care available, their loved one did not survive.
What's the work/family/life balance like?
It is important to have a family that is flexible and understanding.  You are not always going to get home on time.  I have had many after work plans disrupted because of a late flight.  Also, they need to understand shift work, which includes weekends, nights, and holidays.  I have missed out on several family functions because of my work schedule.
Finally, family members will always be concerned for your safety.  Unfortunately, the air medical industry has had its share of fatal accidents.  Make sure you are working with a flight program that has an excellent safety record and that safety is the first priority with every flight you take.
What is the biggest misconception people have about your job?
 That I am always going to an accident scene.  The majority of my flights are between hospitals.  I am usually transporting a sick/injured patient from a smaller hospital with limited resources to a hospital with all the resources available in medicine.
What stereotypes or criticisms have you faced as an educated Mormon woman with her own career?
Since I was a widow and a single mother, my Mormon friends and ward members never question my reasons for working outside the home.
However, people would often question my choice to become a flight nurse, because of the inherent risks associated with this career.  I feel the benefits outweigh the risks.  Even after eighteen years, it is still my favorite job.
What spiritual guidance have you felt as you have pursued your education and developed your career?
Each time I returned to school to pursue more education I have always felt an assurance from Heavenly Father that I was making the right decision.  The last time I returned to school, many of my colleagues questioned my reasons for pursuing a doctorate degree, because in their eyes, it would not make a difference in my income.  It has never been about money.  For me, it has been about gaining more knowledge and becoming a better nurse and person.
A few years after I finished my graduate studies, I was given an opportunity to pursue a career in academia.  When I started my career, being a nurse educator was never one of my professional goals. However, I have found it very rewarding.  I really enjoy working with the students and I find them refreshing.  They are full of hope and excited about the field of nursing.  It is a good reminder of how I was twenty-seven years ago.
Any other thoughts, advice, or stories you'd like to share with other women?
I always tell the young women in my ward to get an education before they have too many distractions in their lives.