The Confidence to Dream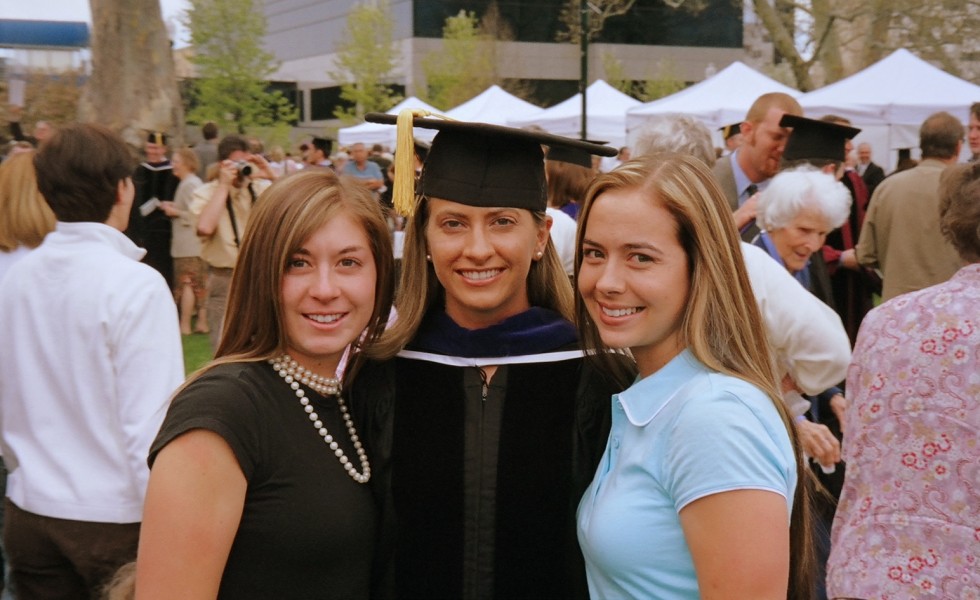 by Dianne Orcutt
When asked what I wanted to be when I grew up, from about 14 on, the answer I always gave was "lawyer."  I remember consciously answering all the questions on the 8th grade career assessment in a way that I thought would guarantee "lawyer" was one of the results – it was.  Looking back, I can't say what made my 14 year-old self decide on that.  I don't remember knowing any attorneys, male or female.  I read Nancy Drew books voraciously in elementary school, and my family watched a lot of bad 80's and 90's mystery and detective shows, but I'm not sure that any of that was particularly influential.
In considering the many parts of my journey to becoming an attorney, I have come to realize that the most important part of my story happened years before I started law school; a great deal of it before I was even born.  While I wish that I had seen more real life examples of women engaged in professional and educational pursuits to help me with the more practical elements of pursuing my dreams, I did see an amazing group of women around me, including many within my own family. In addition to raising their children and caring for their families, they pursued their passions and talents.  They showed me that womanhood is a multifaceted experience. It was their example and their encouragement that empowered me to have confidence in pursuing my own aspirations.
When I was ten years old my mother decided to go back to school to get her Master's Degree.  Her five children ranged in age from two to ten.  She took one class each semester and term, often early in the morning so she could be back before my father left to work.  It was a slow process. She graduated 5 ½ years later with a GPA just a hair under 4.0.  Seeing her engrossed in her books, host study groups at our house, direct theatrical productions, prepare her thesis, and generally feed her intellectual hunger was probably the most profoundly influential forces in my life, even if I didn't recognize that at the time. Occasionally she would present papers at various conferences around the country, and once in a while in other countries, and often she would take me or one of my sisters along. I was proud then, but looking back now I have a greater appreciation for how truly remarkable her accomplishments were.
My grandmothers, neither of whom can be described as shrinking violets, pursued what many might view as traditional professions, though perhaps in less than traditional ways, particularly for their generation. My father's mother got a two year teaching certificate after high school. Soon after, she married my grandfather and they moved to the United States (they were Canadian), where she was required to get a bachelor's degree to teach. She went back to school part-time, and graduated 6 years later with a bachelor's degree in math and one in French, a few weeks before giving birth to her third and last child. She worked as a high school math and French teacher in Alaska's Interior. When I was in college, I always knew I could call her if I got stuck on a calculus problem, and she'd be able to walk me through it.
My mother's mother, though easily the most inquisitive person I have ever met, did not have the opportunity to go to college.  Instead, when my mother and aunt were both little girls, she enrolled in the L'Oreal de Paris Academy of Hair Design in Buenos Aires, where she is from. She also attended the Academia de Peluqueria, Bruno Boval. She later converted the family's carport into a salon, where she cultivated a fairly high-end clientele. She will turn 90 this summer, but a week does not pass where she doesn't telephone me to ask me about a new word she has read or heard that she wants to understand better, or to tell me about a documentary she has seen that she thinks I should know about.  Her love of life and her thirst for knowledge are remarkably inspiring.
Growing up I didn't fully appreciate this bigger picture of who my mother and grandmothers were. They were "just" Mom, Grandma, and Nona, women that I loved and respected.  It was my observation of their daily lives, their manners, and the surety with which they carried themselves that impacted me, not their degrees or other achievements.  They were women who, when at 14, 16, and 20 I said that I wanted to be a lawyer, didn't say "No," or "That doesn't sound practical," "A girl shouldn't do that," or "Are you sure?"  They said, "That's wonderful!" And they meant it.
Their confidence in themselves and in me provided an environment where possibility, not doubt, could thrive. They laid a foundation that allowed me to explore my interests and create, with purpose, a path for my life. When I received my patriarchal blessing, I was able to have real conviction in what it said -just as I was able to trust in the promptings of the Spirit in the years that followed that led me to and through law school, and to where I am at this point in my career and personal life.  Because of these women I had the courage to move forward and I now have the peace that comes in knowing that I am doing what I have been called to.
It is my hope that this little corner of the internet can inspire in women that same confidence in their dreams, regardless of what those dreams may be.