You Better Do it Then (and Welcome!)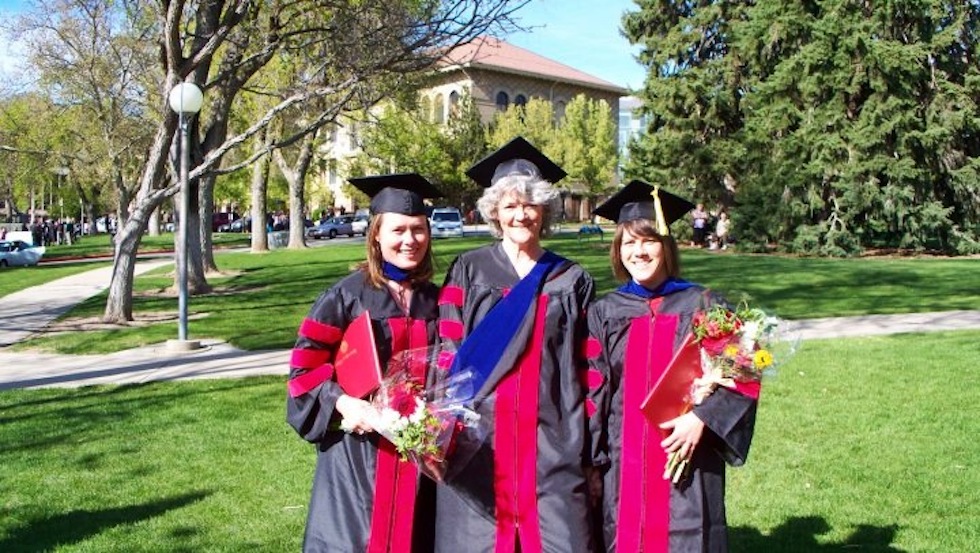 by Naomi Watkins
While attending a stake women's conference in November of 2004, I received a distinct and vivid impression that I needed to earn my PhD. Only a few months earlier, I had graduated with my master's degree and triumphantly cheered, "I am done with school forever!" I had no intention of doing more school. For one, I didn't see a need, and two, I was content and comfortable teaching middle school English. I figured that I would re-evaluate my work situation in a couple of years. And so, I quickly brushed the impression away and turned my attention back to the speaker. But the impression returned, and again, I ignored it. Yet, I received the same thought a third time, seemingly louder and more urgently.
Later, I stood in a daze at the lunch buffet in the stake center's cultural hall, waiting for a croissant filled with chicken salad. I said to my friend, "I think I'm supposed to get my PhD." Without hesitation, she looked me straight in the eye, smiled, and replied, "Well, you better do it then."
I was stunned by her matter-of-fact reaction then, and even now, I am still amazed. She did not ask whether this spiritual prompting was real nor did she question my motives or wonder aloud if this task was even possible. In that moment, she just believed. When I later told my parents about my experience, my dad asked, "So where are you going to apply?" Again, there was no doubt or negativity or hesitation in his question. He simply wanted to know my next step. In those first days after my prompting, I received only simple expressions of support that propelled me forward and countered the many doubts and fears that I personally felt regarding the enormity of getting a PhD.
I realize that I was lucky. Not all LDS women have such a network of support, especially amongst their closest family members and friends or ward members, particularly in regards to educational goals, or dreams perceived as "lofty" or "ambitious," or decisions about family and career.
Yet, my personal support network could provide me with only so much encouragement and advice. None of my immediate family members or close friends had pursued a PhD. They could not comment with specificity regarding concerns and questions that I had about this level of graduate school. I could count on three fingers the number of LDS women with PhDs who I knew personally. Yes, I knew many non-LDS women with PhDs, and while we could talk about topics and concerns and questions that were universal amongst all women in graduate school, my Mormonism led me to consider questions and possibilities and seek advice for issues that my non-LDS peers and mentors did not consider. While I attended graduate school at the University of Utah, I found myself in a cohort with another LDS woman, and made friends with LDS women pursuing graduate degrees in other fields. Together, we supported and encouraged each other, read each other's papers, voiced concerns, vented frustrations, and offered advice. We still continue to do these things after graduations, cross-country moves, marriages, babies, and new jobs.
Yet because of what we had, these friends and I discussed how we wanted to expand our circle to other LDS women. We wanted to include more LDS women in a space where we could discuss educational, work-related, and family issues, particularly about how these areas related to our faith. We wanted a space where we could meet, support, share, network, encourage, ask questions, offer advice, and learn from one another.
Aspiring Mormon Women is the realization of this desire and dream.
We welcome you to our circle regardless of your age or life stage or whether you want to pursue a formal college education or take community enrichment classes. We welcome you regardless of whether you have an established career or if you are thinking about returning to work or school. We welcome you regardless of your temple recommend status, political party affiliation, marital status, the number of children you do or do not have, or where you live.
If you identify as an aspiring Mormon woman, or want to support such women, then we want you here.
Share with us your educational plans and goals, your work and career dreams, your advice, the decisions you've made, the challenges you have faced, and the questions that you may have. Most of all, lend your voice of support and encouragement to the dreams and goals of other LDS women—even if these dreams and goals may not match your own.
Our goal is for Aspiring Mormon Women to be a place where we take advantage of our individual differences, yet come together because of our aspirations for improvement and enrichment—not only through our worship and our relationships, but also because of our educational and work pursuits.
"In an organized capacity we can assist each other in not only doing good but in refining ourselves…We know the Lord has laid high responsibility upon us, and there is not a wish or desire that the Lord has implanted in our hearts in righteousness but will be realized, and the greatest good we can do to ourselves and each other is to refine and cultivate ourselves in everything that is good and ennobling to qualify us for those responsibilities."1
[1] Snow, Eliza R. Address to Lehi Ward Relief Society, Oct. 27, 1869, Lehi Ward, Alpine (Utah) Stake, in Relief Society, Minute Book, 1868–79, Church History Library, Salt Lake City, 26–27.